Send to Kindle
Chris Ayer and Matt Simons were scheduled to have back-to-back full sets at Rockwood Music Hall Stage 1 last Saturday night (8/27/2011). Hurricane Irene had a different plan for NYC that night. Rockwood, along with nearly every other business in NYC, shut down for the weekend, canceling a highly anticipated night out for us (and many others).
While NYC wasn't crushed by Irene (though many individuals were, even in NYC), Upstate NY was devastated in parts, in particular, Schoharie County. 43 NYC-based musicians banded together and within days released a 43-track album, with 100% of the proceeds benefiting Schoharie Country.
Chris Ayer and Matt Simons each donated a track to this amazing collection of music. Minimum donation is just $15 (for 43 tracks!), but please give much more generously if you can afford to, especially if you're a music lover.
Since Rockwood books a couple of months out, giving Chris and Matt their own sets, in particular consecutive ones (so they could play on each other's) would be difficult on short notice. The compromise was to give them a set to split, at the much larger Stage 2 next door. It was scheduled for exactly one week later, same starting time (last night, 8pm).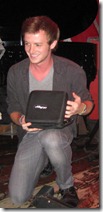 Matt Simons sang and played keyboards (grand piano and electronic) throughout the set. He opened solo, singing Fall in Line (the title cut of one of Matt's two EPs). Fantastic! Matt was in excellent voice (lead and harmony with Chris) and his keyboard play was buttery smooth.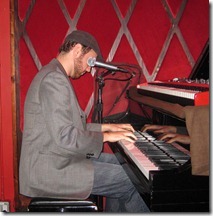 Matt invited Chris up to sing harmony on his next three numbers. Lois and I are suckers for great harmony. We're spoiled by the consistently brilliant three-part harmonies of Girlyman, but I have to tell you, Matt and Chris (and Chris and Matt) are two of the best at duo harmony (and when Morgan Holland used to sing with them before deserting the East Coast, at three part as well). Their voices blend so well.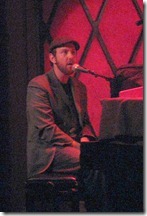 When Matt is singing lead, Chris typically takes the high parts (often very high). When Chris sings lead, they switch and Matt hits high notes so sweetly.
Matt played two new songs, Pieces and Emotionally Involved with You, closing with an older one, I'm Already Over You. Great selection, but there was a twist to these three songs that was executed perfectly. One one, they played together (Matt on keyboards, Chris on acoustic guitar). On another Chris played the acoustic guitar and Matt sang without playing the keyboards. That was quite unusual for him to sing lead on his own song without touching an instrument. It was perfect (they're smart guys).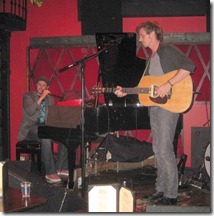 To round it out, Matt sang lead and played keyboards with Chris singing harmony without playing guitar, so all permutations were displayed in the three songs.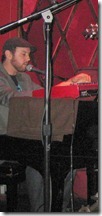 Matt walked off the stage to turn the second half of the set over to Chris.
Chris opened solo playing a new-ish song, Where Do You Want to Go. Then Matt joined him for the remaining numbers. The traditional Chris Ayer set list is included in both views (ours and his). Matt's set list (spelled out above) is written on Chris' arm below his own list.
Just as with Matt's set, Chris' voice was spot on, as were their harmonies. The place was crowded. I could tell from a number of the people around me that Chris picked up some new fans. They were mesmerized during his numbers, but it was fairly obvious they had never seen/heard him before.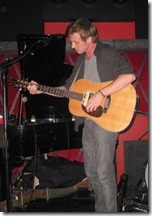 If you read this space regularly, you're probably getting tired of me telling you what a brilliant songwriter Chris is (independent of his amazing delivery, both live and recorded). Deal with it. If there's even one new person reading this post, they need to understand that Chris isn't just another talented singer/songwriter (not that there's anything wrong with that!)

but rather, he's a true gift to those of us who want to have our horizons expanded by the poets of the world.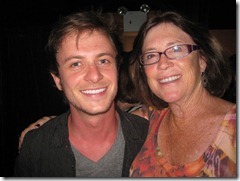 Two perfect mini-sets, combined into one perfect full set. Exactly as it should be.