Send to Kindle
I've written about Derek James a number of times (here's the most recent one). For the lazy among you (I know, you're too lazy to even raise your hands, right?), here's the opening paragraph:
Derek James has magical powers (at least over me). I am a very happy person, nearly 100% of the time. So, lifting my spirits seems like a silly thing to say, since they're always pretty high (metaphorically speaking). Yet, every time I see Derek James perform (last night, at Rockwood Music Hall, was the fifth time), he does indeed lift my spirits even higher (and I was coming in with a wonderful frozen margarita high, so he had some work to do!).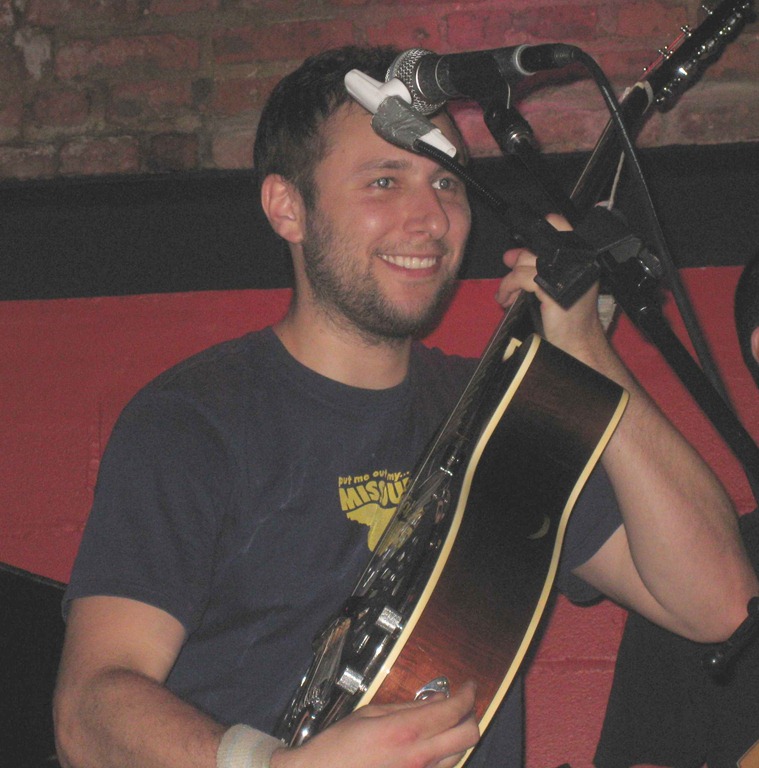 Ever since Derek mentioned that he was recording a new CD, I have been waiting (not so patiently!) to capture the magic so I can trot it out whenever I want to (not just when Derek has time to play a show). That day is now here (sort-of, not quite officially). You can stream the upcoming CD in it's entirety at http://derekjames.bandcamp.com/. You can also read the lyrics for every song there as well.
On September 15th, 2011, Derek will be performing a CD Release Show at Rockwood Music Hall Stage 2, 7:30pm (ticketed show). We won't be in NYC that day, so sadly, we'll miss the party. Go in my stead and report back here in the comments if it was as awesome as I know it will be!
There are two ways to consider this album:
From the perspective of someone who loves the live shows
From the perspective of a newcomer to Derek James
#1 should be judged by whether the album captures the magic. Does it transport you instantly to that happy place? Unequivocally yes! (It's not the same as the live show and I'll have more to say about that in a minute.)
#2 should be judged by two criteria (independently): 1) Do you badly want to see a live show after listening? and 2) Do you want to put the CD on repeat, even if you never see Derek live?
Obviously, not being able to un-see a live show, I can't really answer #2 honestly, though I'm impressed enough to believe that the answer to both 1) and 2) will be yes as well. Since you can stream it for free, let me know in the comments how it grabs you, whether you've seen Derek live or not.
There's a strong visual component to a Derek James and The Lovely Fools show that (obviously) can't be duplicated on a CD. The other difference is that in a live show, there's a little more freedom to take leads (in particular on the guitar) and experiment. When you're recording, you throw out all of the experimentation (save one specific take) and you shorten everything to package it up for a more mass audience taste/expectation.
I've listened to the album five times now. I like it more with each listen. The very first listen sounded a bit "rounded at the edges" for me, but I realize after the fact that I had the volume down just a bit too much. Now, at the right level, with good headphones, I can't stop listening.
As much as I enjoy the lyrics, they're mostly fun, not earth-shaking. You won't find yourself writing them down, bringing them to your philosophy professor to debate the meaning of life. That said, listen carefully, because there are gems sprinkled here and there. He's an example (from She Goes Far Away):
I don't know but I've been told before
The less you get you love 'em even more
Who hasn't been there before?

(that should probably have been a sad face, to more appropriately reflect the feeling we've had when we were in that state!)
Do you know someone who needs their mood lifted? Send them to the link to listen to this album. Do they still need a pick-me-up? Take them to a show!
You can see the major credits on the Bandcamp page, but I bumped into Derek at the Bowery Ballroom show on Tuesday and asked him to email me any additional credits for me to reproduce here. This is a more complete list (it duplicates all of what is on the web as well):
all lyrics and music by Derek James
all songs (c) Derek James (ASCAP)
Publishing: Derek James Music (ASCAP)

additional music by Assaf Spector & Roy Gurel (tracks 2, 3, 6, 7, 8, 9)
additional lyrics by Assaf Spector (track 1)

Bright Days* co-written by Andrea Tonon – (Andrea is an Italian I met living in France and we had a band of French musicians we used to busk together in the streets .. this song was inspired by the gypsy musicians of Europe and European life in the quaint cobblestone streets of their charming cities)

DEREK JAMES vox, acoustic guitars, percussion, kazoo, harmonica, & keys

ASSAF SPECTOR bass, drums, percussion, b.vox, programming

ROY GUREL electric guitars, percussion, & b.vox

RYAN VAUGHN percussion

MATTHEW ISELIN Main Keys

BAILEY (my dog, also on cover) b.vox

ADAM CHRISTGAU drums (tracks 4, 6, 12)

JANEL ELIZABETH b.vox (track 10)

JAMIE ALEGRE drums (track 5)

GLENN CHOCKY b.vox (track 4)

FARA D'AGUILAR b.vox (track 9)

produced by Assaf Spector, Roy Gurel & Derek James

recorded and engineered by Assaf Spector & Roy Gurel from May to August 2010 in Williamsburg, Brooklyn on North 12th and Kent – big oil/gas factory building converted to studio spaces

mixed by Assaf Spector

mastered by Adrian Morgan at Timeless Mastering, Williamsburg, Brooklyn

Photography – (c) Glenn Chocky (cover, back cover, inside left)& Maxine Nienow (inside right)

Art Direction & Design – (c) Glenn Chocky & Derek James
It's so fantastic when something you've looked forward to for so long hits the mark. I will be purchasing this CD the minute it's available. In the meantime, I'll be listening to it over-and-over. You should too!