Send to Kindle
Derek James has magical powers (at least over me). I am a very happy person, nearly 100% of the time. So, lifting my spirits seems like a silly thing to say, since they're always pretty high (metaphorically speaking). Yet, every time I see Derek James perform (last night, at Rockwood Music Hall, was the fifth time), he does indeed lift my spirits even higher (and I was coming in with a wonderful frozen margarita high, so he had some work to do!).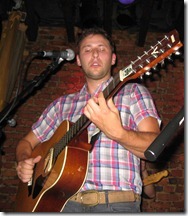 Derek's band is called The Lovely Fools. Sometimes shows are billed as Derek James and sometimes as Derek James and The Lovely Fools. As I noted in my last post, The Lovely Fools aren't always the same set of folks, though I associate the canonical version of The Lovely Fools as Roy Gurel on guitar and Assaf Spector on bass. Both were at the last show, but neither was there last night.
Last night was a fantastic set, full of toe-tapping, head-bobbing, foot stomping and feel-gooding (Jr.?).

So, these Lovely Fools are very lovely too (I'll note the differences below when I tell you who they were). First, the set list: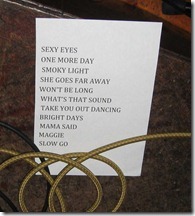 The biggest highlight between the shows was that the volume levels on all instruments (including the drums) was perfect. In the last post I lamented that perhaps Rockwood 1 shouldn't host these types of shows. I noted exceptions to that (so it can be done) and it was awesome to have Derek himself reverse the feeling I previously had.
The biggest disappointment was once again having Derek's voice be way too low to hear the words. I was right up at the stage, so I probably had the worst of it, sitting under the speakers. I hope the people further back got to enjoy his vocals (and hear the words clearly).
Most guitarists don't plan for disasters. They foolishly bring guitars with six strings. When one breaks, there are certain notes they simply can't play. Derek James is a genius. He brought a guitar that had a whopping 12 strings on it. When one of them broke during the set, he was able to play with nearly twice as many strings as those other guitarists do, and still hit every note.

Even if all of his strings broke, he could have seamlessly moved over to full-time Kazoo playing.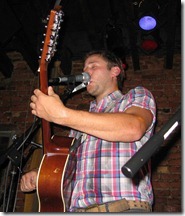 Last night marked the beginning of a month-long, weekly (every Thursday) residency at Rockwood. The first three at Rockwood 1, the last at Rockwood 2, a ticketed CD Release show. Check him (them) out!
The minute I walked into Rockwood, I saw Jerry Fuentes on stage. I asked him whether he just played the set before Derek. He said he was playing with Derek. Sweet, I really enjoyed Jerry's guitar play when we caught his headlining set back in January.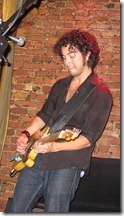 Roy Gurel (the normal guitar-playing-fool) is really amazing. The one disappointing show featured a very skilled guitarist. Unfortunately, playing with Derek James requires a lot more than skill, it requires style. Seriously, there is so much fun (much of it delivered in a nuanced way), that if you're going to share the stage with him, you better both be infected by the mood and also be capable of spreading it (like a virulent virus).
Jerry Fuentes has the skills (I already knew that), but thankfully, he totally has the style. His leads were fun and tasty. He can Fool me any time he wants.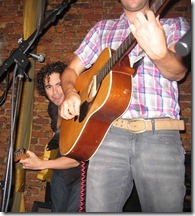 Mike Tuccillo on electric bass. Filling Assaf's (Assie) shoes is no small feat, on the bass in general, and specifically as a Fool. I've seen Mike play twice before (at the Soul Revue Benefit and as part of Jerry's band in the set linked to above), so I wasn't worried about his bass play. Like Jerry above, Mike fit in really well with the sound.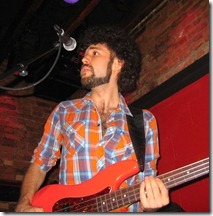 Kenny Shaw was on drums again (like he was the last time we saw Derek). He was fantastic. The beats in Derek's songs are so integral to the irresistible desire to shake-your-thang, that the drummer's role is critical. Every time he hits it, he's tapping on something deep in your psyche (if he's doing it correctly). Thanks Kenny (my psyche thanks you too!).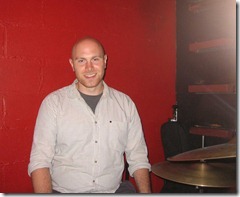 After the show, Kenny asked me if he was too loud (I was sitting with my back directly in front of the kick drum). I was thrilled to answer No. It really was perfect.
So, with Jerry and Mike doing such a good job, are they perfect replacements for Roy and Assie? No, but I have zero complaints. It's not so much a difference in skill levels, but rather than Roy and Assie can perform these numbers in their sleep. It's most noticeable in the reduced harmonies (Jerry sang more than Mike did). Roy and Assie also move in unison (with and without Derek), again, almost unconsciously.
If Jerry and Mike continue to be the main Lovelies, they might get there, but even if they don't, I promise to never be disappointed if they are the ones on stage when I show up to see Derek perform!