Send to Kindle
Another night, another stop on the Intergalactic Tour of the Universe and Beyond Tour. It wasn't originally meant to be, but when the Universe (and Beyond!) wants something, it makes it happen.
Two years ago, Richmond CenterStage opened with a big gala celebration. I covered one of the nights. Last night was a big anniversary celebration, with Patti LaBelle as the headliner. We had tickets and were committed to attending a very long time ago.
On June 30th, I saw the following tweet:
JamnJavaDoorGal
I know what can make a few smile, especially @linds047 – 9/10 -Ian Axel + Bess Rogers + Allie Moss http://bit.ly/kE5gyC
So, even though we knew about this show 10 weeks out, we also knew there was no way we could attend. A few weeks ago, my friend told me that I'd have to wear a suit to attend the Patti LaBelle show. If you know me, you can probably guess what my body language involuntarily portrayed. I was going to do it, but I didn't need to be happy about it.
Earlier this week, he called me (we were still in NY) and said that he knew some people who would really appreciate getting their hands on our tickets. Obviously, he would be delighted if we really wanted to attend, but essentially, he was letting me off the hook (he knows me for 29.5 years, so the suit reaction wasn't a surprise to him). It took us all of two minutes to conclude that the tickets were better used by the local Richmonders.
Suddenly, going to Jammin' Java to see another round of the Intergalactic Tour was a reality. If you're wondering whether we had even one second's hesitation about seeing them for a fourth time in five days, you've never met us or read my tiny corner of the Internet.
As with all shows, there's enough of a twist to make them worth showing up to. That was true last night too, even though two of the twists weren't so positive. The overall show/experience was great, so I am not (really) complaining.
There was a late show scheduled for 10pm (different group) so the start time for this show was moved up to 7pm (that part, us old folks like, especially since we had a 2.5 hour round-trip drive to get to/from the venue). I assumed our folks would play until at least 9pm, and then the hustle would begin to clear the place.
I was wrong. They were told that they had to be off the stage by 8:30pm sharp! There wasn't even a chance to cajole an encore. The second the set was over, the lights came on and the house music started playing.
On the flip side (a very positive flip side at that!), the crowd got to line-up and connect with the artists for quite a long time (so people were not hustled out at 8:30). I haven't seen that long a line at a merch table in quite a while (separate from the long line of people waiting to hi, or get some of that merch signed!). Lindsie (of yesterday's post's fame) was working the merch table. A very valiant effort!
The other positive flip side is that there were no breaks between the the sets of the three performers. Each took exactly 30 minutes. While that probably cut roughly 10-15 minutes off what each has been doing on this tour, saving the 10-15 minutes between sets was actually quite pleasant (to me at least). The fact that we were back in the hotel room shortly after 10pm was a very pleasant side-effect of the early ending.
Allie Moss kicked it off, with the full band, playing Passerby, which included everyone singing at the end (everyone = Bess Rogers, Ian Axel, Adam Christgau and Chris Anderson). Ian then left the stage, returning once more to play with Allie with the others taking a beak. They played Prisoner of Hope. I think that was the first time they played it where we were in attendance (though I haven't grabbed set lists this week, so I could be remembering it incorrectly).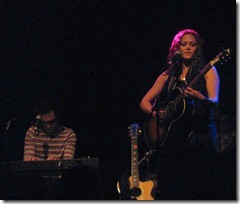 With the exception of another solo song (or two?), Bess sang harmony with Allie (perfectly) and Adam and Chris did their always amazing jobs on the drums and electric bass respectively.
Allie seemed dramatically healthier than the night before, thank goodness. Otherwise, she took great pains to avoid talking about feeling poorly.
When her 30 minutes was up, she and Bess simply traded spots. Bess introduced herself by saying: "You may remember me from earlier in the night when I was standing over there."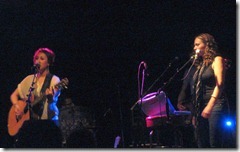 Bess had Allie sing harmony on most of her songs too (again, perfectly). Adam and Chris were on each of those numbers as well. She also played some solo numbers, including In My Life on the ukulele.
She finished up her set by inviting Ian to join the rest of them in performing Anchor (the single from her upcoming CD, where In My Life is the B Side).
After about 10 seconds of confusion as to whether they would take a break before Ian started, they decided against a break. Good decision!
Ian sat down (he was already on stage) and started playing Leave Me Alone! He played the same set from the night before, but had to toss a few songs due to the time constraint. So, no Amory. He played Say Something on the keyboards (reverting from the previous night's ukulele version). It was awesome, so even though I (slightly) prefer the ukulele version, I'll take it any way Ian wants to deliver it.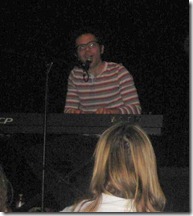 Chad Vaccarino came out for the second half of Ian's set to very loud cheers and applause. He was joined on the first number by Allie Moss. They sang Shorty Don't Wait, with Ian on the ukulele (the only song Ian played on the uke, as opposed to three consecutive numbers the night before). Adam played acoustic guitar on Shorty.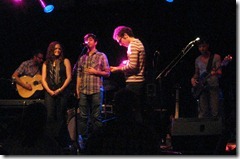 Of course they nailed it. When Chad sang, the whoops were exactly as you hear them in NYC. In other places, I am 100% sure that people feel the urge, but they probably think it's impolite (and in general/theory, it is), but when it's Chad, it's such a natural reaction, and so expected in NYC (and now in DC as well), that you just have to let out the joy (otherwise, it would be like a holding in a sneeze, i.e., not good for you).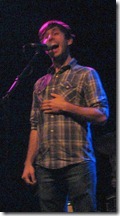 Allie does a fantastic job singing the second verse on the lead, bringing a similar style/emotion to the song that Chad does. The chorus and ending are three-part harmony (with Ian joining Chad and Allie) that simply forces a smile on your face.
Ian and Chad also played Rockstar (such a great song) and closed it out with This is the New Year.
We got to say hi/goodbye to everyone except for Chris Anderson (who I think was loading the equipment onto the van) and Allie (I simply didn't see her in the dark). We will not be seeing them again on this tour (a single tear streaked down my cheek as I typed that).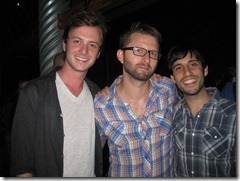 Thanks to all of them: Ian Axel, Chad Vaccarino, Bess Rogers, Allie Moss, Adam Christgau and Chris Anderson for making this week unbelievably special for us. We'll never forget it!

Now for the second negative. The sound guy just couldn't get the vocal levels right. For much of the night, they were too bright/loud. Eventually, I either got used to it, or he woke up a bit and toned it down. The sound booth was roughly 10 rows directly behind me, so I can't imagine he was hearing it much differently than I was. It's one of the mysteries of live show engineering that feels destined to elude my understanding forever…
We normally eat at Jammin' Java when we see a show there. The food is excellent and we look forward to it. Last night we were having dinner with a friend and we were interested in something more leisurely, quiet, with a bit more choice. I did a search nearby in Google and found a dozen restaurants listed within 1000 feet of Jammin' Java (apparently, that little strip mall is restaurant heaven).
I chose Café Renaissance, which is around the corner of the same block of stores that Jammin' Java is in. The first few reviews I read were some of the most praise-worthy I had ever seen, describing the service as unparalleled and food excellent. Then I read some real slams as well. Then I read some people slamming the slammers. So, it didn't seem to be a slam dunk, but we decided to try it anyway.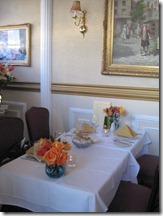 I'm officially slamming the slammers as well. We had a great meal and were treated like kings (and a queen). I could complain that they were a bit over-solicitous, but that would only be true because we were time-constrained to make it to Jammin' Java by showtime. Otherwise, their attention and conversation were delightful and welcome.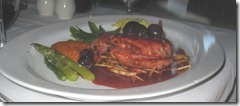 It's not cheap (if you go for the full treatment, which we did, of appetizer and wine), but I thought it was more than worth the price. I am absolutely sure that we will dine there again. We did buy two large lattes and one large coffee at Jammin' Java. Partially out of guilt about not spending the money for dinner there, but mostly because they live up to having Java in their name!