Send to Kindle
Many of the musicians that we see regularly tour all over the US and Europe. In addition to playing the kinds of shows we attend, a number of them also play semi-regularly at local bars and restaurants. We new that Matt Simons serenades the diners at The Cupping Room Café, often with guest performers, but we hadn't been able to make it there on a night when he was performing.
We had early dinner plans last night and also intended to see a late show at Rockwood Music Hall (the subject of the next post). Then I saw the following tweet:
ryandrummerboy Ryan M. Vaughn

playing The Cupping Room in SoHo w/ the likes of @matt_simons and @chrisayer TONIGHT from 8PM til 11PM! A healthy mix of originals & covers!
Our dinner ended at 8:15. We grabbed a cab and headed down. It was gorgeous outside when we left the restaurant. By the time we reached SoHo it was pouring. It never let up the rest of the evening (no rain was predicted for yesterday). We walked into the Cupping Room shortly before 9pm to the very sweet sounds of Chris Ayer and Matt Simons singing harmony, accompanied by Ryan Vaughn on all manner of percussion, primarily his signature cajon.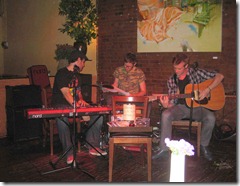 With one exception, Matt and Chris alternated singing songs (with most having the other harmonize). They played roughly 2/3's originals and 1/3 covers. That's a great strategy to pick up new fans (which restaurants and bars are better suited to than shows, where people won't typically show up unless they know your music to begin with). The covers are familiar and allow people to see your talent as a singer and musician. The originals show who you are in your heart, soul and intellect.
Even though we missed the first 45 minutes, we got to hear a number of our favorite songs. All of the covers were big hits, but we hadn't heard them do these specific ones before, so that was a real treat as well.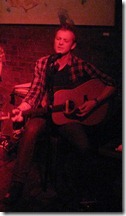 They took a break at around 10pm. After saying a quick hi to both Matt and Chris, I had a long-ish conversation with Ryan Vaughn, my first time speaking to him (I don't think I ever introduced myself to him before either). I got a hard-core and very much appreciated lesson in drumming equipment (and cajon's). It started when I joked about how bent his cymbal was and he explained how it happened (and why). Thanks Ryan, I'm a thirsty sponge for this kind of stuff!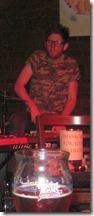 Since we had dinner earlier (including a wonderful bottle of wine), we took advantage of the full coffee bar section of The Cupping Room and both had lattes. During their break, the restaurant fed them (I think all three ordered burgers). The food looked fantastic, so next time we come see Matt there (yes, there will be a next time), we'll try to schedule it to have dinner there as well.
In a delightful surprise, a couple of our friends showed up to see them play as well. They hadn't been to this place either and seemed to enjoy it as much as we did.
When they started playing again, we stuck around for another two songs and then had to duck out to make our 11pm Rockwood set. I got to mention that to Chris during the break, so they didn't have to wonder why we didn't hang around to the very end.
An absolutely wonderful way to spend two hours on a dreary night in NYC.
Here's an abbreviated version of the songs Chris considered playing last night: