Send to Kindle
Last night was Bess Rogers CD Release Party for Out of the Ocean. It was a three-hour, three-act show. I already covered the two opening acts, Allie Moss followed by Ian Axel.
Bess has created a beautiful CD. As good as the songs are, the production by Chris Kuffner (Bess' husband) is incredible. It's available on iTunes, Amazon and physical CD from Bess' site as well. I recommend you check it out on Bandcamp (linked above) so you can verify for yourself whether you like it, then buy it.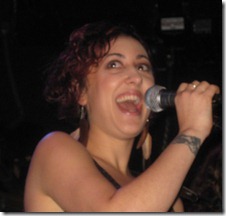 In keeping with the fact that Out of the Ocean is a concept album, Bess decided to play the CD start-to-finish at the show. Given the production, that meant having a bunch of people on stage to recreate the sound.
Bess played the ukulele, acoustic guitar and glockenspiel. Of course, more than that, she sang amazingly well. The energy on stage was feverish for much of the set and that translated to the audience as well. That lent more of a rock feel to the set, whereas the album feels like a more polished collection of pop numbers.
A lot of people helped Bess make this a very special night (playing to a sold-out crowd at Rockwood Music Hall Stage 2), so let's get to them, left-to-right on the stage:
Misty Boyce on electronic keyboards, melodica, glockenspiel and background vocals. This was our first time seeing Misty, who is a headliner in her own right. Misty did a good job all around, though her vocals were very hard to hear except on the one song where none of the others sang (other than Bess).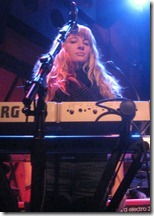 When she played the melodica, the hose coming out of her mouth looked like she had a breathing/feeding tube.

Allie Moss sang harmony on most of the numbers (as wonderfully as you can imagine). I noted above that Bess played glockenspiel. That was on one number, and Allie held it for her, causing Bess to declare that Allie was an excellent glockenspiel stand.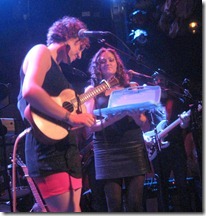 Ian Axel on electronic keyboards. Ian played on at least half of the numbers. You know he was excellent, right?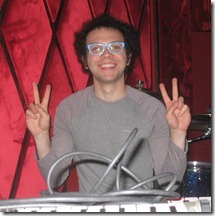 Elliot Jacobson on drums. So clean, so precise, so fast. At one point, Chris Kuffner couldn't contain himself and pointed at Elliot and called out his name. The crowd took the opportunity to show their appreciation.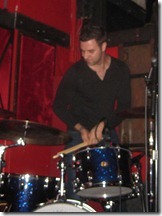 A little while ago I learned something that makes me wonder how Elliot kept his concentration throughout the set. He tweeted the following:
elliotjacobson Elliot Jacobson

I have a fiancé !!!!!!!!!!!!!! <3
Congratulations Elliot!
Tony Maceli on electric bass. Tony was wonderful throughout the set (as he always is).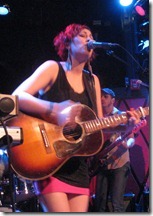 Chris Kuffner on electric guitar and vocals. In addition to producing the CD, Chris played a bunch of the instruments on it. Marvelous job live and on the CD as well. On the finale, Chris switched to an acoustic guitar.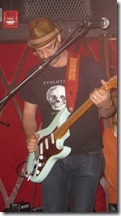 For those of you that don't know, in addition to being headliners in their own right, both Bess and Allie are part of Ingrid Michaelson's band, singing three-part harmony with Ingrid, with each playing guitar as well.
Ingrid sang on Bess' CD and joined for a few numbers to sing background vocals alongside Allie.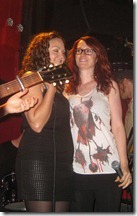 When Bess finished playing all of the songs (winding up with Brick by Brick) she talked to the crowd a bit. The topic was her very successful Kickstarter campaign to fund the making of this CD. One of the prizes/rewards was having a show dedicated in your honor, with your name worked into one of the songs in the set.
Bess called out to see if the person was there (and indeed he was). She dedicated the show to him. He flew in from Minneapolis for the show, so he beat our own Lindsie by quite a few miles. While Bess honored him, she forgot to work his name into a song. Oops. I suspect he's not going to ask for a refund.

To thank the rest of the many Kickstarter backers in the audience, Bess ended with a very special number.
Martin Rivas came on stage and along with Ingrid Michaelson, Allie Moss and Chris Kuffner, Bess sang In My Life (by The Beatles), accompanying herself on the ukulele, performing the fantastic solos on it, flawlessly! The five part harmony on such a gorgeous song was a stunning way to end a great evening of music.
Every ticket entitled the attendee to a copy of the CD and a cookie. Since we have a copy through Kickstarter, we intend to gift our two new copies to our godchildren (I guess I blew the surprise, since they're likely to read this before we get it to them).

You don't really need a set list, since the CD was played in order, but here you go anyway (you're welcome):