Send to Kindle
Last night was Bess Rogers CD Release Party for Out of the Ocean. It was a three-hour, three-act show. I'm going to post about each act separately.
Ian Axel was the middle act. He started playing seconds after Allie Moss walked off the stage. For people that know Ian's music, it was obvious that his set began (he was playing the intro to Waltz). For people who didn't know his music, I bet some thought he was just tickling the ivories between sets.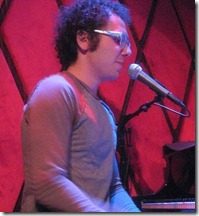 By the time he started singing, he had everyone's attention. After playing such an energetic song, Ian announced that he was about to depress us. He played the always wonderful Say Something.
Ian then brought up his writing partner, Chad Vaccarino. They debuted a song (I believe this was the first time it's ever been played in public). They didn't name it and there wasn't a set list. I call it The More You Love, but I'm willing to bet $1 that they won't call it that (the challenge is on).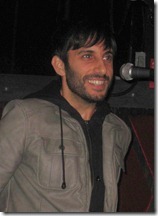 This song is awesome. Ian and Chad sing together so amazingly (always, but this number really highlights their skill). At one point in the song Ian takes a piano solo that had a palpable effect on crowd. Lois captured the speed in this shot: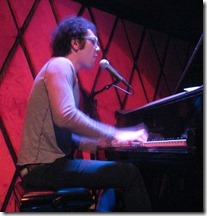 Ian and Chad then played You'll Be OK, and amazingly, we all were.

Ian invited Mike Campbell up. It's been over four months since we've seen Mike perform with Ian and Chad. Those of us who were used to seeing Mike join them regularly were excited before Mike even hit the stage. While Mike holds his own, the real magic comes from Ian and Chad elevating their game (how is that even possible?). They love playing with Mike and it shows. We love listening to them with Mike, so it's a symbiotic relationship all around.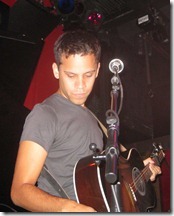 Ian switched from the piano to the ukulele and they played Shorty Don't Wait. As many times as we've seen (and loved) Shorty, this was one of the most special versions. For the past few months, Ian and Chad have worked special guests into this song, giving the second verse to the guest. Each has done a fantastic job, and I've noted it, but last night the song was sung as it was destined to be performed.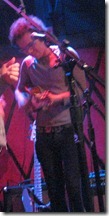 This is basically Chad's song. He sang all the verses, with Ian and Mike singing three-part harmony on the chorus and providing the instrumentation. Simply perfect.
Ian returned to the piano with Mike remaining on stage. They played another new song (it was debuted a month ago at Bowery Ballroom). It's called Amory and was co-written by all three of them. We loved it the first time we heard it, but this was the first time we got to hear it with Mike. Fantastic.
Mike left the stage and Ian and Chad finished up with their signature song, This is the New Year. An absolutely incredible set.
I mentioned in the previous post (about Allie Moss) that we saw the Intergalactic Tour three times last month. One of those times was at a fantastic house concert hosted by Lindsie. She made the herculean effort of taking Amtrak up after work to attend this show. We sat with her and captured this shot of Chad coming over to say hi before the show started: