Send to Kindle
Sierra Noble played The Living Room last night. Eight days earlier we we saw Sierra at Rockwood (covered here). If you told me that we would see an identical performance we would have attended, happily. Just as happily, that wasn't the case.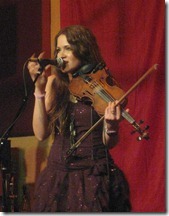 Sierra had a different setup (no drummer, one less guitarist and a very special female vocalist). The sound system at The Living Room is nearly always great.
Without a drummer and the extra guitar, even though there was a large overlap in the set lists, the shows had an extremely different feel to them (each equally gorgeous). It's also interesting how changing the order of the songs ends up producing a different feel/flow to a set, even if the band was identical.
Sierra played the first few songs on acoustic guitar, then played both fiddle and guitar for the remainder of the set. Her voice was fantastic (as it always is), if a bit smokier than usual (her vocals so remind me of Alison Krauss, having nothing to do with the fact that both are fiddlers).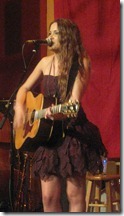 I knew that Sierra co-wrote Human After All with Michael Logen from the first time she played it, but I thought that was the only song they worked on together. Last night she said that they've written three. One of the others is Happy Here, which she also played last week, but I might have missed her saying who she co-wrote it with then. They're clearly a great team.
Sierra closed the show with the same fiddle tune, Dabe, that she closed the Rockwood show with. But, it was quite different (both were awesome) without the drum. More importantly, Sierra took really long solos and stretched the song out to show off her fiddle skills.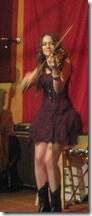 A few minutes into the tune a few people started clapping along. In seconds, that turned into nearly everyone clapping. They clapped the beat (replacing the drum) throughout the very long song. I was mightily impressed by their timing and stamina, but all that did was make Sierra's fiddle play all the more spectacular (it's like the crowd's clapping was rocket fuel for her).
I mentioned to Sierra after the show that there must be something in the water in Winnipeg which gives fiddlers extra special powers. Two of my other favorite fiddlers hail from there, Tania Elizabeth (of The Duhks) and Jeremy Penner (of The Wailin' Jennys).
It's only been 15 hours, and we saw two other incredible sets after Sierra's show, but I'm already anticipating seeing her again. We bought a physical copy of her EP last night so we could get it signed. We already own a digital download (purchased on Amazon) and love it!
I mentioned to another musician friend that he should come to the show. If he hadn't tweeted publicly, I wouldn't be outing him here:
BergerAlex Alex Berger

Just saw @SierraNoble for the 1st time. Blown away. ow.ly/i/j8m7
Nothing more needs to be said.
Except, of course, about the talented people who supported Sierra making the show all the more special. Left-to-right on the stage:
Chris Anderson on upright bass and vocals. Chris' upright bass filled in the bottom so well that the drums really weren't missed (even though the drums were a very special part of last week's set). In addition to singing background vocals on a few numbers, Chris was the primary harmonizer on Human After All.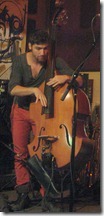 Chris didn't take any verses by himself (like Martin Rivas did last week), but he sang on every chorus and on the bridge and nailed it. Great job, Sierra and Chris sounded terrific together.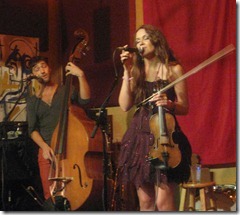 Greg Mayo on electric and acoustic guitars and vocals. I mentioned this in last week's writeup, supporting Sierra brings out an entirely different performance from Greg (from his typical headlining guitar style). In a word, his play was fantastic, without ever stepping on Sierra even for a second.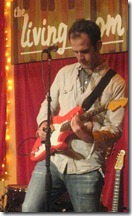 Greg also provided the primary harmony on most of the numbers. Absolutely wonderful. Greg's string of never disappointing me continues. He's the Cal Ripken Jr. of musicians (at least for me).

Rebecca Haviland was a very special guest vocalist, singing harmony on roughly 40% of the numbers. If you've read this space, you know what I think of Rebecca's voice. Having it blend with Sierra's, aaaaaaaaah.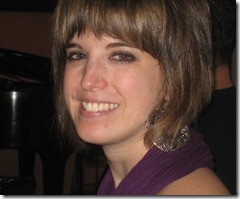 During one number, all four sang together, beautiful is an understatement.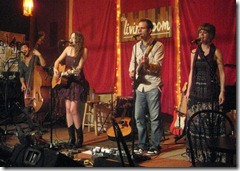 Here's the set list: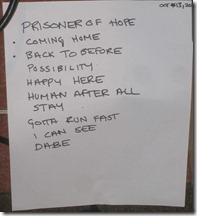 Sierra is next appearing this Monday night (Oct 17th) at City Winery as part of a singer/songwriter circle (along with quite a number of other amazing singer/songwriters!). Unfortunately, we'll be missing that for another pair of great singer/songwriters. CMJ week is hell when trying to choose who to see.
The week after, she's at The Bitter End on Tuesday, Oct 25th, at 9pm. We'll be there. I give you permission to go see her at City Winery, but I insist you come to The Bitter End either way.