Send to Kindle
Bri Arden headlined a set at Rockwood Music Hall last night. This was a full-band show, but with some changes from Bri's normal lineup. It's one of the things that makes seeing the same artist many times interesting, you never know quite what to expect, even though you know you'll likely enjoy whatever they throw at you.
The biggest change was that neither of Bri's female backup singers (Valerie Mize and Kate Ferber) were able to make the show. That alone guaranteed to change the character of the show. What I didn't know was that Bri would force two of her boys to sing with her, so there were still three voices in many of the expected parts, just at a different timbre.
Bri Arden is a singer/songwriter with an extraordinary voice. She sings with a passion that is infectious. She surrounds herself with top musicians. The energy emanating from the stage knocks you back a bit, but the music is good enough to make you fight to hold your position.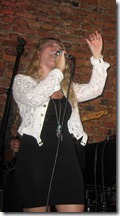 In addition to singing her heart out last night, Bri introduced a number of her songs (something we love) and had an attempt at humor as well. Rather than describe that attempt, I'll reproduce Bri's Tumblr account of it:
Thank you everyone for being such an amazing audience tonight and putting up with my failed attempts at humor. As someone pointed out to me after the show "You set the joke up really well, the only glitch was you forgot the punch line." Working on it!!! XO B
Most importantly, Bri's personality (extremely joyful) came out in the attempt. She made herself laugh, which made us laugh, regardless of the joke.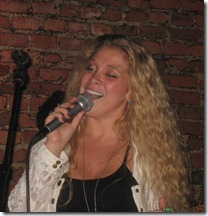 In the introduction to Aha Moment, Bri explained how her parents met. Fate will find a way.

The band, left-to-right on stage:
Oscar Bautista on electric guitar. Oscar is one of the best guitarists on the local scene and I look forward to every show that he's a part of. Last night was another example of why I do.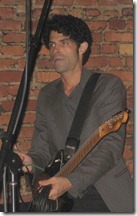 Jason Wexler on keyboards (grand piano and electronic). Jason did a great job on both. At one point I heard some cool sounds that I thought were being made by Oscar (who was hidden from my view behind Bri). When I leaned to my left, I saw that it was Jason on the electronic keyboards. Very nicely done!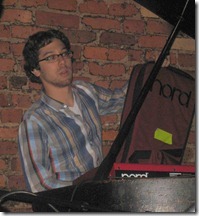 Ian Schaefer on trumpets and shaker (yes, trumpets, plural). Ian is always great on the trumpet, but last night was different. Ian often plays with a cup (or whatever the technical term is for what you shove in the big hole at the end of the trumpet to mute it and morph the sound). I think he does it because the trumpet could (theoretically) overwhelm the vocals.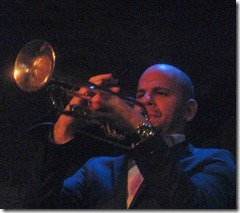 Last night, after testing with the cup first, he removed it quickly and let the sound loose. But that wasn't the big qualitative difference. I don't know if I missed it before, or if he doesn't do it when Valerie and Kate are singing, but a number of times Ian actually used the trumpet to harmonize with Bri's voice. It was fantastic.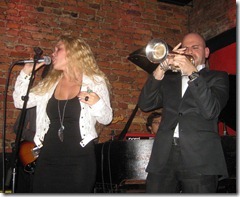 For one song, Ian put down the trumpet and picked up a much smaller trumpet. For a minute, I wondered what would happen if in each succeeding song, he would pull out an even smaller trumpet, which made me think of the trumpet version of a Matryoshka Doll.

For another song Ian put down all trumpets and played a shaker. Basically, he wasn't getting off the stage last night. Do you think he was into playing the shaker?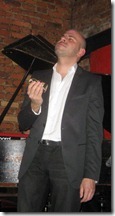 Justin Goldner on electric bass and vocals. Justin is an excellent bass player. I'm sure he sings a bit on many sets, but last night he was pressed into full backup singer mode. Well done!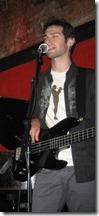 Jake Cohen (I should really say Jake Colin Cohen) on drums and vocals. Excellent job on the drums, with the sole exception that they were a bit too loud (a typical Rockwood 1 problem). That had the side-effect of slightly washing out some of Bri's amazing vocals. Jake joined Justin as the other male backup singer, doing a fine job as well.
Craig Wilson on acoustic guitar and vocals. Craig was on stage for the opening number only. He co-wrote it. Bri called his name out again later in the set giving him credit for another co-write, even though he didn't come up to sing it with her.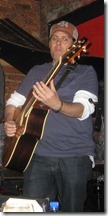 Do you think they were having fun on stage?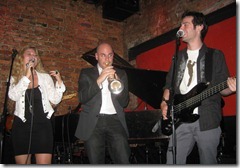 We certainly had fun in the audience. Thanks Bri and gang.
Here's last night's set list: