Send to Kindle
Patrick Firth debuted as a headliner at Rockwood Music Hall last night. Those of us who see Patrick play sideman in a number of bands have been eagerly awaiting this night. That said, I had no idea what to expect. In the other bands, Patrick plays keyboards (piano and electronic) and sings background/harmony. I've heard him sing covers, so I know he has a good voice.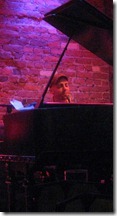 In May, we learned that Patrick was working on a CD of original songs. Since then, we've seen him perform one of those songs, Boomerang, two different times. Each time Patrick played acoustic guitar (backed by a full band).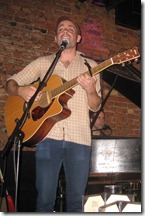 I could never have guessed what I would end up seeing at the actual show. First, let me say a few words about Patrick and the songs themselves, then describe the surprise.
I enjoyed Boomerang the two times I heard it (now three) but if the entire CD was made up of similar songs, I don't think it would excite me. Even though I still like the song, let me say definitively that every other song I heard last night was dramatically better (apologies to fans of Boomerang).
Patrick Firth is an excellent songwriter, both the music and lyrics. Many of the lyrics are sophisticated, without feeling forced. One out-of-context example:
My tears can't douse the Sun
Clearly, an interesting image of a broken-hearted person. (If I misheard, and it's "My tears can douse the Sun", it works too!)
I already knew how good he is on the keyboards, but he also impressed on the guitar, in particular when he finger-picked an entire song.
I will own this CD (whenever it comes out), and it will get many plays.
A few days ago, Ryan Vaughn tweeted about rehearsing for the show:
ryandrummerboy Ryan M. Vaughn

Rehearsal for @mirthfulfirth 's Sunday show @ Rockwood at Astoria Soundworks w/ @zachjonesmusic @OscarBautista1 @gregmayomusic & @pbassnbeer
I assumed (incorrectly), that each of those people would rotate on/off for different songs. Why? Because two are top guitarists and two are top drummers. Rockwood 1 is small, so my assumption seemed natural.
Bzzzt! All of them were on stage for every song. Two of the best guitarists and two of the best drummers, supported by one of the best bass players. All of them supporting one of the better keyboard players (who happens to handle the acoustic guitar well). Wow!
Here's what made it more special than simply listing out their instruments. Typically, when an album is produced, many sounds can be achieved that are hard to reproduce in a live show. Overdubs are the most obvious reason, but having a top session musician come in to lay down a very specific sound is another.
When you can have those top session musicians, in duplicate, you can create many of those textured sounds live. They did exactly that last night (including having a few pre-recorded sound effects playing on Patrick's Macbook Pro as well). Patrick spent half of the show at the keyboards and the other on the acoustic guitar.
The amazing band, left-to-right on stage:
Greg Mayo on electric guitar, keyboards (grand piano and electronic) and vocals. This music calls for subtle (dare I even say supple) guitar play. On at least two songs, when Patrick was on acoustic guitar, Greg took over the keyboard duties. Greg sang the most harmony with Patrick as well (beautifully). Of course Greg was great on the guitar and keyboards.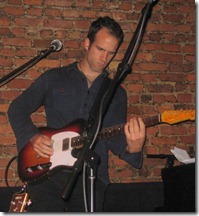 Patrick mentioned that Greg has been engineering the new CD in his studio, causing them to spend hours on end together. No wonder Greg knows the lyrics so well.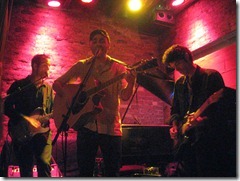 Oscar Bautista on electric guitar. Oscar is an amazing guitarist. Having him play with Greg is something I never expected to see. I'll admit to having had a fantasy of seeing them play some Allman Brothers (or Lynyrd Skynyrd) together. This wasn't that, but it was equally interesting in a different way.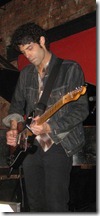 Oscar used the slide to create very ethereal sounds while Greg played subtle leads. At other times, Greg played more of an organ sound while Oscar played some lead. When Greg was at the keyboards, we still had a top lead guitarist, etc. The point is they were able to produce all manner of guitar sounds, just like I'm sure we'll hear on the actual CD.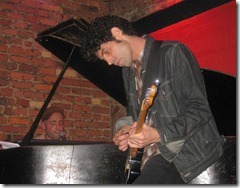 Brian Killeen on electric bass and vocals. Brian always does a great job on the bass, last night included. He sang harmony with the others.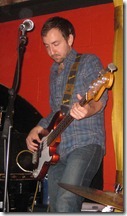 Zach Jones on drums and vocals. I always rave about Zach's drumming, as recently as the night before when he supported Robbie Gil. Last night was even more special. When Zach sang, it was typically the third or fourth voice, making for some big sounding vocals. First, I have to mention another person, so I can write about them as a unit.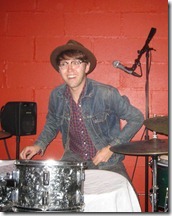 Ryan Vaughn (mentioned in the tweet above) also played drums and percussion. He had a slightly reduced kit (no kick drum). That Rockwood was able to fit 1.5 drum kits in the tiny space to the right of the stage was incredible.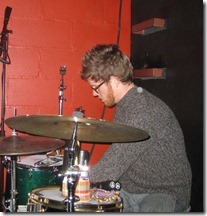 I love drums. A number of my all-time favorite rock bands have multiple drummers (notably: The Allman Brother Band and The Grateful Dead). If the drummers are great, you simply can't have too many of them. They won't step on each other or drown anyone else out. They will create sounds that a single drummer would have trouble producing. The Allman Brothers have three full-time drummers/percussionists, and nearly always have a fourth guest drummer join for a song or two.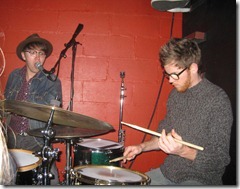 Zach and Ryan are great drummers and were absolutely perfect together last night. I can't stress enough how amazing that is. They are not in this band full time, therefore rehearsing and touring non-stop playing this material. We know from the tweet that they rehearsed together at least once. I wouldn't be surprised to hear that was the only time.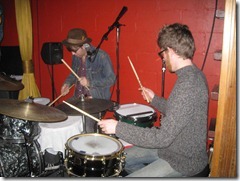 Yet, they were so tight, on every note. It was one drummer with four arms/hands.
One last word about the music. No two songs sounded alike. When the originals were over, the sound guy signaled to Patrick that he had time for one more.
Patrick closed the show back at the grand piano doing his signature cover, Take Me to the Pilot, ending the set on a very energetic note. Here's the set list: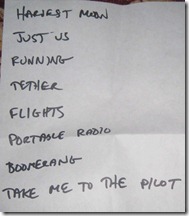 Patrick will never be able to debut again, but he won't have to. He doesn't need a do over.