Send to Kindle
Chris Ayer announced a show at Rockwood Music Hall with the following tweet:
chrisayer Chris Ayer

Show tonight in NYC! Rockwood 8p: playing brand new songs w/ @CAndersonbass @matt_simons & @adamchristgau that we're recording today.excited
We already had it on the calendar for a while, but didn't know it would be a full band show. In the end, it was close, but not exactly what Chris anticipated. The above was followed by this tweet:
adamchristgau Adam Christgau

Awesome… sick again. Looks like being 29 got off to a great start
So, after braving his cold in the studio all day, Adam simply couldn't make it out for the show.
Chris is recording a new CD this week. We're very excited for this, because Chris' new songs (some of which he's been playing for the past few months) are great and we look forward to professionally produced versions of them.
Chris opened last night's show solo. In a nice twist for Rockwood, the large crowd was very quiet (necessary for a solo acoustic guitar performer). Thanks! Chris actually joked about it. When he first walked on stage he asked everyone how they're doing. Perhaps one person quietly said "Great". Chris said (I'm paraphrasing): "Ah, a quiet crowd, that'll work!".

When he started playing Hiding Places (one of the new songs that I can't wait to get a recorded version of) he was finger picking. A little way into the song he switched to using a pick. Seconds later, the thicker of the two middle strings broke.
If Chris were a normal guitar player, we could queue all the "He broke his G String" jokes! But, Chris is a lefty, so the third string from the top for him is the D (or perhaps I have it reversed and it is the G, and we do need to queue the jokes!).

Either end string can often be ignored and the performer can power through the song, especially when there are other band members making music. Break one of the middle strings and it's near impossible to make pleasant sounds.
Chris stopped and replaced the string, pretty quickly. He joked that this was the first time he injected an intermission in the middle of a song. Technically, it wasn't an intermission, because he didn't pick up where he left off, he started the song from the beginning (yay!).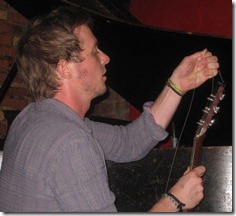 A couple of songs later Chris invited the others up to join him.
Matt Simons on grand piano and vocals. Matt actually did a bit more singing than playing the piano. Both were excellent, but their harmonies are exquisite. My fingers are crossed that there are a ton of them on the new CD.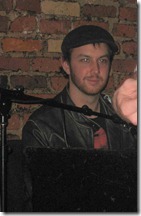 Chris Anderson on electric bass. We've seen Chris Anderson play with Chris Ayer a number of times. Anderson typically plays the upright bass, though a few numbers have been on an electric. Last night they were all electric. It didn't matter, with the exception of one song that demanded it, Chris was very subtle on the bass, suited perfectly with each song.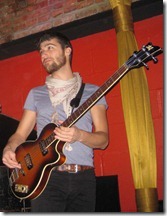 Chris closed the show in what has become a tradition. Typically, he descends into the audience (with the band when there is one) and belts out an unplugged version of Roy G Biv. Considering how crowded it was in Rockwood, he varied by asking the audience first whether he should play on stage, or unplug and join them. He was enthusiastically welcomed into the audience (with the necessary parting of the sea) for the big finale.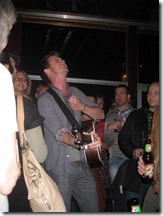 Another excellent set by Chris, Matt and Chris. If you're reading this in Europe, you can catch Chris Ayer and Matt Simons on their upcoming tour there in roughly 5 weeks.
Here's the set list, our view and Chris':
We brought along our goddaughter and some friends, who had seen Chris play before in a 100% unplugged solo show.
Another friend joined for his first Chris Ayer experience: