Send to Kindle
Last night we attended the early show at Joe's Pub. Under normal circumstances, we would have run home after the show. These were not normal circumstances. Over at Rockwood Music Hall, timed perfectly for us, was Backscratch XVII. That would have been more than enough to get us to stay out for another few hours.
More poignantly, and most unfortunately, this was also billed as the last NYC-based Backscratch. Folks, that's simply a tragedy (of reasonably large proportions). The concept of Backscratch was originated by Martin Rivas (and I think Craig Meyer). It will live on in London, run by Alex Berger, but unless I can find a way to blackmail Martin (or twist his arm really hard), it's going to be very expensive to catch one of these shows in the future.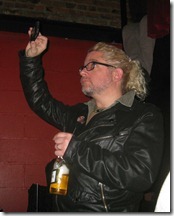 In addition to just wanting to catch any Backscratch show, the lineup for last night was particularly tasty. Every performer was particularly sharp (they understood the stakes), so it ended up being an extra-special night all around.
Quick recap of what a Backscratch is: 6-9 performers. Each does three numbers. One has to be a cover of one of the other performers. They get drawn randomly and no one knows in advance who is doing their song. For the other two numbers, deep tradition has the artist performing one of their originals plus a well-known cover. More recently, many artists perform two originals.
Stephanie White and the Philth Harmonic were up first. The Philth Harmonic is Robbie LaFalce (considering that Stephanie's name appears separately and there are only two of them). Let's start with Stephanie. We've seen her sing one song, at one of Sam Techman's Leave a Lasting Mark benefit shows. She was extraordinary then, and again last night. The woman can sing, pure and simple.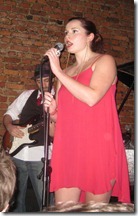 We've seen Robbie LaFalce three times, all at Sam Teichman benefits. At the first, he drummed. The second, he played piano. The third, he drummed, played piano, and sang. Last night, he played the electric guitar on all three numbers. Beautiful play, subtly, but interestingly supporting Stephanie.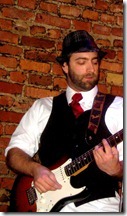 This was the first time that we saw them play together, as the Philth Harmonic.
Unlike most Backscratch performers, they chose to do their cover as the middle number (there are no hard-and-fast rules). They drew The Vanity Belles. I am not familiar enough with the VB version to tell you how much Stephanie morphed it, but I can tell you that Stephanie was exceptional in performing her version.
On one of the numbers, Robbie added a percussion loop and some looping of him clapping and playing guitar. It created a much bigger sound than the two of them would otherwise have.
Morgan Karr was up next. I had never seen him before. He kicked it off on the grand piano, playing beautifully, but really, showing off a great voice. For the next number, he came to center stage and just sang (he had accompaniment) without playing any instrument. Again, his voice really shone and I really liked his songs as well.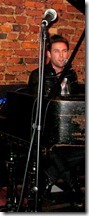 For his backscratch, he sang accompanied by only an upright bass. He drew Jay Stolar. Again, I wasn't familiar with Jay's song, but Morgan nailed his rendition of it, hitting some high notes spectacularly.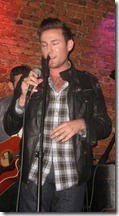 Morgan was accompanied by two top-notch musicians:
Justin Goldner on acoustic guitar. I've seen Justin a number of times, mostly playing bass for Bri Arden and Sam's benefits. I also saw him play acoustic guitar for a very intimate performance of Bri's. He blows me away on the bass, but hadn't on the acoustic guitar that one time. Last night, supporting Morgan, he showed a lot more skill on the acoustic guitar.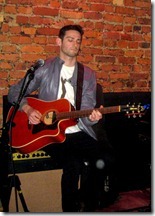 Lorenzo Wolff on upright bass. Very good on the first two numbers. On the backscratch, he was the sole accompaniment (Justin sat that one out and Morgan sang). Hearing just a bass with a great vocalist really highlights how good (or not) the bass player is. Lorenzo is really good!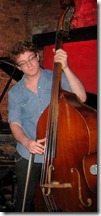 Abby Ahmad was up next. Another first for me. Great voice, very interesting guitar play. I really liked her songs as well. In other words, someone I intend to go see doing a full set soon (she's playing Rockwood on Thursday at 11pm, but that might be too late for me that night).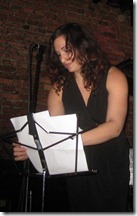 For her backscratch, she drew Morgan Karr. Another winner (both the song and her rendition).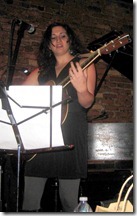 Abby was accompanied by two extremely talented people:
Adam Minkoff on electric bass and floor tom. On Abby's first number, Adam took the floor tom from the drum kit and brought it up on stage. He and the drummer (up next) played together, mostly on the rims first (in unison) and then separately, creating an extraordinary jungle rhythm for Abby to sing to.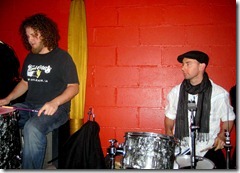 For the next two numbers, Adam switched to his more usual electric bass, and of course, was his usual excellent self.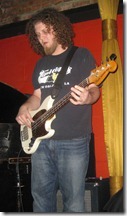 Sean Dixon on drums (again, no good link for him). This was my second time seeing Sean, and again he was excellent. In addition to playing the drum kit (minus the floor tom which Adam swiped, he also played the djembe on one number, beautifully. In fact, he put the djembe where the floor tom would have been. Not sure where else he could have placed it otherwise.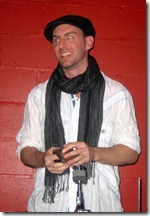 Jay Stolar was up next. We've never seen Jay do his own stuff, but have seen him sing a song here and there (as a guest, and at a benefit concert). He has a superb voice which was in full effect last night and played the acoustic guitar. I really enjoyed his two songs.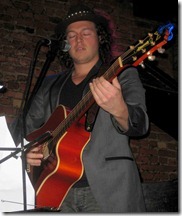 He drew Derek James for his backscratch. He chose Mama Said (it helps that I'm Derek James' biggest fan, self-declared, so that I at least know which song Jay was covering). He played it so much slower than Derek does, but it totally worked. I'll still take Derek's version, but huge Kudos to Jay for creative arrangement and execution!
Jason Wexler accompanied Jay Stolar on his two numbers, sitting out the backscratch. Jason was superb on the grand piano. It started off in a funny manner. Jay began by picking on one or two notes, repeatedly, in a slow rhythmic manner, alone, no singing and no piano accompaniment. After a minute, Jay turned to Jason and said "Feel free to join in any time!".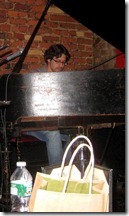 Jason laughed and immediately launched into a fantastic series of piano leads. Satisfied, Jay started singing.

Derek James was up next. This was the first time I've seen Derek solo. I loved both of his numbers, which he dedicated to Terry. He kicked it off with What's That Sound from his first CD, Stray. In a small-world story, I didn't have that CD (though I've seen Derek perform the song a number of times), but Lois had secretly arranged with Derek in advance to purchase the CD last night, so I have it now!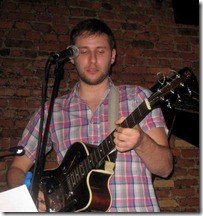 I was totally satisfied with Derek's solo performance, but I admit that with the full band, there's a swagger that was missing last night.
Derek drew Stephanie and the Philth Harmonic for his backscratch and did a beautiful job. Another example of me not knowing the original, so I can't compare the versions.
The final act to close down the NYC-based backscratches (unless I have my way with Martin!) were The Vanity Belles. I've mentioned how much I love them a number of times, even though the first time I've ever seen them perform live, as themselves, was just this past Wednesday at a benefit show.
They were stripped down last night, the two Belles, Carrie Welling and Jessi Rae Waltz, accompanied by the amazing Oscar Bautista on acoustic guitar (they typically have a full band).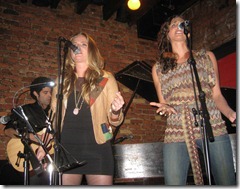 They opened with a brand new song that so blew me away I can't find the words to describe it. I happened to be standing next to their manager, Patryk Larney, and I couldn't contain myself after the song. I turned to him and said: "Holy cow, that was absolutely extraordinary!".
He said that he agreed, and they just finished it and rushed to get it on the new CD (of which I am a very proud Kickstarter contributor). I can't tell you how happy it makes me to know that I will soon own this song.
Their next song had Jessi move to the grand piano. It too was absolutely breathtaking.
They finished with their backscratch, drawing Abby Ahmad. Another mind-blowing performance, and I really loved the song too (credit for that to Abby, obviously, though I have no idea how her original version sounds).
Folks, if The Vanity Belles don't make it, the world is very broken.
They closed the show by awarding Martin Rivas with an actual backscratcher, dated and signed by everyone who appeared last night. A very nice gesture indeed!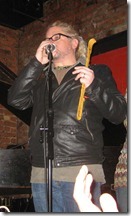 Here a pic of Alex Berger, currently the only Backscratch Master, with Jay Stolar. Alex has a show in 3 hours at Rockwood Music Hall Stage 2, so hurry up and get over there!