Send to Kindle
Alex Berger lives in London. That's sad enough (for us, not necessarily for him), but the really sad part is that we get to see him perform rather infrequently. When he's in town, and schedules a show, it's a must-see event. Last night was the night!
From the first time we saw Alex perform (9/21/2009), I considered him to be an excellent songwriter, a great piano player and a constantly improving (and interesting!) guitar player. Add to those basics his absolutely amazing voice (last night showed off a multi-octave range) and his warm/funny/engaging/relaxed stage presence, and you can be sure we'll be coming to see him for years to come.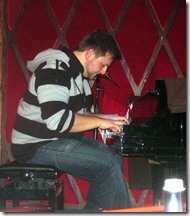 In addition to playing the title cut from his previous (still current) CD, Snow Globe (a multi award-winning number), Alex mostly played songs from his upcoming (as yet unrecorded) CD. I really love every song that I've heard. In addition to being great songs in general, Alex seems to have found a niche (for my taste) in making people laugh out loud at his lyrics.
In other words, he's translated the easy warmth/humor in his stage banter to fantastic lyrics/images in song. What makes them more special is his delivery. Comedy has two necessary components: the actual material (the thing that makes our brains recognize the twist) and the delivery (which is most often accentuated by comedic timing). Alex has crafted funny songs, but his timing/pacing in delivering those lines is impeccable.
I can't wait for this CD to be made. I have helped make that a reality, and if you want to do me (and yourself) a personal favor, you'll help too! Alex is raising money to have it produced (again, like his previous award-winning effort, by the equally amazing Alex Wong). You can click on this link to contribute.
This new CD is full of songs that Alex co-wrote with other talented singer/songwriters. Three of them guest-starred to sing and play the songs with Alex. He also had some special musical guests and even a dancer (yes, it was a spectacle). So, let's get to it.
Ward Williams joined Alex to open the show. In addition to setting up his cello, Ward pulled over one of the mics from center stage. He noted that he needed it for the big surprise finish. That surprise? Ward singing gorgeous harmony with Alex at the very end of the song. Needless to say, Ward's cello play was outstanding, complementing Alex's equally amazing piano play.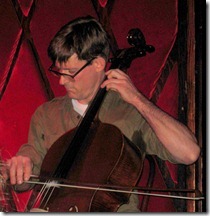 Adam Levy joined Alex to accompany him on their song, A Kiss is as Sweet. Alex sang, Adam sweetly finger-picked the electric guitar, including taking a very long and wonderful solo in the middle.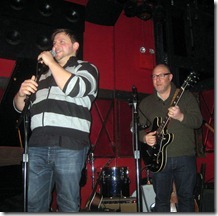 Ari Hest joined to sing harmony and finger-pick an acoustic guitar on their co-written number. The interplay with the piano and guitar was beautiful, and Ari's voice is always wonderful, solo or singing harmony (with pretty much anyone!).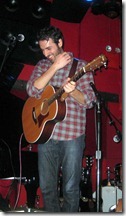 Andrew Nemr joined to add percussion to the next song. Well, it was a bit more complicated that that, as the percussion was actually delivered via tap dancing. Andrew is a top dancer.
He danced on two numbers. On the first, Alex played the guitar (wonderfully!). On the second, Alex sang The Christmas Song (Chestnuts Roasting on an Open Fire), almost a cappella. There was an amazing bass player who provided the only accompaniment (described next). At one point, it was just Andrew dancing and the bass player, with Alex watching in amazement.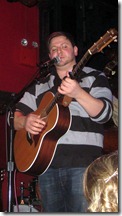 Gregory Jones was the bass player, on the upright. He was wonderful on Alex's song, but really came to life when he was the sole instrument (if you don't include the sound made by tap shoes) on The Christmas Song. Very well done!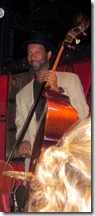 Jay Stolar came up to sing and play acoustic guitar on their co-written number, Last Night in Tokyo (one of the ones that slays me). They asked Martin Rivas to join them so they could amp up the three-part harmony. An absolutely perfect way to end an exceptional set!
We got to say hi to so many people before the show (some that we see all the time, and some that only come out for special occasions, of which Alex Berger is obviously one). More photos were taken as we were leaving (after the next set, covered separately), so here are only a few of the ones that were taken before Alex's set: