Send to Kindle
It's always sad when people die young. When it brings us together to remember them, their accomplishments, and the joy they brought to many, there's at least a silver lining. Davy Jones of The Monkees passed away last week, at the young age of 66.
Zach Jones, a staple (and shining light) in the NYC indie music scene, is a life-long Monkees fan. We found out last night that he attended his first Monkees concert while still in the womb (I guess he snuck in without paying). When he heard about Davy's passing, he contacted Rockwood Music Hall and arranged for a slot at 5pm last night to pay tribute to Davy and The Monkees.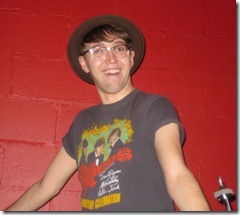 In addition to assembling the usual suspects of top-notch musicians to join him, he got another Dave Jones to join as well.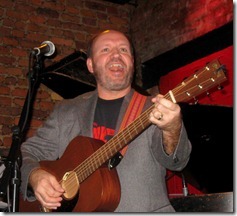 Dave Jones is Zach's father. It's too popular a name for me to easily be able to find good links to him, so I'll just summarize what I think I learned last night. Dave had a band while Zach was growing up. As you already learned above, Dave and his wife (who was also there last night) attended a Monkees concert while Zach's mom was pregnant, so their love of The Monkees goes back even further than Zach's.
Dave sings and plays the acoustic guitar very well. He sang lead on half the numbers and harmony on the rest. He also told a number of stories about Davy and his love of him and The Monkees. He has excellent stage presence. I'm sure I would enjoy seeing him perform separate from this tribute.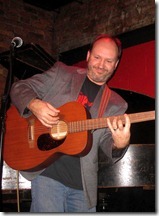 Zach sang lead on the remaining songs while playing the drums to Monkees perfection. Zach kicked it off with the classic TV intro Hey Hey We're The Monkees (Here we come, walking down the street…).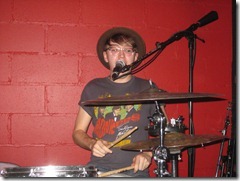 The amazing band, left-to-right on stage:
Greg Mayo on electric guitar and light vocals. Greg was great, nailing a number of very short, but amazingly familiar riffs. On one number he took a long and very fast lead, paying tribute to Michael Nesmith (who we were told didn't actually play that lead when he was on TV). Greg had to leave right before the last number, because he was supporting Chrissi Poland who was opening for Pat Benatar and Neal Giraldo at Tarrytown Music Hall.
Patrick Firth on grand piano, electronic keyboards and light vocals. Pat was excellent, taking the most leads, albeit mostly short ones. They were all tasty and Dave called him out a number of times, each to the delight of the crowd.
Brian Killeen on electric bass. Keeping the bottom going is something Brian always does well. While he didn't sing, he was definitely into the entire set and an integral part of the sound.
The crowd wouldn't let them off the stage when they were done. After a bit of discussion, they decided to repeat the last song, up one fret. Zach tried to convince Tony Maceli to take the tambourine (Tony was there to enjoy the show). Tony declined, but Zach's sister Natalie Jones took up the challenge. She stood center stage and was quite fancy with the tambourine, showing that all members of the Jones family have the musician's gene in them.

It's no surprise to me that The Monkees music still holds up 46 years later. The only real surprise is that it started out in a completely manufactured way, before taking on a life of its own. Thanks Zach, Dave and company for bringing us all back to relive some wonderful memories!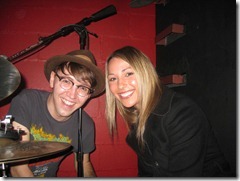 Here's the set list: