Send to Kindle
Mighty Kate headlined a set at Rockwood Music Hall Stage 2. I believe this set was scheduled for last month, on a day when we couldn't have made it. Thank you powers that be for rescheduling. I would have been there just for Mighty Kate, no doubt, but the fact that the set before Kate was Rebecca Haviland guaranteed we'd be there early, with seats front-and-center.
I've seen Kate (Katy Pfaffl) perform twice before. The first was at Rockwood 2 where I discovered her (long write-up, buried under The Big Apple Singers post). The second was at War Horse, where she is the on-stage musical star of this Tony award-winning show!
At intermission at War Horse, we bought Mighty Kate's self-titled debut CD. It's wonderful! You can hear the first cut streaming automatically if you click on her name above. It's also the song she opened the show with last night. She has a wide range of styles, from jazz to cabaret to pop. Her voice fits all of those genres really well.
She is a superb multi-instrumentalist. I've seen her play the grand piano, acoustic guitar and violin. The first time I saw her, I thought she was strongest on the piano. While that still might be true, I was completely taken with her finger-picking on the acoustic guitar last night on the three or four songs that she performed on guitar. No violin last night, but that's her primary instrument in War Horse, so I can assure you she's quite good on that as well.
I really like Mighty Kate as a songwriter as well (there's the trifecta for you, voice, instruments, songwriting).
Is there more? Sure, she employed the same core band that she had last time at Rockwood, which is a good thing, because both of them are extremely good:
Rich Mercurio on drums. Rich was fantastic (again). The last time, somehow, I missed that link to his MySpace page. I feel somewhat badly that I found it this time, because you can't really learn anything interesting about Rich there. So, I'll do what I did when I couldn't find a link, and quote a site that talks about Rich:
Manhattan based producer/musician/songwriter, has produced and written for various record and television projects. Rich has recorded and/or performed with artists including Enrique Iglesias, Jewel, Chris Whitley, Vitamin C, Jonatha Brooke, Michael Bolton, and Ronan Tynan. Appearances include The Tonight Show, The Late Show and Late Night with Conan O'Brian. He can currently be seen in the broadway production, Martin Short, Fame Becomes Me
Not too shabby, right?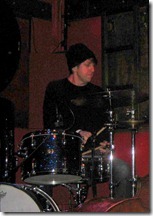 Richard Hammond on electric and upright bass. Another special performance. Rich was masterful on both the upright and the electric. Last time I encouraged people to click through and read about Rich(ard). Do it again, even if you listened to me last time!
Kate was surrounded by an embarrassment of Riches.

She dismissed them for one number, performing solo at the grand piano. No worries, she can hold the room's attention all by her lonesome.
Kate had two special guests.
Jody Shelton joined for three (or four?) numbers. He sings beautifully and their harmonies were wonderful. They are in the process of recording an EP together for an as-yet-unnamed duo project. I look forward to that! They performed two songs from that upcoming EP, just the two of them on stage, with Kate playing acoustic guitar. Jody joined with the rest of the band for one or two of Kate's numbers as well.
Last but not least, Kate invited her husband up on stage (though she never mentioned that he's her husband).
Scott Chasolen is a top pianist who performs his own music with the Scott Chasolen Trio. He joined Kate for the last two numbers. The first was with the full band, where Kate sang from center stage and Scott took over the piano duties (perfectly). The second was the only cover song of the night, where Scott played piano and Kate sang a Don Hathaway / Roberta Flack number. Gorgeous, showing off Kate's amazing voice.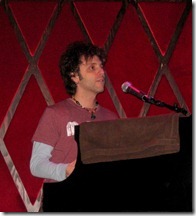 Given Kate's busy schedule with War Horse, it will likely be a while before she returns to Rockwood, though I'm hoping I'm wrong about that.

Here's last night's set list: