Send to Kindle
Jerry Fuentes headlined a set at Rockwood Music Hall. We've seen Jerry headline only once, over a year ago, so this was a show I've been looking forward to for a while.
Jerry's finalizing a new CD as I type this. In fact, if you agree with me that Jerry's talent should be shared with a wider audience, you can help by pledging on his PledgeMusic campaign.
What's Jerry's secret sauce? Amazing guitar player, excellent voice, unreal energy on stage, catchy songs. Not bad, right?
Jerry played the entire set (or rather the part that I was able to attend, more on that below) on an acoustic guitar. This was the first time I've seen him handle one, and it was putty in his hands. Not all lead electric guitarists can make similar magic happen on an acoustic, Jerry can.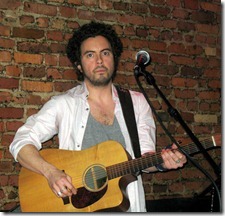 He played songs from his upcoming CD. I've already pledged, so I'm tapping my fingers waiting for it to arrive.
I mentioned above that I've only seen Jerry headline once. That doesn't mean that I've only seen him play once. He's been the lead guitarist for another favorite of mine twice, each time delivering the goods.
Derek James is that person, and Jerry returned the favor by inviting Derek to join him, turning it into a duo show, but still Jerry's songs.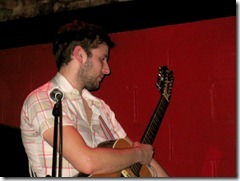 Derek sang harmony (wonderfully), played the guitar (12-string acoustic) and a synth. I overheard someone in the audience saying the synth was preloaded with Chad Vaccarino's voice, and only because I heard that, did I believe it to be true when Derek played it. It certainly wouldn't surprise me.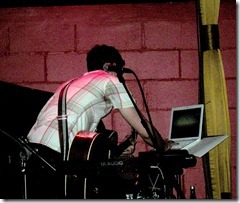 I'm Derek James' self-anointed #1 fan (whether he, or any of his other fans like it!), so it's always a special treat to go to someone else's show and get a taste of Derek in the process.
As much as I was enjoying the set, I had posted on the event page in advance that I wouldn't be able to stay until the end. That's because there was a blow-out show next door that I wanted to attend. Given the nature of the show, missing a single song meant missing one local superstar or another (and I wouldn't know who in advance). To make matters worse, Jerry's set started 30 minutes late.
I still got four full songs in (all excellent) before I got the text that the show next door had begun (thanks to my unpaid spy).
The super extra good news? Jerry and Derek came next door after their set and sang the lead on one of the songs in the blow-out show, with Jerry back on electric guitar. Jerry also accompanied others on the electric on a few additional numbers. Sweet!