Send to Kindle
John Schmitt headlined a set at Rockwood Music Hall last night. We used to see John frequently. I knew it's been a while (with a couple of near misses recently), but I was actually shocked when I looked it up and saw that it was seven months ago. That's just crazy talk. Glad to have corrected that.
Let's the get the important stuff out of the way first. Either someone stole John Schmitt's beard, and a sizable portion of his girth, or we actually saw an impersonator last night (a pretty darn good one if so). Now we can get on with more mundane things, like the music…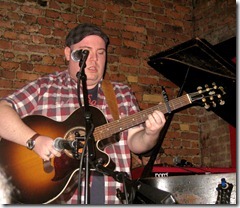 Since it's been so long, let's recap the three things that the real John Schmitt has in spades:
Great voice
Fantastic songwriter
Excellent guitar player
(that's how I was able to judge the potential impersonator, since he possessed two of those qualities. Clearly, if he was stealing John's songs, I don't know if he himself is a good songwriter.)

There were a number of firsts (for us) in last night's set:
John introduced his brand new banjitar (that's a six-string banjo, tuned like a guitar, that sounds like a banjo). It's a great idea. Lots of excellent guitar players don't have the time or inclination to study the banjo, but have a few songs that might benefit from that sound. That's exactly what John did, to perfection.
John birthed two songs publicly (first live performance). Both songs were great. We look forward to hearing them more often and embedding them in our brains like we have the rest of his set list.
John played a solo cover of Cat Stevens' How Can I Tell You. Wow! He was choked up introducing the song, because he's currently in a long-distance relationship and singing this song is all too close to home.
John had a full band plus one guest. I knew it would be a full band show, but I admit to being surprised to see two of the members, as in super-delighted-happy surprised. Left-to-right on stage, followed by the guest:
Matt Simons on grand piano, electronic keyboards, and harmony. Surprise #1. We love Matt and we'll be back at Rockwood on March 31st to see him perform his own stuff, but I didn't know he'd be supporting John. In addition to being wonderful on the keys (as always), Matt sang a bunch of harmony with John, in particular on Going Back, since Lissa Farquhar (John's regular singing partner) was very ill and couldn't make it.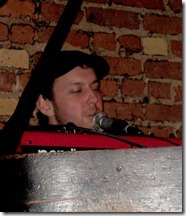 Quick commercial break (someone has to pay the bills here!).

Matt just finished recording a new CD in Nashville. He told me last night that it won't be available until June. But, in the meantime, he's sharing bits of it with the world. On his Birthday, he tweeted the following:
As promised, here's some reverse birthday love! It's link to download a free song from my new album! Hope you enjoy it!noisetrade.com/mattsimons
If I heard him correctly, next week he'll be doing the same thing with a second song. I've already seen a few musicians tweet that they've heard the new CD and are in love with it. I can't confirm or deny whether I've had a sneak peek at it, but if I did, I'm sure it's fantastic. If I didn't, then I completely trust the folks that said the same thing.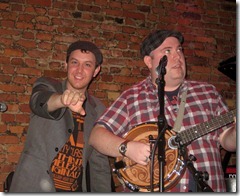 Back to our regularly scheduled programming.
Brian Killeen on electric bass. Brian was surprise #2, also an awesome one. Even though Brian (one of our favorite bassists) played with John the last time we saw him, that too was a fill in job for John's regular bass player, Pasquale Chieffalo. Brian was great at that last show, but he was even better last night. Buttery smooth and constantly laying down sophisticated bass lines throughout.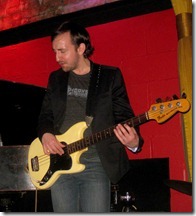 Mike Sutton on drums (still can't find a good individual link). Mike is John's regular drummer and he's done a great job at every show that we've seen him play. Clearly, he knows John's music cold and it shows.
Scott Tofte came up to sing harmony and shake some shakers on two numbers. Beautiful job. He had to consult the lyrics on his iPhone, because he joined John for one of the brand new songs.
Here's the set list: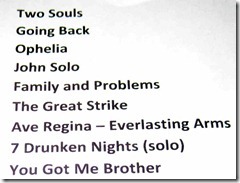 I couldn't stop laughing throughout 7 Drunken Nights.
Lots of familiar faces in the audience, which Lois couldn't help but document for our memories (and now yours).