Send to Kindle
Burlap to Cashmere headlined the Next Charity Concert Series show last night at Paulies in Pleasantville, NY.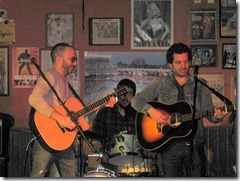 I've been hearing about Burlap to Cashmere (B2C) for a while now, all from the same person, all raves. I finally got to see them and only had to drive five miles to do it, discovering a wonderful local bar, Paulies, in the process.
Whatever I tell you about B2C won't do them justice. There are bands that perform amazing shows. There are bands that write great songs. There are bands that integrate the two, which is where the magic happens. B2C has that, but they have more. There is a heart and soul to the songs and the performance that transcends even the magic, perhaps to something that borders mystical.
There are a number of groups who I or Lois have fallen in love with during their first song. There are even a subset of groups where we've both felt that way. B2C is now in that latter group, where independently, without looking at each other or discussing it, we both felt it, and knew the other did, instantly.
I encourage you to read their bio, because the story is incredible (both in the amazing sense, but also in the nearly incredulous one as well). Embedded in there is a description of their musical style on the new, self-titled CD:
On its first album in more than a decade, Burlap to Cashmere draws from all the influences that made it a touchstone band: Mediterranean and Greek rhythms, flamenco and classic American folk, to create a rich body of work that embraces the past while crystallizing its new creative vision.
I assure you that every element mentioned above existed in spades last night. We bought two copies of the CD and listened to it this morning, and I can also assure you that it all comes across fantastically on the CD as well. Get it, you're welcome.
The truth is that the description above doesn't really do them justice, even though it's entirely true. At times, they play things that are reminiscent of great jazz. In fact, the guitar play reminded me a number of times of the awesome Acoustic Alchemy. Suffice it to say, it's not necessary to categorize them, just to love and appreciate them.
Each person in the five-member band does their part so well, that the blend of sounds is far greater than the individual parts. The core band consists of three members. I'll cover them first, then the two others.
Steven Delopoulos is the front man. He sang lead on every song and played the acoustic guitar beautifully, mixing rhythm with some fast and interesting finger-picking. I believe that he writes most (all?) of their songs. His voice is very special (and I'm thankful that I had the chance to tell him that after the show). There's a quality that simply draws your ear to him, like a magnet.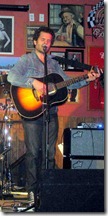 John Philippidis on acoustic guitar and harmony. As special as Steven's voice is, John's (Johnny) guitar play is equally mesmerizing. The above-mentioned Flamenco/Mediterranean/Greek rhythms are mostly created by Johnny's guitar play. For the most part, he's a super fast, super interesting flat-picker. He did do a bit of finger-picking, but whatever he did, it was pure magic. Oh yeah, his harmonies with Steven are fantastic as well.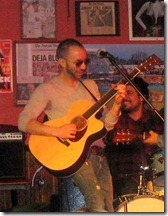 Did you read the bio like I encouraged you to? If so, can you believe that Johnny was left for dead and was in a medically induced coma? He wakes up and can play the guitar like this? I can't even fathom it…
Theodore Pagano on drums. He (I believe they called him Teddy) was wonderful. The type of rhythms that B2C creates calls for some very demanding drumming and Teddy certainly delivered. He also handled selling their merch, so he's mutli-talented.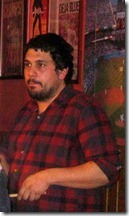 Chris Anderson on electric and upright bass, along with background vocals. Chris was the person who has been raving about B2C to me (and I assume to anyone else who will listen). In addition to thanking him for this amazing discovery, I have to also thank him for his performance last night.
Keeping up with Steven, Johnny and Teddy is no simple task. Chris was flawless on two electric basses and an upright one as well. He was really fast and really tasty. He also sang his heart out when the songs called for three part harmony.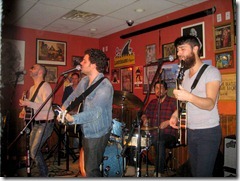 Erik Deutsch played electronic keyboards. Erik was filling in for normal keyboard player Todd Caldwell, who is touring with Crosby, Stills and Nash (no biggie, right?). Well, Erik is no slouch either. After doing his part in keeping up with the other four band members, he is jetting off to play at SXSW, followed by touring with Shooter Jennings (including an appearance on The Tonight Show).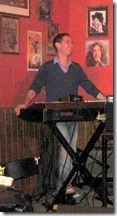 Here's a shot of the full band: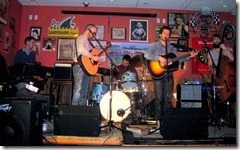 We'll be catching B2C again this Friday, March 16th 2012, at Rockwood Music Hall Stage 2, at 9:30pm. It's a ticketed show, so grab them now before they sell out (I already got ours, which is why I'm OK promoting it).

Here is the set list: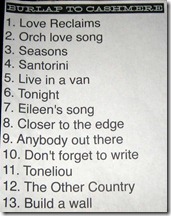 The next two paragraphs are copy/pasted from my last post, about the openers from this show:
The entire evening was brought to us by Chris Bro. Chris hosts a twice-weekly radio show called NEXT on The Peak, a radio station based in White Plains, NY. He also runs the All Things Next site, which includes a regular podcast. Last night's show was part of a series called the Next Charity Concerts.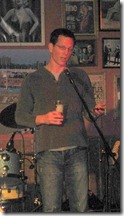 The show took place at Paulies. We've never been there before, even though we live five miles away (how convenient!). It's a very nice local bar. The sound system was huge (I've never seen gear like this at a local bar), bigger than many full-time music clubs we attend. I don't know if it's a permanent fixture at Paulies or whether it's brought in specifically for this series.
The Peak was represented by more than Chris Bro. Robert Bongiardino was also there. Here he is with Rebecca Haviland, whose song Collide With Me is played regularly on The Peak!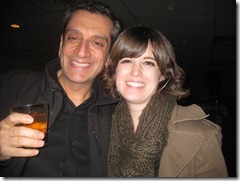 And, just because she (and Chris) are so special to us, here's another shot of Rebecca.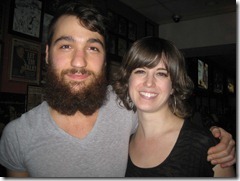 Update: Aaron Kershaw, a professional photographer, volunteers his time (and equipment) to shoot all of the Next Charity Concert shows. You can view the photos of all shows (watermarks included). You can republish the photos as long you don't modify them in any way, including touching the watermarks. Here are the Burlap to Cashmere photos.