Send to Kindle
Abby Payne headlined a set at Rockwood Music Hall Stage 2. It was her first headlining set at Stage 2 and I'm willing to bet it won't be her last!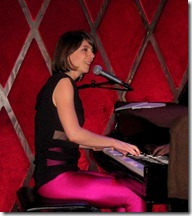 I've seen Abby perform two full sets (among some other appearances). The first time, with a full band at Rockwood 1, I had a hard time overcoming the volume.
Last time, Abby was incredible in every possible respect, performing a much quieter set with a trio, also at Rockwood 1. So, I was excited to see her play last night, but I admit to a little trepidation considering that this was going to be a full band set again.
Not to worry! Partially due to Stage 2 being much more expansive (allowing volumes to go higher with fewer problems), and partially due to everyone just playing at an appropriate volume, the set was fantastic.
The first full-band show, Abby played on the electronic keyboards and someone else played the grand piano. Last night they flipped, with Abby spending the entire set at the piano. She's excellent, and I typically prefer the sound of the piano over the keyboards, so that was a nice surprise as well.
Abby performed a number of the same songs that she did with the trio, but they really took on a dramatically different character. Most of the set (with the obvious exception of the one song Abby performed solo) was power pop. Driving rhythms, soaring vocals, excellent musicianship. The trio had a broad range of genres, but it was really mellow, get lost in the music, not the energy kind of stuff.
Great to know that Abby's material holds up both ways.
Supporting Abby, left-to-right on stage:
JP Schlegelmilch on electronic keyboards and vocals. I already noted that last time, he was on the piano when she was on the keys. JP was excellent last night, playing a more organ like sound, complementing Abby's piano play.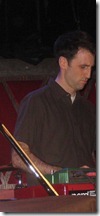 Stephen Chopek on drums. Stephen was filling in for Abby's normal drummer, Kenny Shaw. Considering that we see Kenny more than any other drummer, I think he was hiding from us (that's my story and I'm sticking to it!). Not to worry, we both love Stephen's play. In fact, this was a real treat because most of the other sets that we've seen him play have been more folk oriented where he's impressed with his subtlety.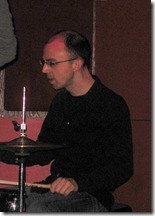 Last night's power pop gave Stephen a chance to open it up quite a bit. I didn't doubt for a second that he's comfortable with that style, since I know that he toured with John Meyer for a year.

We haven't seen Stephen perform in 10 months. That's just way too long, but he's on the road non-stop, so we'll take what we can get!
Here's Stephen, levitating a cymbal. Quite impressive! (Sorry, I couldn't resist…)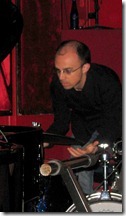 Chris Anderson on electric bass and vocals. This was our third set of the night watching Chris play. All three sets were radically different from one another. No matter, Chris delights in all genres.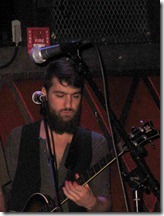 Wil Farr on electric guitar and vocals. Wil is excellent on the guitar. I knew this from the first time I saw him play with Abby, though that night it was primarily his amp which caused my issues with the volume. No such problems last night, so Wil's play came shining through. He was also a bit more primary on the backup vocals with Abby than the others.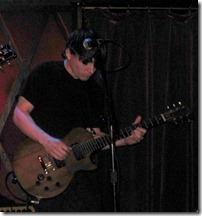 OK, I'm ready for the next one, trio or full band. Let's get it going!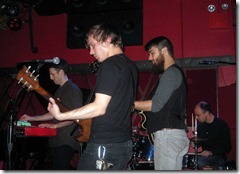 Here's the set list: