Send to Kindle
Greg Mayo had one of his FUNTIME sets last night at Rockwood Music Hall. This was the third consecutive set that he appeared in (second consecutive one that he headlined), all of which we attended (surprise!).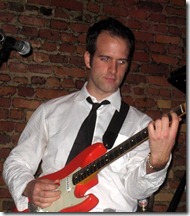 A Greg Mayo FUNTIME set is a rocking good time (literally). Who knows what you'll get, other than mostly (all) covers (last night had one original), themed in some way that is only explained at a given show. What you can be sure of is that the musicians will be amazing, and that you'll find it very difficult to have nearly as good a time as they do.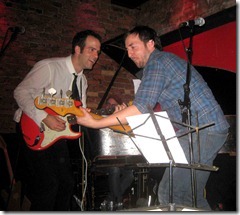 Last night's theme? A musical game of tag! Each of the band members picked specific songs for other band members to sing lead on. Of course, they pick challenging songs for the sheer sport of it.
Greg Mayo played lead guitar and sang. His guitar play was as on fire as it always is, even though he had been playing practically non-stop for three hours before this set began (at 12:10am). That it came after an amazing set where he played piano and keyboards exclusively, and sang his heart out, was a delightful change of gears.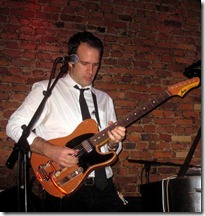 Patrick Firth on grand piano, keyboards and vocals (and a surprise instrument that I'll cover in another section!). No need to ask whether he was great on the keys (but if you did, and I just didn't hear you, the answer is Yes). One of the songs he was assigned, came from the drummer, who made him sing Rosanna (by Toto). There are some pretty darn high parts tucked away in that song, which was the whole point of making Patrick sing it. Everyone had a blast, especially Patrick.

Brian Killeen on electric bass, lead electric guitar and vocals. Brian played his usual instrument, the electric bass, exceptionally (as he always does). He sang at least one song on the lead while still playing the bass.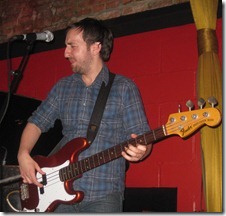 But, on one song, Greg, Patrick and Brian each rotated one position. Brian took Greg's electric guitar. Greg sat down at the keyboards. Patrick Firth took up the electric bass (see, I said there was a surprise instrument for Patrick!). Brian couldn't properly start the song without fully preparing for it. This involved a wardrobe change (not to be confused with a wardrobe malfunction!).
Brian stripped off his button-down shirt and played the song in his undershirt. He blasted out quite a number of tasty leads, a few of them were really fast! Even the slow ones were great. He sang wonderfully too.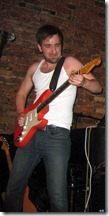 Brian is typically one of the more self-effacing members on stage, not doing anything to call attention to himself other than playing the bass well enough to call attention to himself. Once he took the shirt off, all bets were off as well. He became the prototypical rock star, and delivered completely!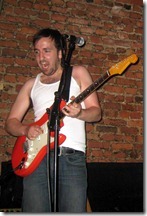 Without missing a beat, Brian substituted a name from the song with Jay Stolar, who he spotted in the crowd.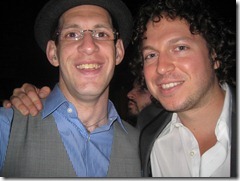 Zach Jones on drums and vocals. Zach was incredible on the drums. There were no slow numbers, so he was working it constantly. Of course he sang great too. I was about 12" from the kick and hanging tom. I was shocked, but every single time Zach struck the hanging tom I felt a rush of air sweep across my arm. Crazy, because the first couple of times I looked to see if someone was brushing against me.
There was also an unannounced special guest!
Ryan Vaughn sat under the sound engineer's booth, to the far right of the stage (right next to Zach). He was a percussionist extraordinaire on every number. He used shakers, maracas, tambourine and probably other things I wasn't paying attention to. On at least one song, he used maracas in his right hand (two) and hit the hi-hat cymbal with a drum stick in his left. Zach was also hitting the same cymbal (opposite side) with his left hand, while working the remainder of the drum kit with his right. Awesome!
We got home at 1:30am, completely wiped, but completely happy. When do we get to do it all over again? (No, seriously, when???)