Send to Kindle
Julia Haltigan headlined a set at Rockwood Music Hall last night. It was the last show of a month-long residency at Rockwood 1. In April, she'll be moving to Rockwood 2. I couldn't make the earlier shows this month, but I was determined to catch her again after enjoying her set last October, and her song at the Full Vinyl show a few weeks ago.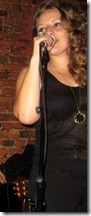 Not that you will believe me, or care, but what I'm about to do is not out of laziness at all. I just re-read my previous post about Julia, and with a few exceptions, every word applied directly to last night's show. So, if you want to know about Julia, and/or her fantastic band, or the specific feel of the previous show, or of last night's show, read that post in its entirety.
I will note a few differences here (very few) and put in photos of last night's show (to prove to you that we were indeed there).
First and foremost, I nit-picked a bit about Sam Feldman's guitar play at the previous show. No nits last night, literally. I don't know if he wasn't feeling well last time, or was off for any other reason, but he was excellent on every number last night. As I noted in the previous post, his guitar is a very critical part of Julia's sound, so his elevated play was most welcome!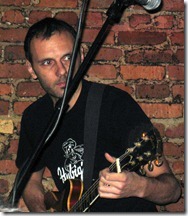 Julia closed with the same cover, and again, Sam was spectacular on the acoustic guitar (the only time he wasn't on the electric during the set).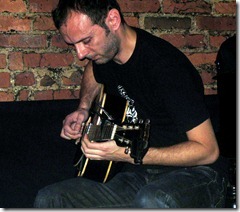 I didn't note it last time, so perhaps it wasn't as evident (I do tend to be pedantic), but Julia has superb stage presence. She's very comfortable during and between songs.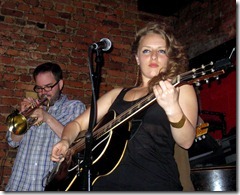 She had her hair done for the show. She noted it (and I do as well) because the woman who styled it was in the audience, and Julia highly recommended her services. Nice shout-out. I didn't lock in the name, because I'm unlikely to need her services (unless she has a secret to regrow my giant bald spot), but anyone who would like to leave her name in the comments is encouraged to do so!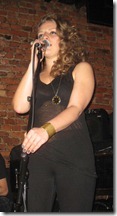 These two are repeats, but they deserve the shout outs:
Joe Ancowitz was excellent on the trumpet and the vocals. The brass adds a very nice character to Julia's songs.
Steve Williams is great on the drums (all three times we've seen him).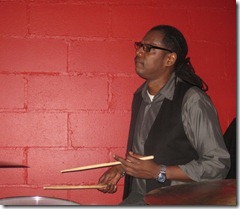 Some more photos: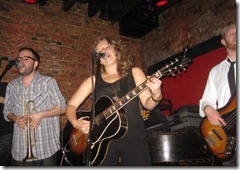 Julia is firmly on my list of people to keep seeing, so if you show up to a future show, you're likely to see me there too.

Here was Julia's cheat sheet (perhaps not a literal set list):