Send to Kindle
Chris Ayer, Matt Simons and Adam Barnes have toured together in the UK and Europe a couple of times. March saw Adam crossing the pond to tour the US with Chris and Matt (by now you should have figured out that Adam is the Brit of the three). Last night they headlined a two-hour set at Rockwood Music Hall to close out their month-long tour.
In typical fashion, I'll cover them in the reverse order that they appeared on stage. Each of them called the others up to sing on at least one song.
It's been five months since we've seen Chris Ayer perform. That's practically crazy talk, but at least the drought is now over.
Chris opened the show with a new song called Turnip. He noted that no one seems to like the title, but that's what it is. Regardless of the title, the song is fantastic, so let's allow Chris to call it whatever he wants.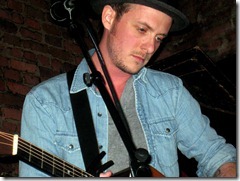 I don't think it had anything to do with our five-month deprivation, but everything aligned last night in a way that we both felt Chris delivered a flawless performance.
His guitar play was stellar (which isn't unusual, I'm just noting the various components of flawlessness). His voice was great. He chose a wonderful set list. When he invited Matt and Adam up (separately and together), the harmonies were heavenly.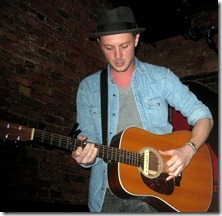 Matt joined for a few songs in a row, playing the grand piano and singing their patented gorgeous harmonies.
Adam joined for two numbers. On the first, they sang stunning three-part harmony. For the second, on the first verse/chorus, Adam sang harmony with Chris (while Matt sat patiently at the piano), and that two-part harmony was awesome too. Then Matt joined for the remainder of the song, again, incredible.
Chris announced that he was going to close the show with his signature performed-in-the-crowd version of Roy G Biv. All three of them descended into the audience and Chris had most people singing along with him. Always a treat to see/hear that song, whether it's in the audience or on stage.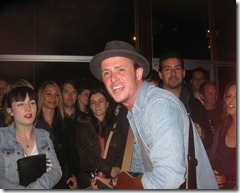 When the song was over, Chris was done. But, there was still more than enough time for him to play another, and the crowd simply wouldn't have it any other way. He was forced (quite literally) to plug back in and do an encore. A number of songs were called out. Lois asked for Wintertime, I asked for Snakeskin Heart. I heard at least five other song titles yelled out.
Chris was amused, but asked us whether it would be OK if he sang Hiding Place. No one objected.

It's a great song, and he nailed it, so it was a very fitting encore.
Here's the set list (in traditional style), and you can fill in Hiding Place in your mind:
Matt Simons played a set at the piano. I think that all but one of his songs was off of his upcoming CD, Pieces, which will be released in June.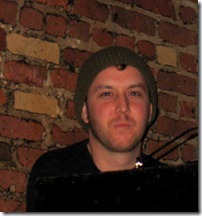 Matt recently released a single off that CD, Gone, which he played last night. You can buy it for a buck and/or pre-order the full CD for digital download or a physical copy.
Matt typically mixes it up between the grand piano and the electronic keyboards. Last night he played the piano only. I nearly always prefer the spacious sound of a piano, so I was very happy. Matt's play was excellent on his set and on Chris'. His vocals were great too.
Even though the CD won't be released until June, Matt had copies of it at the show. They are labeled Promotional Copies, Not for Resale. As Matt pointed out, they don't say Not for Sale, just not for resale.

So, you could buy one at the show. We bought two, so I could put the second one up for sale on EBay and accomplish two things: 1) Get $500 for the CD, because it's not yet available to those who want it! and 2) flaunt the law and see if I can get away with it!

I already mentioned that all three were on stage during each other's sets, so I will redundantly report that Chris and Adam sang with Matt, beautifully.
Chris also joined Matt for a song that Chris played guitar and Matt sang lead, without playing the piano. They sang harmony on the chorus. It was gorgeous, with the mellowness of the guitar, coupled with Matt's vocals.
The one older song was also performed with Chris: I'm Already Over You. Excellent!
Kicking the whole thing off was the one person we hadn't seen yet, Adam Barnes.
Adam has an excellent voice and plays the guitar nicely (a few songs finger-picked, the rest, rhythm).
His songs are very slow and soulful (at least this set was) and he delivers the lyrics with a deliberate passion, so the pacing becomes a critical part of the feel of the song.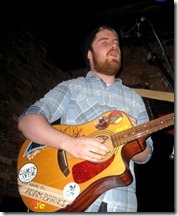 Adam broke out the harmonica on one song and shared a bit of TMI about mustache hairs and the potential hazards thereof.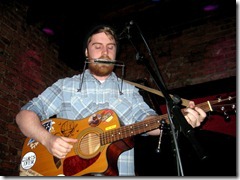 As with the others, he first invited Chris up to sing harmony with him, then Matt joined so that the three could dazzle us together. This was proof that no matter who the songwriter, Adam, Matt or Chris, each is capable of writing songs that support this type of harmony.
We grabbed some Adam Barnes stickers after the show. Who knows where you'll see one.

His guitar is an advertisement for Chris Ayer though.

We were both so happy to be able to make it out to this show.
While I mentioned how amazing the performances were, the evening itself was not without a hiccup. Right before one of Matt's songs, he asked for a glass of water. The waitress brought it over to him. As she left the stage, the woman across the table from me moved a bit hastily to let her get by. In the process, she knocked over her full glass of red wine all over me (shirt and jeans). C'est la vie. At least, whenever I need a quick hit, I'll probably be able to squeeze a few drops out of those jeans.
As is typical at Rockwood, we got to share the experience with a bunch of our friends, some of whom Lois captured. The two ladies had birthdays on consecutive days. Matt gave a shout-out from the stage to the one whose birthday it was yesterday.