Send to Kindle
Mike and Ruthy headlined a show at Joe's Pub last night. I hadn't heard of them (by that name) but I was interested in the show because I had just recently discovered the opener, Aoife O'Donovan. When I checked out Mike and Ruthy, I liked what I heard, so that made the decision to get tickets easy.
I'll mention at the bottom why I should have known who they are.
Mike and Ruthy are married. They have a son and are very close to adding a daughter to their clan. Ruthy was quite pregnant, though it didn't seem to stymie her performance at all.
Ruthy sings beautifully and played a tiny silver ukulele, acoustic guitar and fiddle, all very well.
Mike has an excellent voice and played acoustic guitar (two different ones with very different sounds/styles), harmonica and banjo. While he only played the banjo on one number, it was a highlight (both the song and his play). He was quite good on the guitar too, finger-picking on many numbers.
Each sings well enough alone, with their harmonies adding a nice spice to the mix.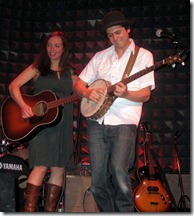 They are billed as a Roots/Americana/Folk duo. That's certainly accurate enough, but they had band support and an additional genre last night as well.
They just released a new EP (it was available for sale at the show and you can buy it on their website). It has six songs on it and they kicked off the show by playing the entire CD (not in track order). At least half of those songs were more bluesy to me (though Roots Bluesy, so they still qualify for the general description).
Each of them sings and plays instruments well enough that I have no doubt they would do a great job purely as a duo. That said, I'm glad not to have found out last night, because they surrounded themselves with top-notch musicians that added significantly to their sound. Left-to-right on stage:
Daniel Littleton (easy to find online, but I couldn't find a good individual link). Dan played acoustic guitar on every number and was fantastic. When Mike played the banjo, they jammed together for a long time.
Jacob Silver on electric bass. Jake was great on the bass. He displaced Ruthy at the mic a few times to answer questions (or to clarify statements) that Ruthy posed. It was an amusing touch.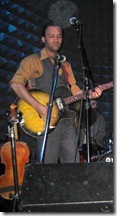 Robin MacMillan on drums. Robin was great on the drums.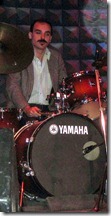 Jake and Robin are both in Aoife's band, so I had seen them before (and they were an important part of why I wanted to see Aoife again). Mike mentioned that both of them played on the new EP and I believe some (all?) of it was recorded in their (or was it Robin's?) studio.
Aoife O'Donovan joined Mike and Ruthy to sing harmony on a few songs (after the EP numbers were over). She was fantastic and the three of them sounded so good together.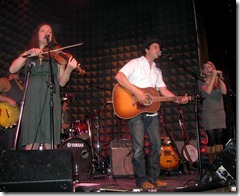 When their set was complete, the audience didn't stop applauding until they returned. They played an Etta James song for an encore.
Here's is their set list: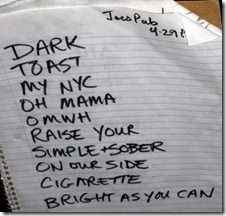 Aoife O'Donovan opened the show with her regular band (so Jake and Robin were on stage for the entire show). I've only seen Aoife once before, five weeks ago, so rather than repeating everything I said about her that night, here's the link to that post.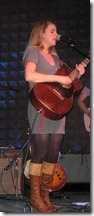 Ryan Scott was on stage for every one of Aoife's numbers last night. He was great, in particular on Glowing Heart.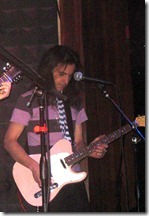 Ruthy joined Aoife for her final three numbers. She sang harmony beautifully.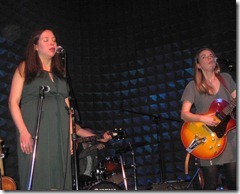 The first of those numbers was a cover of Emmylou Harris' Boulder to Birmingham. Gorgeous job ladies, but in particular, Aoife, who brought a lot of soul to it.
Here was Aoife's set list: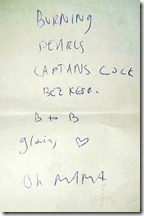 I mentioned above that I would close with why I should have known Mike and Ruthy. They were founding members of a now disbanded group, The Mammals. In 2007 I wrote a very long post about how I first heard of The Mammals, but never got to see them (they disbanded after I bought tickets to one of their shows, but before they played it!).
It's small-world-ish that I finally saw them at Joe's Pub, since that's how I first heard about The Mammals way back then…