Send to Kindle
Last night Lois and I drove 30 minutes to Peekskill, NY to see Joan Baez at the Paramount Theater. How we came to see this show is itself a long story, delivered later in this post.
One of the biggest influences in my teen years was Bob Dylan. Not just the music, but more specifically, the lyrics. They were burned in my mind, even at the age of 13. I learned to play the guitar because of him. Of course, if you were a Dylan fan back then, the odds were pretty high that you were a fan of Joan Baez as well. Not only was I a fan, I was a very big fan!
Lois was preoccupied with extremely challenging life events during those years and didn't pay attention to either Dylan or Baez beyond general awareness.
The last time I saw Joan Baez live before last night was on November 22nd, 1975 at Brandeis University when she appeared with Dylan as part of The Rolling Thunder Review tour. One of the greatest shows I've ever seen, including Joan's amazing performance.
I remembered the year, but had to look up the actual date. 😉
The audience last night was full of people who adore, even revere Joan. You could feel the excitement and anticipation long before she came on stage. When she came out the place erupted with applause. She announced that she would be playing new songs as well as the songs you came to hear. 🙂 She didn't disappoint in that, playing beautiful new songs that will be on her upcoming album, as well as some of her fantastic hits.
For roughly half the show she was accompanied by her band.
Erik Della Penna played a variety of string instruments, all very well. He also sang harmony with Joan on some of the numbers. It took me a while to warm up to his playing, but in the end, I decided that he was just making sure to defer to Joan and not steal the spotlight. He's quite accomplished and soulful.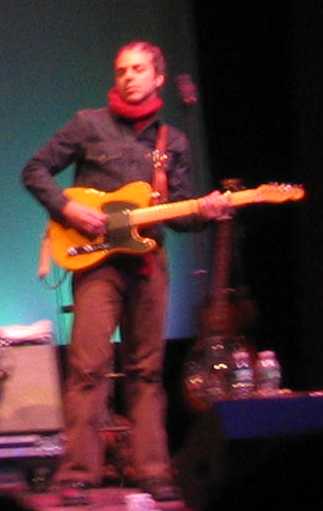 In addition to playing guitar, lap steel guitar and dobro, he also played a square guitar, roughly the size of a mandolin, that I've never seen before. Joan called it a Cigar Box Guitar, which I thought was a joke, but there's a site for them, so it must be true. 😉
Here is a picture of the Cigar Box Guitar, and one of Erik on the Lap Steel Guitar:
Dean Sharenow played the drums. While he kept perfect rhythm, he was obviously understated (purposely) for this kind of music. I have little doubt that he's an accomplished drummer, but last night was not the type of show to bring out his talent. He sang vocals on a few numbers as well. Dean and Erik have their own band, separate from their work with Joan, called Kill Henry Sugar.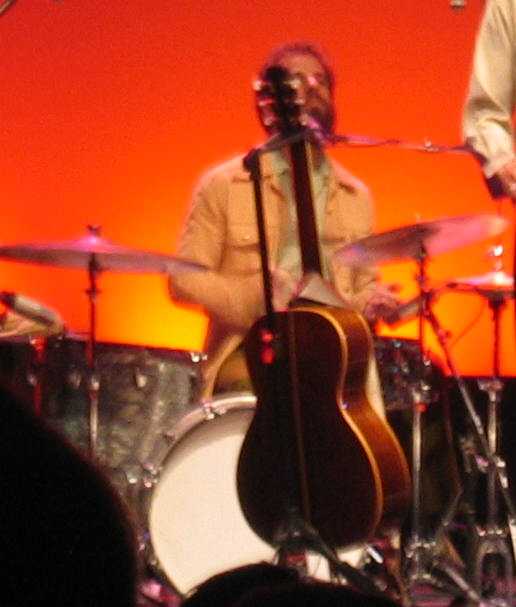 Michael Duclos played bass. I have recently complained that as much as I have enjoyed numerous bass players over the past year, almost every time, they are simply too loud and overwhelm the rest of the band. Not so last night. Just as with Erik and Dean, both Michael and the sound engineer correctly chose to emphasize Joan, so Michael's bass was solid the entire night, but significantly in the background, where it belonged.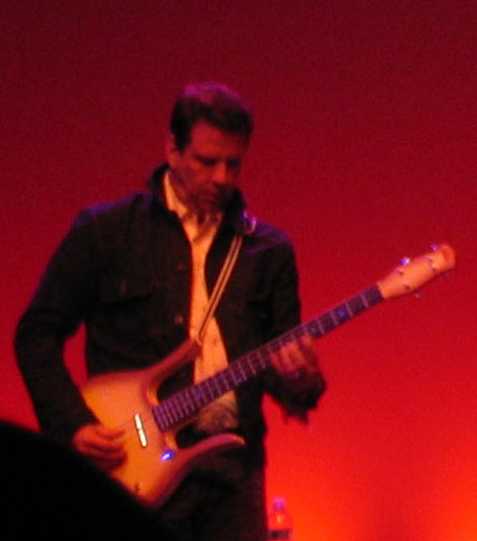 During the first third of the show, when they were all on the stage together, they played most of the new stuff, sprinkled with recent stuff and perhaps two old favorites. She sang Christmas in Washington (from her Bowery Songs CD, released in 2005) written by Steve Earle. Steve is producing her new CD, and has written many of the songs on it. I'll have more to say about Steve (and Joan) in my other section (now a regular feature in these posts), but for now, here's a link to a YouTube video of Christmas in Washington with Joan and Steve performing together.
The second (or third) song of the evening was one of the old ones, With God On Our Side (by Bob Dylan). Quite a number of the songs Joan sang last night had God in them (perhaps 50%). Many are cynical about God (the Dylan song for example), but some are deeply spiritual (Swing Low Sweet Chariot and Amazing Grace). It's an interesting mix, and I'm not clear if she's attempting to communicate a specific message or not.
After this part of the show was over, the band left the stage leaving Joan on her own. She went into a lot more of her traditional songs here, mostly accompanying herself on the guitar, but with an occasional a cappella song thrown in as well. As good as the parts with the band were, it was more special, magical, to see her perform on her own. She certainly held the crowd in the palm of her hand throughout her solo set.
Among the favorites, she performed her ultra-famous Diamonds In Rust. I already mentioned one of the a cappella numbers above in a different context, Swing Low Sweet Chariot. She encouraged the audience to sing along during various verses of that, and they willingly obliged (I can't explain it, but I didn't sing along at all last night, even to The Night They Drove Old Dixie Down, one of my favorites…).
She played solo for roughly half of the show. The band then returned for a few more numbers, including Dylan's Love Is Just A Four Letter Word. After saying goodnight, and taking their bows (in a group hug), they returned for a three song encore. After the first two songs, the band left the stage again, and Joan finished the evening with her signature a cappella Amazing Grace, which the crowd belted out with her.
She received a standing ovation before they left the stage the first time, and again at the end of the encore, including the entire audience standing throughout Amazing Grace. Like I said in the intro, she was adored and revered, and the crowd wanted to make sure she knew it. Here's a photo of everyone singing Amazing Grace with Joan, all the while standing: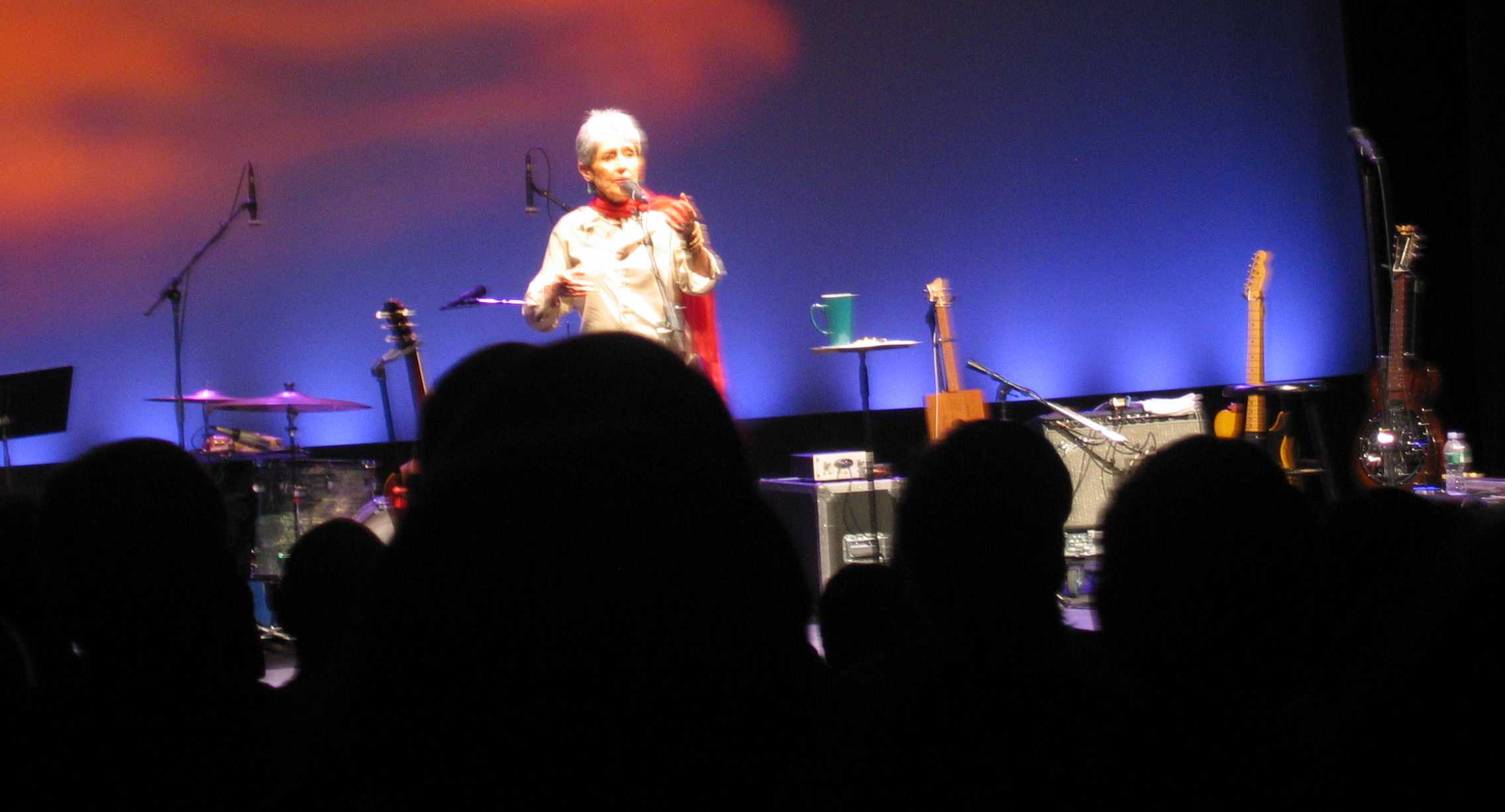 She was on the stage for a total of 100 minutes including the encore. While we all could have listened to her for hours longer, the show was an appropriate and appreciated length.
Here are a few photos of Joan, with and without guitar. One of the reasons that I'm including a number of similar shots is that the background lighting at the Paramount Theater is very nicely done to set various moods. If you look at some of the other photos included here, you'll see a variety of scenes and colors, with many more that I am not posting:
That's the end of the general review of the evening. As always, I have lots more to say (I know, I have too much to say, always). Some of this is on the negative side, some on the more nostalgic side, and some mere speculation. So, if you don't know me, or don't care about my opinions, this is an excellent time to click away…
I recently wrote about a spate of concert cancellations due to illness. In that post, I forgot to mention another cancellation that I had previously written about. We had tickets to see The Mammals at Tarrytown Music Hall (last October I think) and they too canceled a week before the show, but not due to illness I believe.
In the above post, I mentioned that the only cancellation that we did not have tickets to was Joan Baez. There were a number of reasons why we didn't end up buying tickets in advance to that show, but the primary one was that we were scheduled to be at Zope that week (March 31st). If you read this space regularly, you know that we ran back that weekend to see Girlyman at Joe's Pub on the 30th, but we did indeed return to VA the very next morning.
We were supposed to be at Zope from last Wed through this week as well, but for the first time in a very long time ended up canceling our own trip (also not due to illness). Once the trip was canceled, I decided to check out the status of Joan's rescheduled show (exactly two weeks after the postponed one), and lo and behold, there were a reasonable number of tickets left. The original show was sold out, so clearly, some people simply couldn't make the new date and returned their tickets for a refund.
Lucky for us, unlucky for the original ticket buyers. We got two seats in the 10th row, left orchestra, aisle and one in. Superb seats. The show was scheduled to begin at 7:30pm. We've been to the Paramount Theater once before, to see David Bromberg and the Angel Band so we knew the lay of the land, and how long it would take to get there from the house (roughly 30 minutes).
We left at 6:35pm and got to the theater at 7:05pm. The police had the entire block of the theater cordoned off (from every approach). This was quite surprising. I realize Joan Baez is a big star, but David Bromberg also sold out the place (as I'm sure many others do), and he didn't get similar treatment. Who knows the reasoning, but it wasn't a good sign.
It turns out that the town (Peekskill) isn't all that friendly to visitors (tourists). It's a quaint river town, which should be in the business of attracting tourists and making them feel welcome, but just try to park in any of the dozens of empty spots on the street. Oops, don't, unless you want a ticket. Signs all over the place saying that you need a permit to park on the street. You'd think that on a night when someone like Joan Baez is in town, they'd put up signs waiving that, but alas, no.
Even the municipal garage has two tiers of parking, one requiring permits, the other meters. Who knew I needed to show up with tons of change in my pocket to attend a local concert. We weren't thrilled with the entire ordeal, but still made it in plenty of time to pick up our tickets at Will Call and get seated.
At 7:20pm (when we were in our seats), it was obvious that the show would not start on time. The main reason is that the hall was still half empty, with tons of people still hanging around outside. At 7:31 they made the usual announcements, so they were trying to get the show back on schedule, but the house lights were still on, and perhaps 20% of the hall was still unfilled.
At 7:40pm the house lights went off, the crowd went nuts, and Joan came on the stage. There were still quite a number of seats empty, and people were still trickling in, but at least we weren't waiting for the last person to show up before beginning. Across the aisle from us, in the 10th row center orchestra, there were five empty seats in a row. This fact will become important (to us) shortly.
After each song, the ushers would quickly guide a few more people to their seats. After the third or fourth song (past 7:50pm) the two people who had the seats immediately to Lois' left squeezed by us. The man proceeded to whip out his Treo, and sat there for at least 10 full minutes with the light shining brightly, working the phone (email, sms, who knows?).
It was annoying the hell out of us. Lois asked if we could move across the aisle. I hate doing that, because I would hate having to move back (in shame, as if we were trying to get away with anything), but it seemed safe at nearly 8pm. It worked out fine, as we darted across the aisle between songs, and weren't bothered the rest of the night. Why come to a show 20 minutes late, not pay any attention and annoy everyone seated near you? Stay home and use your full computer. We'll all be happier for it…
I mentioned earlier that I was a huge Joan Baez fan while Lois was less familiar with her stuff. As such, Lois enjoyed the show last night tremendously, having no previous reference point. I thoroughly enjoyed the show as well, but less for musical reasons. There was a tremendous sense of history for me, not just in experiencing Joan live again, but in hearing her tell some very moving stories (she told a few about Martin Luther King, someone she actively marched with and supported in a number of ways!).
Musically, her voice is still excellent, perhaps even better than most touring artists, but it's really a shadow of what it once was. It's likely that this is a temporary anomaly, caused by her recent illness (forcing the previous cancellation), as she specifically said that she had lost her voice, regained part of it, then regained some more. She didn't put a timeline on that though, so it might have had nothing to do with the illness, and she might not be regaining any more, even if she gets healthier.
The good news is that she's well aware of the changes in her voice, and even joked about it (in the middle of a song!). She no longer tries to hit certain notes, simplifying the vocal arrangement of some of the more challenging songs. I have no problem with that, but that doesn't mean it isn't a little sad and disappointing. She also lost her place a number of times on the lyrics, laughed it off and continued on very professionally in each case. She joked about that too, quite cleverly, so last night clearly wasn't the first time that's happened to her.
I'm truly hoping (for her sake, and for her fans' sake) that her voice will get stronger as she gets better (assuming she hasn't fully recovered). The most striking thing to me is not that her voice isn't clear, or gorgeous (it is!), but rather that she seems apprehensive about pushing her voice, even though at times during the night, when she did, she was able to hit the note, or deliver the power that she was looking for.
Joan is 67 years old. To me, she looks much older, and seems a bit on the frail side. If you look at the YouTube video that I linked above, of Christmas in Washington, which was filmed less than four years ago, she looked 20 years younger (to me). While she is as graceful and lovely as you could wish, I couldn't help feeling badly that age (or health) is catching up with her more quickly than her young years deserve.
Of course, you can listen to her CDs to hear the difference in the strength and range of her voice. Still, it's possible that even that is due to the wonders of a recording studio rather than the rawness of a live performance. So, through the magic of the Internet, if you're interested, you can hear Joan do a number of songs (most of which she performed last night!) from the last concert from The Rolling Thunder Review, taped at Madison Square Garden on December 8th, 1975!
You have to register to hear it, but it's free, and the sound quality is excellent! Her voice back then, in a live performance, is not even comparable to her voice last night, even though it was delightful to listen to her last night as well! Here's the link to the 1975 concert. Click on PLAY THIS CONCERT under the image of the ticket stub to start the stream.
Here's a cute story, and one which is relevant to our Girlyman experiences as well. If you listened to the above concert, you may have noticed that Joan complains (in a British accent!) that she needed help tuning her guitar! Last night, she joked that she used to have trouble tuning her guitar, but now they have these devices that help you tune them. So now she has trouble tuning her guitars, with the help of the new devices. 😉
Until recently, I didn't have a clue as to why all of the guitarists looked down at the stage while they tuned. More interesting was that I didn't understand how they could hear what they were tuning, as there was often other stuff going on at the time (If you've ever seen Nate in action while the Girlyman ladies tune, you'd understand). 😉 Well, the device must show red and green lights for each string in tune or not (my guess, but I'd be surprised if I were way off).
Anyway, here's a picture of her tuning last night. 🙂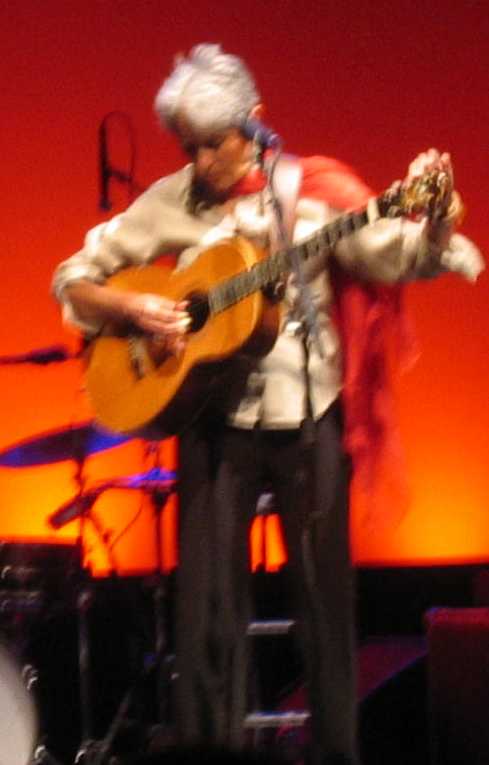 I can't resist sharing this photo. To me, Joan seems to be channeling Hillary Clinton: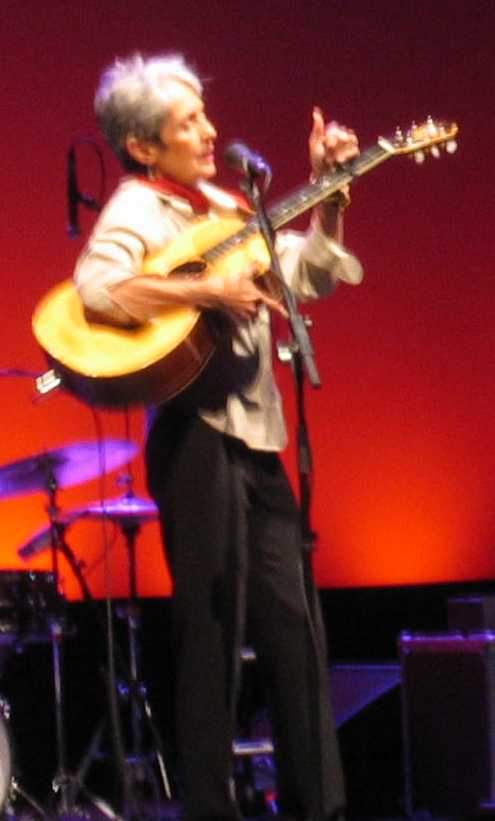 Finally, politics. If you read this space, you know how I feel about politics mixing with entertainment. Perhaps that was an unconscious reason why I didn't rush to buy tickets the first time around. There was no doubt in my mind that Joan (being a life-long activist) would definitely be political during the show. In the end, I decided that I was willing to sit through it for any number of reasons, including that she's such a spiritually deep and caring woman, that it would unlikely be a hate-filled lecture. I was right, sort-of.
As for speech making, she only made two politically-oriented ones during the evening. The first was to say that George Bush was her personal PR machine. With him in the White House, her kind of music was in demand (not necessarily her exact words, but pretty close). If true, I wonder whether her career will come to a grinding halt if/when Obama takes the White House.
The second was a rousing endorsement of Obama himself. Her exact words were "Wait until we have a statesman back in the White House!" Okey dokey then, I guess we'll see… Like I said above, it didn't annoy me (though it could have, had I not anticipated it completely). As opposed to the anger with which most entertainers deliver their anti-Bush rhetoric, Joan is soft-spoken, gentle, and just trying to make a point…
That brings me to the music itself. Certainly, Dylan's music had it's fair share of anti-war songs (including the one she played early on). However, since she teamed up with Steve Earle years ago, she has plenty more fodder for that now. Steve is a wonderful songwriter, both lyrics and music, but he's a very angry liberal at heart. Listen carefully to the words of Christmas in Washington in the video, or read the words here.
It's a Bush hater's anthem. That said, it's delivered in a soft song, with beautiful music, and powerful lyrics (whether misguided or not!). I much prefer to get my political drubbing that way. At least it comes without the crowd whooping it up during the message and is thought provoking. So thought provoking that I am choosing to propagate his message so that you can decide for yourself whether you agree or not.
Here's another song that's beautiful, message laden, but a tad too vague or complicated for me (message-wise). It's called Jerusalem, and is also by Steve Earle. Here's a YouTube video of Joan singing it (with Erik Dell Penna) in Austria in 2007. You can read the lyrics here. It's possible (I really hope even likely!) that this is a generic plea for peace on all sides of the Middle East conflict, or even all war in general (after all, lots of us are descendants of Abraham, not just Jews).
Unfortunately, I fear that this isn't the true intent of the song, and he certainly doesn't make any attempt to communicate more clearly. To me, it comes across like Jews/Israelis are the only aggressors in this ongoing conflict, and if only they could learn to lay down their swords, we'd all be better off. I realize that this is a defensive reaction, and I realize that many people have no sympathy for any Jew, and tons of sympathy for every Palestinian, but to blame this all on the Israelis/Jews is at best naive, and at worst disingenuous.
I know I'm not alone in my reaction/interpretation, as the current first comment on the video linked above (might not be the first one when you click on it!) is:
Ah Joan, I love this song. Let's hope that Israel will be able to lay down its swords forever when that country feels safe from attacks on all surrounding Arab countries.
All-in-all, a very enjoyable as well as thought provoking evening. I reiterate my hope that Joan is still recovering and will get stronger soon. We'd see her again, I'm sure, at least to have a better sense of her well being.
Girlyman was already mentioned in a roundabout context above. Here is a very direct one! In 2003, Girlyman won the folk/singer-songwriter category in the 3rd Annual Independent Music Awards. One of the judges in that competition was none other than Joan Baez! 🙂
So, having mentioned Girlyman in a real context now, let's jump to a different context. You know what's coming, but this is even more important for those of you who don't know! We're half-way through the month-long Girlyman Live CD Contest. Enter now to win a free signed copy of the new Girlyman Live CD!