Send to Kindle
Another night, another awesome show at Rockwood Music Hall Stage 2 (third one in four nights!). I guess there's nothing left to say. This will officially be my shortest post ever.
Why are you still here? OK, just for you, take a peek below this line and I'll share my experience from last night's show. Don't tell anyone else though. 😉
I'll cover the acts in reverse order of their appearance, but the names will be interspersed as a number of our favorite performers joined each of the headliners.
ambeR Rubarth closed the show. She played acoustic guitar and the grand piano and of course, sang. When she came out she looked around the room and called up Katie Scheele (a member of Threeds) to join her on stage.
Katie came up with her oboe (actually, that first number was likely an English Horn, Katie's other specialty). They kicked off a fantastic set together.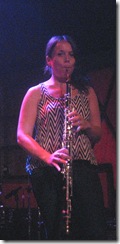 In addition to playing a number of songs solo, ambeR played Full Moon in Paris with three guests: Kenneth Pattengale on acoustic guitar (lead), Joey Ryan and Greg Holden sharing a microphone to sing harmony with ambeR.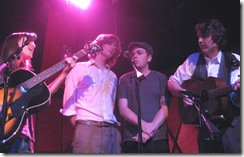 Kenneth Pattengale joined ambeR alone for at least two other numbers. One on acoustic guitar and the other with them both seated at the piano. Their piano duet brought down the house!
Alex Wong joined ambeR for two numbers. The first was Rough Cut where Alex played the snare drum while ambeR played the grand piano. The second was In the Creases, where Katie Scheele joined them (this time on the oboe, I'm sure). Awesome (as In the Creases always is, but the oboe adds such a great touch!).
To close the show, ambeR brought up Joey and Kenneth again, but added a super special guest star, Joshua Radin. The four of them did an amazing job of covering Bob Dylan's Don't Think Twice. It was our first time seeing Joshua Radin. It won't be our last. Pinky swear!
When ambeR left the stage the crowd just wouldn't stop making noise. ambeR poked her head out from the green room curtain, looked up at the sound board and received the OK to come back for an encore. She asked the crowd for a request. I was the quickest with a loud "Novacaine". Given that I was so close to the stage, before others got to say anything, she just said: "OK". 🙂
I've never heard a bad version of Novacaine in any number of settings, but I can definitively say that last night was the best. ambeR nailed every single harmonic on the guitar and the pace of the song was perfect. What a way to end an incredible night.
Joey Ryan is an amazing solo performer (here's my post from the last time we saw him solo). Joey also tours in other configurations. One of our favorite shows was at Rockwood 1 when Joey brought along Kenneth Pattengale and Mark Stepro. I covered that in this post. Last night he played with Kenneth for most songs, with two additional guests.
Joey finger-picked nearly every song and sang beautifully.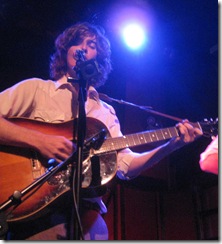 Kenneth Pattengale is a master on the acoustic guitar. His non-stop leads (I described it as dancing in my last post) are mesmerizing. He sings gorgeous harmony with Joey. Either can take the high or low side equally well.

In the first show, Kenneth sang lead on only one song, Charlie, a beautiful song written for his yet-to-be-conceived daughter (oh yeah, he is yet to meet her mom either, or he doesn't know he met her already!). 😉
Aside from Kenneth being so amazing on the guitar, I put his name in the title here because in addition to singing Charlie, he also sang two other songs (with Joey providing wonderful harmony) and he was on stage with ambeR for three numbers as well. He was a very integral part of last night's show.
The first of Joey's guests was none other than Ian Axel who played the piano on Joey's Broken Headlights (probably Lois' favorite of Joey's songs). Ian was icing on an already delicious cake. Independent of that, we could listen to Ian play the 1-800-MATTRESS song and be nearly as happy. 😉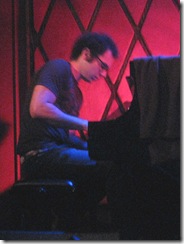 For his last number, Joey called ambeR up to sing harmony with him (and of course Kenneth).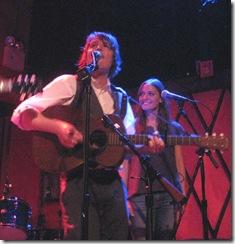 Throughout the set, the interplay of Joey finger-picking and Kenneth playing mind-boggling leads was stunning. The singing was equally amazing, but I would have been totally satisfied to hear an all-instrumental show with Joey and Kenneth.
Of course, a Joey show is not complete without his signature self-deprecating humor. He was certainly on last night, introducing new lines that I hadn't heard before. ambeR, Joey and Kenneth are at World Cafe in Philadelphia tonight. To give you a flavor of Joey's humor, here is a tweet from him today, announcing tonight's show:
Philadelphia. Get ready for the quietest show you've ever heard. Tonight at world cafe. Whisper it to your friends.
🙂
You probably don't believe the way I describe Joey (angelic). Thankfully, Lois captured an elusive slip-up, when he flashed his halo for a second. 😉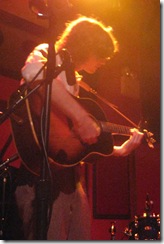 Will Knox opened the show. We've seen Will twice before, each time doing just two songs as part of a much larger lineup (the first was a Livestrong fundraiser, the second was a Haiti Benefit).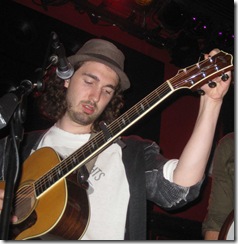 Last night Will had a full band (he did not avail himself of the house band at the Haiti Benefit, and he played solo at the Livestrong event). It was a very pleasant surprise as the band was talented and fit well with Will's songs.
Will is an excellent guitar player (he picked most songs, strummed a few). He has a very good voice. The rest of the band, standing left-to-right on the stage:
Kyle James Hauser on banjo. Kyle was really good throughout. My only complaint was that his instrument was the softest of the bunch. I had to work hard to pick him out. Still, it was worth the effort. 🙂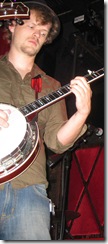 Timur Yusef on drums and background vocals. Good job on both.
Chris Anderson on electric bass and background vocals. I've written about Chris many times (he's the bassist for Ian Axel and he plays occasionally with Martin Rivas as well). We love Chris' play, last night being no exception!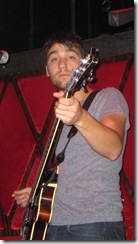 Here's proof that Ian is willing to be seen in public with Chris. 😉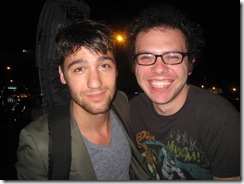 Clayton Mathews on fiddle (violin for you snootier types). The entire band was excellent, but Clayton Mathews was the highlight for me. His fiddle play was crisp and interesting throughout. To top it off, he threw out a half-dozen half-liners (not quite one-liners) that had the crowd (and Will!) in stitches. Very well done!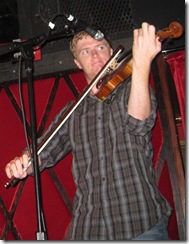 Could anything make this night better? Yes, two things:
1) So many wonderful friends there to share the show with us (including people we never expected to see there, let alone share a table with!)
2) After the show we headed straight to the house (an unusual mid-week treat)
For a variety of reasons, last night might be our last NYC show for at least a month. We'll miss some amazing shows in October during CMJ week. We're sad about that, but happy that our sendoff show will keep us looking forward to more such evenings out.
If you've made it all the way to the bottom, here's a little reward for you. Lois takes nearly all of the photos and typically refuses to be photographed herself. One of our tablemates convinced her to hand over her precious camera and we were captured as a result: