Send to Kindle
We waited nearly a year for the pleasure of seeing Alex Berger perform live again. We had to console ourselves by listening to his wonderful CD, Snow Globe. It's great, but it's not quite the same as seeing Alex live. Last night was his first time performing at Rockwood Music Hall Stage 2. We weren't scheduled to be in NYC this week, but we couldn't resist changing our plans in order to catch the show.
Wow, we are both so grateful that we did that. This will be a long post, which I know means most of you will bail now. So, the bottom line first, it was an absolutely spectacular show (as in awesome, but also a spectacle, in the best sense!).
On to the details!

Most of the photos were taken during setup, since the stage was so crowded there were very few clear shots from as close as we were to the stage.
Alex is just here visiting (briefly) from his native UK. That he was able to get booked into Rockwood 2 is good enough. That it was mobbed is a testament to how many fans and friends Alex has. If you know someone who is nicer than Alex Berger, please tell me now, because I very much want to meet that person and become their friend!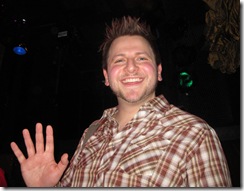 Let's start with Alex's talents (as a singer/songwriter, I don't have enough time to cover his talents as a person!). Alex has a fantastic voice. I am a very happy person (nearly 100% of the time), but if I'm ever tense, I'm sure that listening to Alex sing would relax me instantly.
Alex is fantastic on the keyboards (last night he played the grand piano). He can tickle my ivories any time he wishes.

Alex plays the guitar beautifully (last night he played Adam Levy's electric guitar). I believe we were at the show where Alex first played a guitar publicly (The Living Room, on 1/11/2010). Perhaps he was practicing for years, but if he has truly only been playing the guitar for roughly a year, he's picked it up extremely quickly. He closed the show solo with a finger-picking masterpiece (more on that later).
Alex writes gorgeous (lush) songs. Most are more of a throwback to jazz, ragtime, Dixieland, blues styles, but he also has some pop tunes (just to confuse you).

One of the most pleasant concert surprises I had was seeing Harry Connick Jr. play at Radio City Music Hall (I simply didn't know his music well). If you like him (and how smooth he is), you'll like (love!) Alex Berger, I'm sure.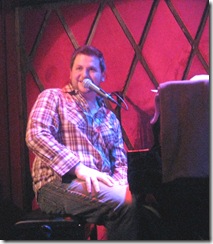 So, if you trust me (and why shouldn't you, I haven't steered you wrong yet!), then we can move on to the numerous musicians who joined Alex on stage last night. I've never seen that many people on stage at the same time at Rockwood. Most songs had eight people playing at the same time (a veritable orchestra!). There was a ninth person as well (we'll get to him), but not all the others were on stage when he was. So, the record (for me) is eight on stage at once.
Left-to-right and front-to-back, here's who sat (or stood) in with Alex:
Melissa Tong on violin. I can never say enough, or get enough of Melissa. We just saw Melissa play with Artemis Chamber Ensemble the day before, and I covered that in this post. It was a treat to see her change styles so radically a day apart.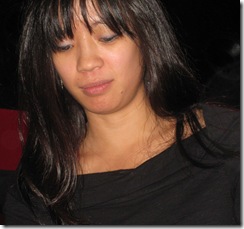 Christiana Liberis on violin. Christiana was wonderful! She and Melissa did not play in unison, they each had their own leads. I admit to thinking that Lindsay Lohan was getting on stage to play the violin, but it was only the looks that deceived me. Christiana was well behaved.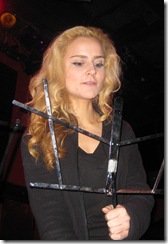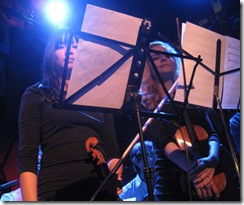 Marika Hughes on cello. We've seen Marika a number of times and she never disappoints.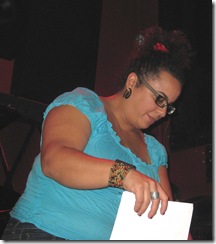 Ward Williams on cello. We've seen Ward many times as well and he too is a wonderful cellist. As with Melissa and Christiana, Marika and Ward often played different parts.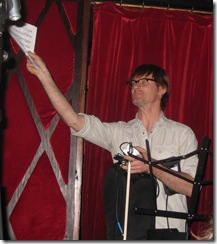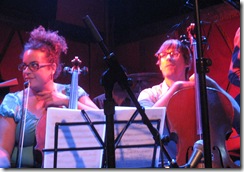 Tony Maceli on upright and electric bass. Tony was wonderful (as he always is). On the opening number, it was pretty much just Alex and Tony playing, with Tony taking a long tasty solo on the upright bass.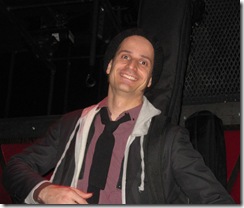 Katie Scheele on oboe. Katie is part of Threeds a wonderful oboe trio in NYC. We've seen Threeds and Katie separately a number of times and always enjoy her performance. She had a few standout solos last night and was always interesting even when in the background.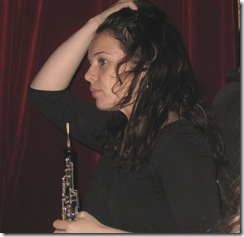 Elliot Jacobson on drums. Tucked away in the corner, behind all these wonderful musicians was one of my (newly discovered) favorite drummers. I wrote about Elliot in a post about Bess Rogers. Let me add to my praise of Elliot. Before seeing him, at least two people told me Elliot was a "real hitter". That means he strikes the drums really hard. Both people think Elliot is a great drummer, so it was a compliment, but it could also be taken to mean that Elliot is one-dimensional. Nothing could be further from the truth!
Last night, Elliot drummed nothing like he did for Bess and Lelia. He used brushes, had soft touches on the rims only and in general kept a quiet (appropriately) but steady beat to the more jazzy numbers that Alex played. To repeat, my respect for Elliot Jacobson grew last night. Sorry, no good photo of Elliot, this will have to do: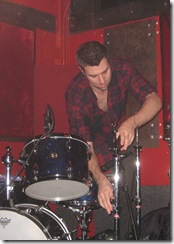 Including Alex, that makes eight people.
Alex Wong joined Alex Berger on stage for one number. They played a song they co-wrote this weekend. According to Berger, they finished it the morning of the show, when they were rehearsing it to play for us. That kind of stuff just amazes me. Yes, they both had the words written down. Still, they nailed it. Lois cried during the song, titled The Fighter.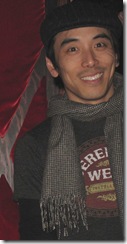 Alex Wong played the piano and Berger sang with him (they alternated verses and sang harmony throughout). Wong also scored all of the strings for the entire show. If you've never read this space before, then you don't know how in awe I am of Alex Wong. Now you know!

Alex (back to Berger now) had a number of songs left on his set list, but the mean management at Rockwood told him he could only do one more.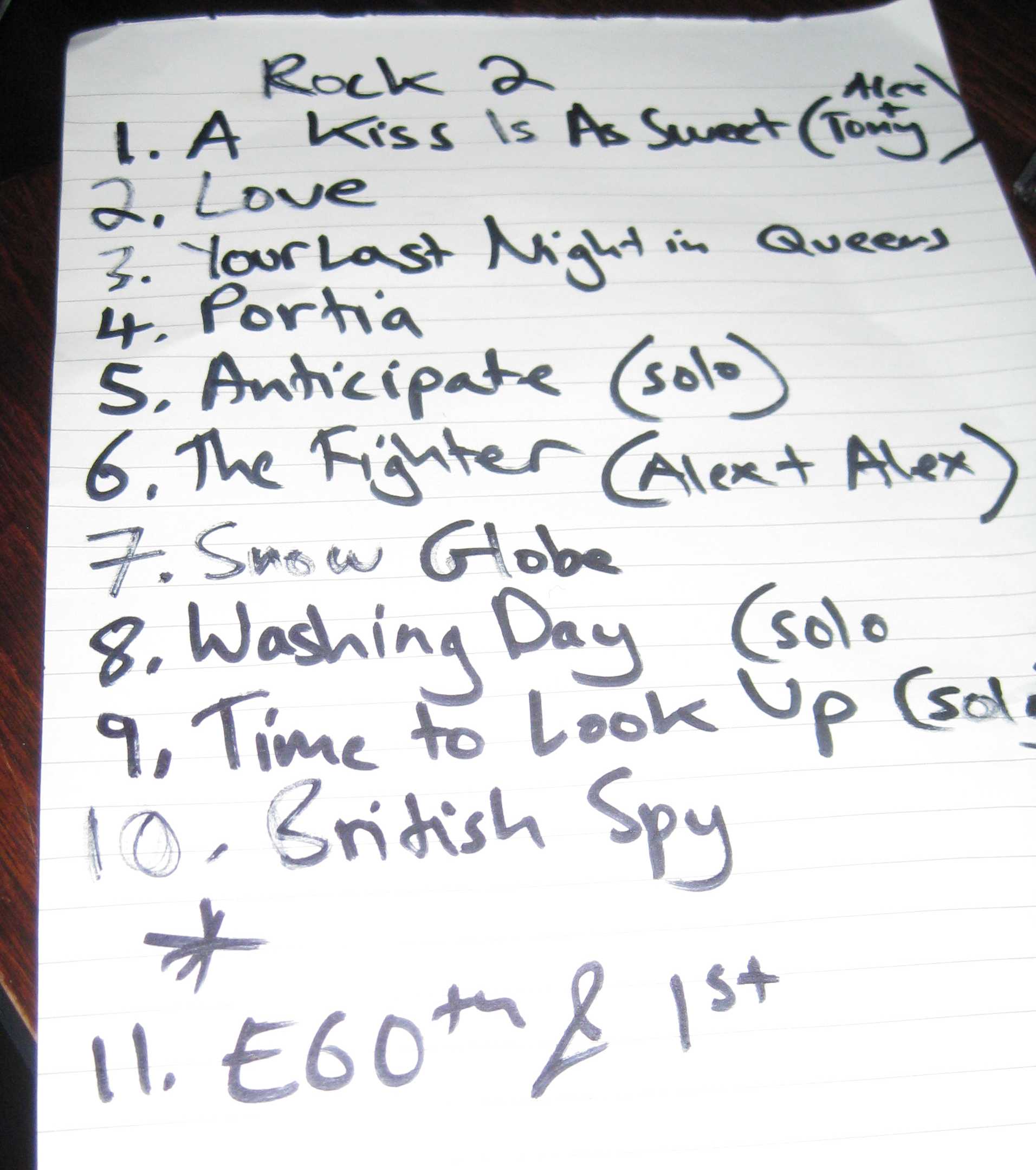 He chose to play a cover. The song is called Washing Day, co-written by ambeR Rubarth and Adam Levy. I love the song. It has a wonderful feel to it (really slow). But, the thing that makes it a great song are the lyrics. Fantastic imagery to capture universal emotions. ambeR and Adam won 1st place in the 2006 International Songwriting Competition for this song! It was the first song they ever wrote together.
Alex said that he was playing it because it's one of the songs that inspired him to pursue singer/songwriter as a career! ambeR was supposed to sing a song that she co-wrote with Alex earlier in the set, but she didn't make it to Rockwood in time. At least she was there to hear Alex heap some mighty praise on her for being his inspiration!
Alex just killed Washing Day. Of course, his voice is perfect for the song. But, he also shone on the guitar, which is a non-stop finger-picking extravaganza. I was incredibly impressed all around, independent of the fact that I love the song.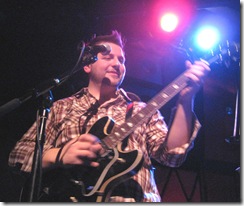 Right before playing it, Alex gave us a shout out, mentioning that we changed our plans to attend the show. Thanks Alex, it was more than just worth it, it was an evening we'll never forget. We miss you already. Move to our (frigid) city soon!!!