Send to Kindle
The last time we saw Martin Rivas perform a full set was September 13th, 2010, over four months ago! That night, the set before him was Rachel Platten. That show was at Rockwood Music Hall Stage 2 and I wrote about it in this post. It was my first time seeing each of them performing a full set and if you read my previous post, you know how I impressed I was with both! Last night was a repeat of the lineup and we couldn't have been more excited to see it again.
There are three major reasons why we are energized to see artists that we love multiple times:
We enjoy the electricity of the live show, even if we've seen the same set a dozen times. Enjoying it with other fans enhances it all the more.
We love to support the artists (monetarily and by being part of the audience experience).
Even when the sets are the same, there's always something fresh and different (banter, band composition, etc.).
Martin came out with an electric guitar. I'm think that was a first for us in all the times we've seen him. He had an extra-full band last night (more on that in a minute). It was loud (not too loud, but darn loud). It was rockin', in a heart-pumping way.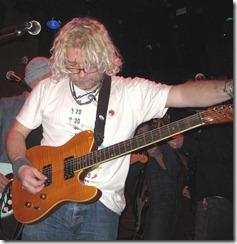 There are so many people to cover that I won't go on-and-on about Martin (since I have in the past and you're welcome to read all about it), but I'll repeat that Martin has a wonderful voice, an incredible energy, plays guitar really well and is very generous with highlighting the amazing musicians that play with him whenever he has a full-band show.
Martin has a warmth and ease on stage that is fantastic. There was a young boy sitting at our table (I'll guess roughly 10-years-old, yes, his dad was there too). Martin chatted with him for a minute before the show started, but he called him out a couple of times during the show and got the entire audience (the place was incredibly mobbed for both sets) to say "Hello Alfonso!" as well. I assume (and hope) it was a very magical evening for Alfonso.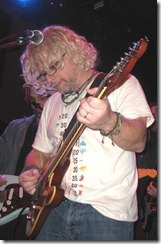 Covering the band, then special guests, standing left-to-right on the stage:
Patrick Firth on grand piano, electronic keyboards and background vocals. Patrick is wonderful all around and Martin gave him a number of leads which Patrick nailed.
Chris Kuffner on electric guitar and vocals. Chris is always wonderful and last night was no exception. He took quite a number of leads, all tasty. He closed the show with a lead that was so fast it was mind-boggling. I was sitting four feet away from him, so I got the full visual experience as well as the aural sweetness of being directly in front of his amp.
Ryan Vaughn on percussion. This is one of the things I meant by extra-full band above. Martin had his normal drummer with him (next in my lineup). Ryan complemented him with washboard (always a favorite of mine), cowbell, tambourine, triangle, bongo, shaker and sharing the drum set at times as well. It brought such a fullness to the percussion. An absolutely fantastic addition and Ryan has an excellent sense of rhythm.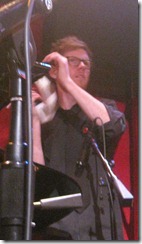 Craig Meyer on drums (web site coming, I think). Craig is a very animated drummer. Even with his larger than life drum strokes, his hand, stick, brush, etc., all hit the drum at exactly the right time. The music during Martin's set was very hard-charging and Craig drummed his %$#! off to keep the beat lively. Coupled with Ryan, the two of them delivered the rhythm section perfectly.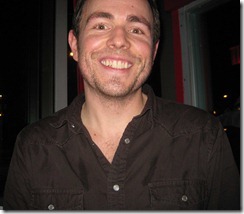 Brian Killeen on electric bass. Brian did an excellent job keeping the bottom full and interesting. Toward the end of the set he cut loose a bit more (never a solo) and actually harmonized (on the bass) with Martin's singing.
Greg Mayo on electric guitar and vocals. I've written about Greg a number of times. The most recent one was about his own band, the Greg Mayo Band. He (they) blew us away that night, but the biggest surprise was how amazing Greg was (is) on the keyboards. I went because every time Greg has played with others he was on the electric guitar and I simply love his play. Last night was spectacular (no surprise). I was three feet from Greg and four feet from his amp. His leads were so crisp, and his amp was pointed directly at my right ear, that the only downside was a bit of ringing. Well worth it!
Sierra Noble on fiddle. Sierra joined Martin's band for roughly half the numbers. Except for the few leads that Martin gave her, it was hard for me to pick out the fiddle with three electric guitars, an electric bass, grand piano, electronic keyboards and two percussionists. I will need to hear Sierra in a more conducive environment to form a clearer opinion.

That made for a core band of seven and for many numbers eight people on stage at the same time. That's the same number that the Greg Mayo Band had on stage for their set. It is one short of the record set by Alex Berger for sets that I have attended at Rockwood.
Martin brought up two special guests to sing a song with him. Had he brought them up at the same time, he would have set the record for the most people on stage at the same time. Instead, he just tied Berger twice, once with each guest.
The first was someone I've heard about for a while now. Many of my friends rave about his shows at Rockwood. This week, he got a lot more famous than he's been before.
Caleb Hawley sang harmony and lead. In addition to being a local NYC favorite, Caleb was a first round contestant on American Idol. He blew away Steven Tyler and moved on to the Hollywood round! So, you can only imagine the reception he received when Martin called him up. Local hero makes good!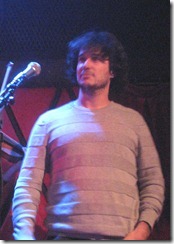 Rachel Platten joined Martin to sing North. Wonderful, but more about Rachel in a second.
Martin handed out home-baked cookies to pass around. I had one (even though I got the evil eye from Lois, since I had dessert when we were out to dinner earlier).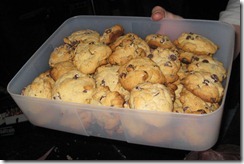 Martin played a slightly longer set than usual at Rockwood and said goodnight. The crowd really wanted to hear more. Martin checked with the sound engineer and got the OK. He closed the show with a Stevie Wonder cover, Living For the City. They did it long and strong. We sang along a bunch (everyone, not just Lois and me). What a way to end an already incredible set.
When it was over (actually, before the encore!), I grabbed one of the set lists. Unfortunately, the corner was tucked under one of the monitors and it ripped when I yanked it. You'll just have to make do with this.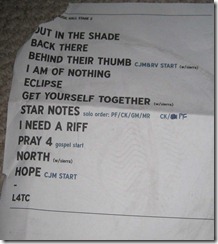 Rachel Platten also plays in a number of band configurations. Last night was a 4-piece. Rachel on electronic keyboards, Martin Rivas on acoustic guitar and tons of harmony, Craig Meyer on drums (dramatically stripped down from the set he used with Martin) and Sierra Noble on fiddle.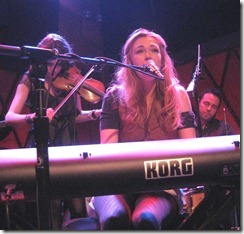 Rachel has an incredible voice, plays the keyboards extremely well (with zest!) and writes very catchy pop tunes. Many of her lyrics are deep and quite good, but that can (unfortunately) be easily lost in the hooky tunes and her captivating voice. So, listen to the words closely, she's a very good songwriter!
If that weren't enough to get you to go out and see Rachel (she's touring all over at the moment and releasing a new CD in the spring), she has a 1000 megawatt smile that bathes the audience in a floodlight effect. If you can listen to her sing and play and watch that smile and not have your spirits lifted, a defibrillator might be your only hope!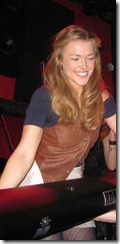 In addition to straight-up pop, Rachel mixes it up in a number of ways. Don't Care What Time It Is is a hip hop/rap song that she stood and sang (the only number she didn't play the keyboards on). It's also one of two numbers that she played a human beat-box on. She and Martin killed it. A number of times they sing so fast that your head spins. Delicious.
I linked to the lyrics of the song and you can also listen to it (free!) at that link. On the right side bar are a number of other Rachel hits. Explore and fall in love with her. Buy her CD when it comes out!
Craig was great even though he played a minimalist drum set (as he does for most of Rachel's shows). In addition, Craig was very playful with Rachel and Martin, often using his brushes on them and on Martin's guitar as well. Basically, if he could hit it, he did.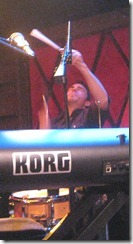 As with Martin's set, I couldn't hear Sierra Noble playing the fiddle at all, whenever Rachel, Martin and Craig were playing. Rachel did give Sierra two distinct solos, which were very easy to hear. I can't put my finger on it, but I wasn't as impressed as I expected to be, given the raves I've heard about Sierra. I intend to listen to her some more and perhaps catch one of her own shows as well, to get a better sense.
The only disappointing thing about Rachel's set was that it was a tad shorter than normal. She started 20 minutes late (the person who was on before Rachel filled Rockwood to the brim and it took a while to transition between them and their respective crowds). I think Rachel cut it a bit short in order to get Martin and Rockwood closer to their original schedule.
Another amazing night out. Thanks to everyone who was on stage and to our friend for snagging two seats right up against the stage for us (you know who you are!).
We have a big week of music continuing tonight, so check this space each day for what we did the night before!