Send to Kindle
Last night was almost exactly five months from the last time we saw Girlyman in concert. That's just about our limit before we burst, so we were thankful for the opportunity to see them at Birchmere again. (Apologies for the quality of the photos. Birchmere has poor lighting for compact cameras in general, and our angle and distance from the stage made it worse for those on the left side, very far from us.)
Our normal excitement for a Girlyman show was complicated by the following fact: Days after seeing them play at City Winery (covered in this post) we discovered that Doris was diagnosed with Leukemia! This would be our first time seeing her/them perform since then.
While we still pray for Doris to continue getting better, there is no need to worry for Girlyman's ability to live up to their previous showings. They were absolutely spectacular last night. I honestly didn't doubt they would be, but hey, it's live, so you never really know.
Doris was also spectacular. Her voice was so strong and clear. Her guitar, banjo and mandolin play, wonderful. When she introduced Supernova (a relatively new song written by Nate), she took the opportunity to explain to the crowd what happened to her and how affected she was by the outpouring of love she received from fans and friends, far and near. That love, plus crazy strong and expensive drugs have dramatically improved her condition (from 100% reading of cancerous blood cells at original diagnosis, down to 4% a month or so ago!).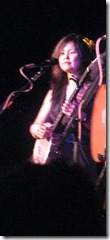 The reason she introduced Supernova is that when she was alone in the hospital waiting for the original test results, Supernova kept playing over and over in her head. We had just heard it for the first time at City Winery. That night, Nate sang the lead (not surprising). Now that it has become so meaningful to Doris, she takes the lead.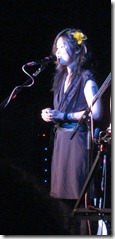 There was another qualitative difference in the performance last night. Girlyman always slays me with their humor/banter. Much of it comes in the form of tuning songs (these are short songs made up on the spot by Nate, to kill time while the ladies tune their instruments). In fact, they have a CD of 24 of their tuning songs, and their Live CD (Somewhere Different Now) also has a bunch of awesome tuning songs on it.
Last night, there was only one real tuning song (OK, maybe two or three tops). But, their humor/banter was as good as it ever is/was (perhaps better), with a significantly more natural flow to it. It often started as part of the introduction to a song, sometimes morphing into a story with each of them feeding off the others. Not one second of it felt forced. On rare occasions, the beginning of a tuning song feels forced, though they usually find a way to make it just right before it's over.
I could give you a good example, but it would lose too much in the translation from how amazing it was last night, so just get out to a show and you'll understand. Instead, I'll give an example of how the Birchmere lighting guy enhanced a semi-serious (but in the end funny!) introduction of Ty's (relatively new) song The Person You Want.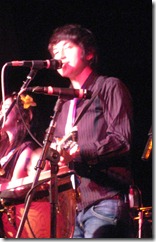 The longer title of that song is The Person You Want Me to Be. It's about people in long-term relationships and holds out the hope that if you give me enough time, one day you'll wake up and find me to be the person you want me to be (a lot of me's and be's, but hopefully you understood).
Ty asked the audience to raise their hands if they were in a relationship. That led to some humorous comments (some people hesitating, putting their arms up half way, etc.). Ty made some cracks about people who might just be there on dates and how it might be awkward to answer that.
Then she asked those people who were in relationships whether they thought they were good people to be in a relationship with. Just as people were sheepishly moving their arms upward, the Birchmere lighting guy turned on the house lights. That made for a lot of giggling and looking around as we could all see across the large room, including Girlyman getting to see the audience fully for the first time that night.
In addition to a great set list (they can't really put together a poor set list, trust me), they also introduced a brand new Ty song (Soul of You). Aside from the obvious fact that Ty is a brilliant songwriter, Lois and I continue to be amazed at how it typically takes one verse for us to consider a new Ty song among our all-time favorites. She has a Svengali hold on us…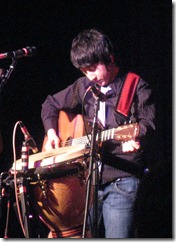 Nate performed his usual MC duties as well as he ever does and was in fine voice. He played the mandolin wonderfully in addition to his ever-present baritone electric guitar. Nate introduced an accordion to the mix as well. What will he think of next?
JJ was wonderful on the drums throughout, as she always is. During the one real tuning song, Nate also yielded to a full-blown JJ solo (excellent). During the encore, JJ stood up and pushed her stool to the floor. She proceeded to drum like mad, including a few full 360 turns (without losing the beat, of course), turning it into more of a rock spectacular than a typical Girlyman Folk show.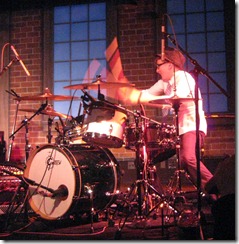 All of the above was performed to roughly 550 people (my guess, based on capacity of 650 at Birchmere). Zero rudeness from the audience that I was aware of. Here is a tweet from today by Zach Braff (a giant music lover and extremely talented and funny actor):
You folks who go to see a really cool band and talk the entire time… yeah, what's your deal? Anyone in nyc know a good blow-dart school?
I feel exactly the way Zach does (and have loudly complained on these pages numerous times). I hadn't thought of a good solution to this problem until I read Zach's tweet. I'm seriously considering opening a blow-dart school now, so that I can study there.

Girlyman received a standing ovation after both the main set and the encore (that's a bit unusual). Well deserved. We are going to see them again on Sunday in Charlottesville and I simply can't wait. It will be a different experience because Girlyman always keeps it fresh and the venues are nothing alike.
The show was co-billed between Girlyman and Susan Werner. Even with a co-bill, someone has to walk out on stage first and last night that was Susan.
We've seen Susan once before in a solo performance (covered in this post). She blew us away that night. Last night, she was accompanied on all but two songs (or was it three?) by two incredible musicians and singers. I'll get to them shortly.
Susan has an incredible voice (power that can make your hair sway, but with clarity and enunciation skills that I rarely hear). She is an amazing songwriter (a number of her songs can readily bring tears to Lois' eyes). She plays the piano and guitar so well that she doesn't need any other accompaniment (though she picked well and was definitely enhanced by her band).
In addition to the above, Susan has a stage presence that is simply astonishing. There's no doubt that she could be a full-time comedian. I also have no doubt that she could be a professional motivational speaker. Suffice it to say that while we love listening to Susan's CDs, her live show is something that exceeds all musical expectations.
Joining Susan were two talented ladies.
Trina Hamlin on percussion, harmonica and vocals. First the summary, then some details. Trina is masterful on all three. Her voice is beautiful and she harmonized with Susan really well. Her percussion was excellent. Her harmonica play was beyond belief. (no really good photos of Trina, who was furthest from us)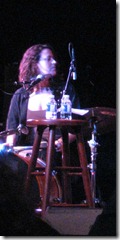 I didn't want to interrupt the flow on Girlyman above, so I left out that they invited Trina to join them on Kittery Tide. They claimed that they didn't really prepare her for it, implying that they never practiced the number with her. Of course, she was great. But, Ty asked the audience: "Have you ever heard a better harmonica player?"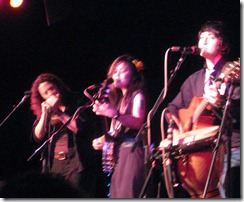 Well, having seen/heard Trina during Susan's set earlier, I had already asked (and answered) that question of myself. The answer is yes. I have heard exactly one better harmonica player, the freakishly amazing John Popper (of Blues Traveler). He's in a class by himself (in my opinion), but Trina mesmerized me (and the rest of the 550 people as well!).
But wait, there's more! When I visited Trina's website to get you the link, I saw that she's apparently an excellent guitar player as well (why am I not surprised?).

Gail Ann Dorsey on the electric bass and light vocals. Gail was excellent on the bass. She created lovely three-part-harmony on the few numbers where she joined Susan and Trina. Check out her Wikipedia Page to see some of the incredible people/bands that Gail has performed with (e.g., David Bowie, Indigo Girls, Gwen Stefani).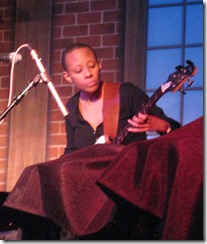 Both Susan Werner and Trina Hamlin joined Girlyman for their encore, Son of a Preacher Man, with Trina on harmonica and Susan on grand piano and vocals. What an awesome way to end an awesome evening.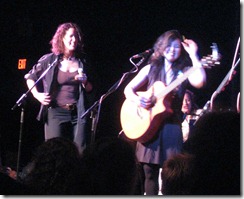 The five of us enjoyed a wonderful meal at Birchmere (I'm a pulled pork fanatic and Birchmere always gets it right).
After getting our hugs in, the five of us hit the road for what should have been an hour's drive. This is I95 folks, so sitting in wall-to-wall traffic at midnight shouldn't have surprised us as much as it did. Only cost us 30 extra minutes though, so enough complaining for today. (Last complaint, couldn't easily get the red eye out of this photo…)