Send to Kindle
We've seen Rosi Golan a number of times, but only one was a full set of her own music (at Jammin' Java, covered in this post). The other times were either a few songs at a benefit (or as a guest), or with Ari Hest, performing as The Open Sea (their side-project together). Even at Jammin' Java, Rosi was opening for William Fitzsimmons. Last night she headlined her own set at Rockwood Music Hall Stage 2.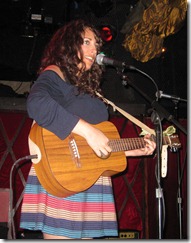 Rather than force myself to be creative and describe Rosi in different words, here's what I had to say about her at Jammin' Java:
Rosi Golan has an extraordinary voice. Range, power, clarity even at the softest moments, all deliciously delivered. She is an excellent songwriter too. Her lyrics are sticky as are her melodies.
I would add that many of her songs (most?) have a dreamy quality to them (in the sense that it's really easy to completely get lost in them).
Last night she played a 10-song set. Four of the songs were from her current CD, The Drifter and the Gypsy (an incredible album). Most (all?) of the rest were from her upcoming CD, Lead Balloon, likely out sometime in May (just my guess). I already look forward to it, Rosi is very consistent.
Jake Phillips accompanied Rosi on all but the first and last numbers (though he stood on stage with guitar in hand during the opener). He accompanied her at Jammin' Java as well, so I knew in advance that I would love his guitar play (I did, both times now) and his harmonies with her are very nice (if a bit too soft).
Jason Reeves happened to be in town (and at Rockwood) and was called up as a special (surprise) guest to sing Flicker with Rosi, a song they co-wrote while Rosi was out in LA working on the new record. Jake joined in creating a lovely three-part harmony.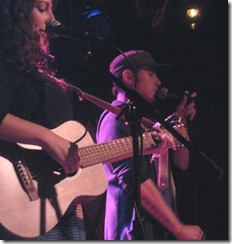 Also in the audience was Billy Hawn. Billy is an excellent drummer. He tours with Jason Reeves, but we saw him supporting ambeR Rubarth at Joe's Pub, back in 2009. Rosi is friends with Billy and dedicated one of my favorite Rosi songs to him, Think of Me.
It was an excellent set, delivered wonderfully.
The only hiccup in the evening is the increasingly common loud talking that goes on in Rockwood 2. Even when 100 people tried to shush the dozen talkers, the silence rarely lasted more than a minute. A musician friend of mine recently told me that he greatly prefers to play next door at Rockwood 1 (even though Stage 2 is much bigger and more beautiful), because he says that the rudeness/noise at Stage 2 is just overwhelming.
I partially blame the club (even though I love nearly everything about Rockwood, both venues, and everyone who works there). First, after being warned a few times, they should ask people to take their conversations outside and enforce it if they have to. Second, they booked a very different kind of act before Rosi (these aren't opening acts, they're simply separate sets, back-to-back). A fair number of people stayed for Rosi's set, but it appears that they stayed to socialize, not to listen to the music.
There are no trivial solutions to this problem, but something needs to be tried, since real fans are showing their frustration more often and more passionately. After an audience member loudly said to Rosi "I'm trying to enjoy your music, but it's really loud at the bar", Rosi made a few jokes and tried to get people to settle down. It was only partially effective and there's a big danger of a backlash when a performer tries to control an unwilling crowd. Oh well…
Today, on my way to the dentist (and in the chair under heavy novacaine), I listened to all of The Drifter and the Gypsy and Little Apple EP (by The Open Sea). I'm only now regaining some feeling in my lower lip and jaw, but Rosi got me through it just fine!