Send to Kindle
We were looking forward to last night for a few months. We've seen Jesse Terry a number of times and he never disappoints. We've seen Alex Wong many times and couldn't believe it's been nearly five months since we've seen him solo (we did catch him a couple of months ago as part of The Paper Raincoat). We'd never seen Michael Logen before, but Jesse told us we'd love him and that turned out to be an understatement!
We love the format, singer/songwriters in-the-round. Each sings one song and yields to the next person.
Jesse kicked it off, then Michael, then Alex. Each played five songs.
Jesse played all of his songs on the acoustic guitar. He has an exceptional voice, writes wonderful songs and has a spirit that brightens any room he's in. I've written about him recently, so I won't prattle on. I'll just note that he closed with Noise, one of a number of his absolutely amazing songs, a perfect way to end his set.
Michael Logen played both acoustic guitar and grand piano for his five numbers. He too has an excellent voice, plays both instruments very well and writes wonderful songs.
Early on he played a song called Human After All. Absolutely fantastic song. The entire time he was singing it, I kept thinking I've heard that song on a TV show recently. I could almost sing along with it, it was that familiar to me. After the show I asked Michael if it had ever been placed on TV. He said that it came close, but didn't make it.
This morning I searched for where I might have heard it before. Oops, not only did I quickly find out where I heard it, I actually wrote about it already, without knowing the title. On April 25th, we saw Backscratch 13 at Rockwood. One of the best songs of the night was by Sierra Noble. She mentioned that she co-wrote it with Michael Logen. I noted what a small world story that was. Here's that part of my post:
The other one is a small world story. I've written a number of times about a great singer/songwriter, Jesse Terry. We're going to see him again twice in May, once in Rockwood (next week) and the week after at a house concert (where we first saw him). Appearing with him at both shows is a friend of his, Michael Logen. Jesse has told me how much I am going to like Michael. One of Sierra's originals was co-written with Michael Logen. Martin sang Michael's part in gorgeous harmony with Sierra.
Now I have to hear/see Michael and Sierra perform it together!
While Michael had his own last song, he accompanied Jesse on Noise, playing the piano and singing beautiful harmony with him. Jesse announced that he co-wrote Noise with Michael. Why am I not surprised, given each of their obvious talents. Well done boys!
Alex Wong also played acoustic guitar and grand piano. In fact, he opened with a new song, Always Something Better, playing both (sort of). He started on the guitar. Using his loop, he laid down a percussion track by banging on the guitar body. Then he rubbed the strings to make a whooshing sound, also looped. While those two tracks were repeating, he put down the guitar and sang the song at the piano.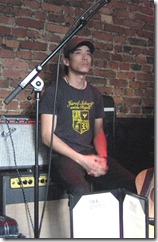 It's a very deep song and it will be on Alex's first solo CD, coming out in the fall. Our anticipation is officially building already.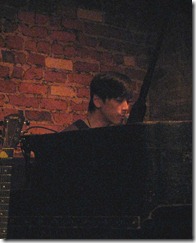 Next Alex returned to the guitar and joked that he's not a loop master, even though he was about to use the loop for a second consecutive song. We've heard Brooklyn Blurs dozens of times, in many configurations. Last night was a very fresh take, with percussion sound effects provided by the loop, with Alex playing the acoustic guitar while singing. Fantastic!
Joining him on three of his numbers, including Brooklyn Blurs, was Melissa Tong on violin. Melissa actually stood with her back against the far wall, in the audience. Melissa is always a welcome addition to anyone's set!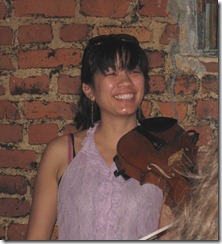 Alex got all of us singing twice. First on The Same Old Things. The second was on his closing number, which will also be the last song on the new CD (he announced that, I'm not predicting the future).
In past shows, I've called the closing number the "Yeah Yeah Yeah" song. I finally broke down and asked Alex the name of the song after the set. It's Are You Listening. I am now! I've loved the song (co-written with Nate Campany) from the first time I heard it. I loved it last night as well.
The chorus is very complicated, threefour Yeah's in a row [correction: someone on FB commented that it's four Yeah's in a row, not three. Oops. I was too busy enjoying singing to properly count 😉 ]. Somehow, we mastered it. It's very spiritual sounding (those words and melody), not like the Beatles version.
Another amazing night out, with a bunch of friends enjoying the show with us (the way it should be!). We will be getting an even bigger dose of Jesse and Michael a week from tonight at a house concert. We are so excited.