Send to Kindle
On May 13th, we saw Chris Ayer perform at The Living Room. You can read about it here. Before we made it out of the room, Lois turned to me and said "When does Chris play again?". It wouldn't have mattered if the answer was "At 3am, across town", she was ready to head over and wait in line.

The great news is that she wouldn't have had to waste an ounce of energy convincing me to join her. That's true for a lot of Chris' fans, as two of the people we shared a table with at The Living Room told us the night before last that we should hold seats for them for this one (we did!). The only people that aren't fans of Chris Ayer are people that have never heard him.
You can read the many things I've said to describe and praise Chris elsewhere on this blog (start with the link above regarding the last show), so I'll spare you the repetition here.
Earlier in the day, Chris tweeted the following:
I finished two songs today, and I'm playing them both at the show tonight.. Which is equal parts exciting and scary. Exscarting.
True to his word, Chris opened the show with those songs, back-to-back. The first one might not have been 100% completed, because he morphed the ending into one of his well-known songs, depriving us of giving him the applause he richly deserved.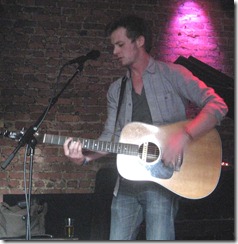 Seriously, both songs are amazing. I say that without any surprise, since Chris is a fantastic songwriter. The first is called Where Do You Want to Go. The second: Turnip (a word that doesn't appear in the song, but Chris explained to us why that's the title).
Chris played another one solo, then invited Matt Simons to play the piano and electronic keyboards. Oh yeah, and sing absolutely wonderful harmony with him. I mentioned to Matt after the show that their harmony was so good it was borderline illegal (well, at least in some states, I'm sure).

Matt stayed at the piano but didn't join Chris on another solo number, Hiding Place, another relatively new one (we heard it at the last show and instantly fell in love with it).
Chris then invited Chris Anderson to join them. Chris Anderson played the electric bass. If I have to tell you whether he was good or not, you don't read my blog (an earlier one today, or 100 other ones!).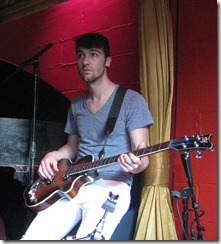 I should mentioned the room got quite crowded right before Chris' set started (I did note that the only people who aren't fans are people who haven't heard him, right?). I mention that because it was after all the beginning of the Memorial Day Weekend, and NYC is notoriously empty (for many holiday weekends). Chris' fans had to cancel family vacations once they heard about this show.

At The Living Room, Chris closed the show with Roy G. Biv, one of Lois' favorite songs of his (that's silly talk, as many of Chris' songs are Lois' favorites!). That night, he, Matt Simons and John Schmitt walked into the crowd (with Chris Anderson and Stephen Chopek moving to the edge of the stage) to do it unplugged.
Rockwood is a way smaller room, and Chris and Matt came to the center of the room (obviously unplugged) and absolutely mesmerized everyone in the room with the same finale, Roy G. Biv. It was great at The Living Room, but the intimacy and power of every single person being within 10+ feet of Chris and Matt made this rendition all the more special.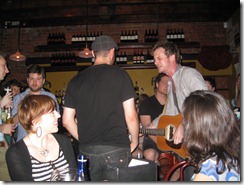 This set hasn't stopped us from already planning to attend the next one. I heard a rumor as to when and where it might be, but that venue doesn't list it yet, so I'll refrain from raising anyone's hopes just yet.
According to tradition (which we've unfortunately missed a couple times), I present you with Chris Ayer's set list, presented both from his perspective and ours: