Send to Kindle
I was afraid we wouldn't be able to make this show. We had early dinner plans, but that didn't mean the dinner wouldn't last a long time. Amazingly, unbeknownst to us, our friend had a ticket for the 7:30pm show at Rockwood Music Hall Stage 2, which I guess explains her agreement to an early hour for dinner (always our preference anyway!).
We shared a cab downtown, walked her to Rockwood and continued the extra 1.5 blocks to Arlene's Grocery.
I really wanted to see Live Society again (I saw them last week at Rockwood 2, covered here) for two reasons:
They're awesome, so anytime it is convenient, I would go see them!
Lois missed last week's show, and I knew how much she'd enjoy it, so making up for last week's miss this quickly was a big win!
Rather than repeat what's so special about Live Society, please read the post linked above, or my post about the Soul Benefit where I first discovered them.
I'll just post some photos, mentioning along the way some differences in last night's performance, while saying a few words about each band member.
Left-to-right on stage (front row first, then the back row, stacked behind them):
Kevin Collazo on harmony vocals. This accounts for one of the differences. The previous two times I've seen Live Society, Kevin was on Brian's left (our right). This time he was on Brian's right (our left). I wasn't sure I could handle the change, but thankfully, I made it.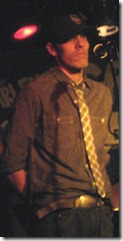 Kevin sings so well, but as I've mentioned both times in the past, he hasn't taken a lead on any of the songs. After the show last night, I mustered up the courage to tell him (in front of Brian, his baby brother) that he needs to take the lead on at least one song. His response was extremely funny, but you would've had to have seen the show to get it (and I'll spare you the back story, but encourage you to attend their shows, since their personalities shine on stage).
Brian chimed in right away, saying that Kevin does indeed have an amazing voice, and they would make sure to work in a lead soon. Great!
Brian Collazo on lead vocals, harmony and acoustic guitar on a few numbers. Brian was wonderful, as he has always been. We've seen Brian one additional time without Live Society, performing at an American Idol Rejects Show at Rockwood 2 last week. He was amazing then as well. As I noted in that post, he's even better with the tightness and shared experience of Live Society.
Jason Vargas (a.k.a. Jay Vegas, though Brian did not call him that last night, for the first time) on vocals and general merriment duties. I mentioned in the last post that Jason has a smile that can melt the room. It was on last night, as was his banter. He knows how to work a room in the best sense. Oh yeah, let's not forget how incredible his voice is (both on lead and harmony).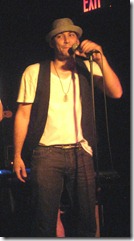 Scott Harper on saxophone and flute. Scott was terrific on the sax (again), but broke out a flute on one song. If he played the flute at Rockwood, I missed it, since I was at the opposite end of the club from Scott that night.
One of the side benefits of blogging about every show we attend is that I can quickly look up facts by simply searching my own site! I love the flute (have I mentioned that I love most instruments, perhaps not equally, but there isn't a big gap between the ones I love!). So, I just searched for the last time I saw a flautist (impressed that I know that word, pretentious or otherwise?):
12/12/2010, we saw the Artemis Chamber Ensemble. Two of the pieces featured an incredible flute player, Melissa Healy.
10/09/2010 (American Date System in use here) we saw the Richmond Symphony. I described myself as being in flute heaven.
12/20/2009 we saw Cherish The Ladies. Don't get me started on how amazing Joanie Madden is on the flute.
The list continues, but I'm already off topic, except to say that I hope Scott will do more flute in future shows (if he wants to skip it on the nights I can't make it, I'll allow that).
John Kaiteris on electric guitar. John writes many of Live Society's songs. After a slow number, early in the set (that I'll call "The Heights", but that's probably not the name), an audience member sitting right next to me asked who wrote it. John did, but it also afforded an opportunity for Brian and Jason to poke a little fun of John (in a loving way). Like I said, they all have excellent stage presence!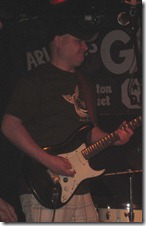 John is also an incredible guitarist (I've mentioned it both times I've seen him before, but I will hammer that point home until you get it, OK?). Like Greg Mayo, John never disappoints, on any lead. It's that simple. I will publicly admit that I had a momentary fantasy during one of John's leads last night that he and Greg would play some Allman Brothers or Lynyrd Skynyrd songs together, so I could get the multiple lead guitars done right, live.

You'll have to read to the bottom to see how I might have missed that happen. You'll also have to read my fourth post of the day today (this is the first of four!) to see how it's quite likely that I made it happen (assuming it did…).
Tyger MacNeal on drums. My only second of nervousness last night (other than seeing Kevin and Jason swap positions)

was in noticing during setup that Erik Perez was not manning the drums! Erik is really great and so well matched with Live Society (that shouldn't be a surprise, as Brian told me last week Erik founded the group!).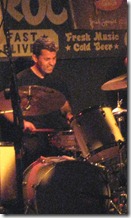 I will happily accept Erik back any day of the week (he's that good), but, if Tyger replaces him when he can't make it, I promise to be equally happy. Tyger is that good too. Only this morning did I get to look him up and see who he has played with. The list is a who's who of All Stars (mind boggling actually), but my jaw dropped when I read that he toured with one of my all-time heroes, Jose Feliciano!
He's been with Jose Feliciano for over 10 years and is the first person listed in Jose's band. My mind is still reeling…
Anthony Candullo on electric bass. I've enjoyed his play both times before, but I had a better angle on him this time, and for whatever reason, was able to appreciate his play even more. I'm not sure it was different or better, just that I was able to notice it clearly.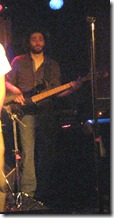 Jeremy Baum on electronic keyboards. Jeremy was good last week and better this week. He took a longer solo (the set lists were not identical, which was great!) and he was excellent.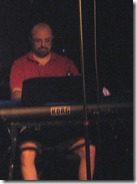 After the show we went up to tell everyone how great it was and got a great shot of the band all squeezed in together.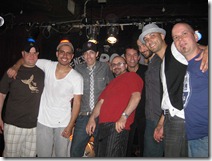 I mentioned above that I fantasized about John Kaiteris and Greg Mayo jamming together, entirely for my personal benefit.
We had two more shows on our schedule for last night (and ended up sitting in on a third, hence three more posts today!), so we missed another event across town.
Shortly before we left the apartment I saw a tweet from Martin Rivas that they were having another Campfire event, this time at Slane. We had just attended our first-ever Campfire (unfortunately one of the few that Martin, one of the co-founders of Campfire, ever missed) at Red Lion on Sunday night. You can read about the awesome mayhem. I was very sorry we were going to miss this one.
Imagine how sorrier I was when I saw the following tweet stream after I got back home (the first entry is actually from a friend's Facebook status):
slane. NYC campfire. I think I died and went to music heaven.

@SamTeichman wrote: The joy, friendship, creativity and love of music that is on display at a@NYCcampfire is absolutely life changing. It's indescribably good.

he added: 1. Saxophone duels are among the coolest things in music. 2. @NYCcampfire is RIDICULOUSLY fun. 3. My smile is illegally big right now.
OK, I missed an awesome show (I trust both Kelly and Sam's opinions completely). But then, I read the following tweet from Martin Rivas:
That was a rather titanic @NYCcampfire. Thx guests @gregmayomusic @jefflitman @matt_simons @SierraNoble @livesocietyband @sethfaulk xo!!
Wait, what? Greg Mayo was there (only a minor surprise) but so was Live Society (a major surprise). Now I know what Sam meant by Dueling Saxophones! Obviously, Matt Simons (great) and Scott Harper (see above!) went at it, and I missed it.
I still don't know (perhaps I don't want to know!) whether Greg and John took simultaneous leads on any song. I might be heart-broken if the answer is yes. On the other hand, I might be heartened that it did happen, so that I know it could happen again!