Send to Kindle
I've seen Live Society once before when they opened a Benefit Concert at The Bitter End. They were awesome. Ever since then, I've followed them and have been trying hard to get to one of their shows (they play reasonably frequently). Unfortunately, it just didn't work out.
I was reasonably sure it wouldn't work out last night either. We had tentative plans. Late in the afternoon, they got moved to Monday night, so I was suddenly free and quite happy about it. Lois was wiped from our consecutive late night escapades (captured in posts yesterday and the day before), so she stayed home. In a serendipitous turn, our friend (and extraordinary singer!) Amy Rivard was working in our neighborhood. She agreed to keep me company and we headed down together. We caught a set at Rockwood Music Hall Stage 1 first, but I'll cover that at the end of the post.
Live Society was playing next door at Stage 2.
If you read my thoughts on Live Society in the previously linked post, you won't have many surprises in what I'm about to say. They were awesome, again. Since the last time was clearly in the context of a Soul Revue, let me at least state that Live Society is an R&B/Soul/Funk band, and a darn good one.
Update: There are a number of corrections/clarifications and filled-in items below. All of the updated information was provided by the all-knowing, all-seeing Sam Teichman. Thanks Sam! 🙂
Brian Collazo is the front man and lead singer. He also played the acoustic guitar on a couple of songs. He has a great voice and an exceptional stage presence. It's hard to take your eyes off of him during the show, except that you have to (and do), because there's a ton of additional talent to pay attention to on stage with him.
Jason Vargas on vocals. Jason sang lead on one song (smooth as silk) and incredible harmony on all the others (with a lead verse thrown in here and there for good measure). He's a got a smile (and a wink) that melts the ladies hearts (I was surrounded by women, not that there's anything wrong with that!). I could swear that every time Brian refers to him he calls him "Jay Vegas", which might be his nickname, but hey, I'm old, and perhaps I'm just doddering and not hearing it correctly.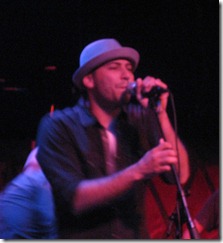 Kevin Collazo rounds out the vocal part of the band. While he doesn't sing lead on any songs, his harmony is strong and an integral part of the group. He and Jason are also somewhat like original Motown backup singers, in that they physically move in unison (often enough to notice) and make gestures (like hearts, with their hands) to match the lyrics. Very nicely executed. Here is Kevin, singing with Brian: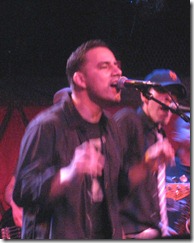 John Kaiteris on electric guitar. John is a superb guitar player. He also writes many of the songs that Live Society records and performs. Simply an incredibly talented individual, even though he doesn't open his mouth on stage (he let's his fingers do the walking and talking).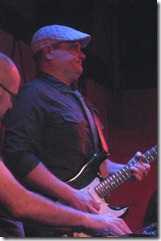 Erik Perez on drums. Excellent! This type of music is so beat-heavy that even a decent drummer could bring the overall experience down if they don't handle the transitions perfectly. Erik does. Problem solved (or actually, never created!).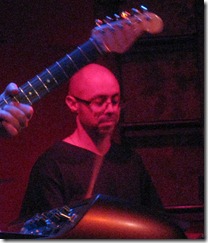 Anthony Candullo on electric bass. Solid job throughout the set. A relief (for me) from the night before, where the bass players were overwhelming in their volume. Anthony's bass blended in just right. Note that Anthony's name is linked, but the others aren't. That's because I can't find a good link to each of them as individuals. I guess it's "Go Team!" for Live Society.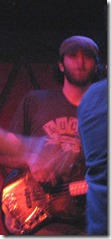 Scott Harper on tenor saxophone. Scott is listed as a regular member of the band, but I didn't mention him at the Benefit Concert. So, either I messed up badly, or he wasn't able to make it that night. In any event, Scott did a terrific job last night on a number of tasty leads. Horns might not be a requirement for this type of music, but they sure are welcome on every single note they play.
Update: Sam confirms that while Scott is the regular sax player for Live Society, he did indeed miss the Benefit Concert, so I didn't mess up reporting on that show (though I certainly have on many others).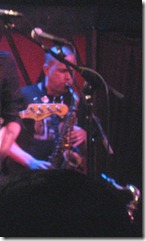 At the benefit concert, they had a special guest keyboard player, Patrick Firth. Last night a different special guest sat in on keyboards.
Jeremy Baum on electronic keyboards. Very nicely done throughout the set.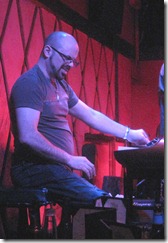 Amy and I both enjoyed the set so much that in addition to signing up for the mailing list (not really necessary since I follow the band and Brian Collazo on Twitter) we also both bought their current EP (they are recording a full-length CD as well). We were both very happy to support the band (tip jar as well) but I'll admit publicly that I was surprised that a 5-song EP was $10. Hopefully, they're putting the money to good use, they're worth it.

Sitting to Amy's left was a beautiful blond (hey, I already mentioned that I was surrounded by women). It turns out that she's Brian's girlfriend (though it sounds way more serious than that, not that I should be putting words in Brian's mouth!). He noted that last night was their three-year anniversary of making their relationship official. He also noted that she was very kind to be supportive of him for booking a show on their anniversary.

When I first noticed the Live Society show, I also saw that another band was playing the set after them, that I had never seen, but heard interesting things about. Unfortunately, when I thought I couldn't make it out last night, I promptly forgot about anything other than Live Society. When I showed up at Rockwood, at 8:35, I didn't realize I'd be staying as late as I did.
Before Amy and I headed into Rockwood 1 we bumped into Chris Anderson on the street. If you never read this blog and don't see live music in NYC, I'll forgive you for not knowing that he's one of our favorite bass players. We saw him the two previous nights, playing with The Big Apple Singers on Monday and with Ian Axel on Tuesday.
Chris mentioned that if we could, we should seriously consider sticking around to catch the set after Live Society. Of course, that jogged my memory that my original intention was to do just that. Amy couldn't hang that late so she left right after Live Society was done.
The Thang Band is a nearly indescribable group/experience (experience is the better word). First, let me note that I can't believe that they were able to grab the domain name at this late date in the Internet world. Amazing that everyone else let that go!

Of course, I never let indescribable things stop me from describing them, so here goes my best effort.
What happens when you cross/mix the following?
Awesome musical talent
Incredible showmanship
Irreverance2 (that's squared, not a notation that you missed Note #1 above)
Crazy amount of liquor consumption on stage (impressive whether it was real or fake)
Something between R and XXX rated themes and innuendo
Near-male-burlesque! (OK, not so near, but you'll understand when you see photos below)
An audience of the who's who of the NYC indie music scene
An audience who knows the above and insists that the boundaries be pushed further!
Theatrical choreography
Before I answer, while I give you time to imagine it yourself, I'll note that if I had more time now (I don't), I could list at least another 1/2 dozen bullet points. Suffice it to say that I was delighted that Lois stayed in, since some of it would have made her squirm, making me more self-conscious as well. This is a show that needs to be enjoyed with complete abandon.
OK, time's up, what do you get if you mix the above?
Something that could and should be a long-running off-Broadway show, like The Fantasticks, which generated cult-like following, or the Rocky Horror Picture Show (again, for the effect it had on its fans). Not that The Thang is anything like those shows. It's really a night of inanity and insanity, in song, performed by incredibly talented people.
If you were a blind foreigner, who didn't understand a word they were singing, and couldn't see their acting out the words for you (while they are playing and singing!), you would describe the show to your friends as some of the best Rock 'n Roll you'd heard live in a while. The level of musicianship is top-notch.
If you were a prude, you wouldn't have the guts to describe it to anyone, and you wouldn't have a lot to describe, because you'd probably have left after a few minutes.

So, since it's still relatively indescribable, I'll just say that there's a lot of sexual innuendo, delivered with a giant dose of tongue-in-cheek (see what I did there?)

deliciously executed. In fact, rather than saying it's like The Fantasticks, I really should have described it as one of the better SNL (Saturday Night Live) skits you'll ever see, because rather than being performed by fake musicians making fun of real musicians, this is performed by real musicians, making fun of fake musicians who make fun of real musicians.
Now you might understand what the Thang refers to in their name…
As you will see in the photos below, the band had an outfit. I need to point it out to you, because if you don't look carefully enough, you'll think they weren't even on stage (they are, after all, wearing camouflage).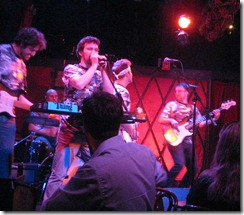 A quick shoutout to the members of the band:
Paul Maddison on electric guitar and co-lead vocals. Paul was excellent on the guitar and vocals! I'm listing him first because he's the reason I wanted to see them. I had no idea (not until they walked onto the stage) what I was in for. In other words, while Chris Anderson (and others) told me I should see them, I thought it was just going to be another local band that I would like.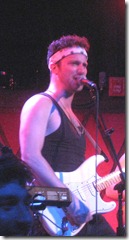 I had seen Paul before, twice, supporting the Greg Mayo band. I was interested to see what he would be like front-and-center. Now I know.

In a not-so-small irony, one of the first words out of Paul's mouth on stage was a (very friendly) jab at Chris Anderson. He followed it with "See what happens when you don't stick around for the show?".
Dan Golden on keyboards and co-lead vocals. A match for Paul in many ways. They were totally in sync and seemed to feed off each other. The two of them drank what appeared to be huge swigs of vodka from their own bottles in the middle of the set. If it was real liquor (and I suspect it was), it was an impressive amount, considering they still hit every note afterward (and they probably started off drunk, considering that one of their songs is called I'm Still Drunk!).
Update: Sam informs me that they were drinking water on stage, but that all bets were off once the show was over. OK, maybe. Or, they got to him after reading this, and told him to make sure I change it, before their parents got the wrong idea of what they were doing with their time! Sam is clever enough to have thrown me a bone about Kenny Warren (see below) and Scott Harper (see above) to make it all seem a bit more legitimate…

Rob Pawlings on electric bass and vocals. If you look at the photos, you'll notice that the band are wearing gaudy necklaces. The only one that looks different is Rob's, because, apparently, his alter-ego is named Bobby Bananas. Excellent on the bass, excellent on the vocals and Rob/Bobby led the male burlesque part of the evening.
It's hard to see, but just over Paul's fingers and guitar is a Banana on a gold chain, hanging from Rob's neck (in the first photo):
Dave Freedman on electric guitar. Dave did an excellent job on both rhythm and lead guitar playing. At the end, he and Paul Maddison took simultaneous leads in harmony with each other. Awesome, but could have been longer.
Kenny Shaw on drums, vocals and some very dry banter. If I understand correctly (just from some quick Googling), Kenny Shaw started this Thang, originally called ShawThang! That shocked me, because I've seen Kenny perform with the Greg Mayo Band a couple of times, and he comes off like the most sedate, normal person you could imagine. Clearly, he has a sick, twisted mind that required an outlet. Thankfully, he found one that the rest of us could enjoy with him!

For the last two numbers, a trumpet player jumped up on the stage and sang as well (so he obviously knew the songs). There was too much going on for them to stop and introduce him, so I don't know who he is.
Update: Sam informs me that it was Kenny Warren. Kenny has a long association with The Thang Band and was also the original trumpet player with The Greg Mayo Band.
OK, I know most of you don't believe a word I said. This won't be proof, by any stretch of the imagination, but it should open your mind to some possibilities. It's a two-year-old video of one of their hit songs, Lipstick on My Booty. Last night, the performance was way more visually descriptive than the video below:
Lipstick on My Booty by The Thang Band
I left chuckling, and once again glad that Lois missed it.

Circling back to the beginning of the evening. Amy Rivard was one of a number of friends who was out with us the previous Wednesday to see three sets at Rockwood 1. The first set that night was Chelsea Lee.
As with Live Society, I knew that Chelsea was playing again last night but also thought I'd have to miss it. Once I knew I could make it, I asked Amy if she wanted to head down earlier and catch Chelsea Lee again. She was interested.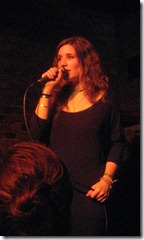 The set, again accompanied by Wes Hutchinson and Spencer Cohen was close (if not a copy) of the previous week. That's fine, as I thoroughly enjoyed it last week, as I did again last night.
If there was one complaint, it was that it was a short set. That made for a more relaxed evening, but I would have preferred to listen to more of Chelsea. She's still very young, so I have no doubt that the material will continue to be written and the sets will get longer in time.
In addition to Chelsea repeating an excellent performance, the same could be said of both Wes and Spencer. The three are well matched. Last week I purchased Chelsea's 5-song EP. I have listened to it a number of times this week and I have enjoyed every single listen.
Chelsea will be back next week, this time at Rockwood 2, on Tuesday (May 31st), at 7:30pm, in a ticketed show, opening for Greg Holden who is having his CD Release Show that night.
Since the set was short, I had the time to introduce myself to Spencer and tell him how much I enjoy his percussion.
Another excellent night out. My heartfelt thanks to all of you people who spend your lives honing the skills required to entertain me!