Send to Kindle
We've seen quite a bit of Matt Simons in the past few months, but they've all been in his exceptional role as sideman for a number of other artists who we follow. It's been four months since we've seen him headline a set. Thankfully, that drought ended last night at The Living Room.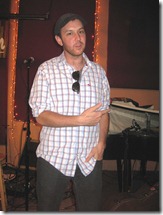 Matt is a multi-instrumentalist with an excellent voice. When he headlines he always plays the keyboards (piano and electronic). I guess trying to sing and play the saxophone (he's awesome) presents some logistical challenges (if anyone can solve that problem, I have faith in Matt).

Matt opened the show solo with a powerful song (Miss You More) that had everyone stone silent. I laugh at my internal dialog at these kind of moments. I think "who needs a band at all?" Then the band joins, and I think "why ever play solo?", etc. The real point is that both solo and with a band, Matt (and many others!) get it just right.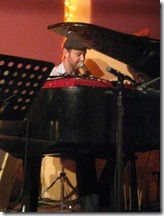 Proving my point, right after Miss You More, Matt invited the band up. This is the same core band that played for the next two sets as well. Two of them played with Rebecca Haviland in an earlier set at Rockwood Music Hall (covered here). In other words, they played for the better part of four hours. Yeomen indeed!
I didn't spy a set list, which indicates one of three things: 1) there wasn't one, and Matt just winged it, 2) Matt had one on the piano and purposely hid it from me, or 3) it was written with invisible ink on invisible paper (again, probably to thwart me). Therefore, I can't easily share with you the titles to all of his songs, though he played a number of them that I love.
The core band, left-to-right on stage:
Chris Anderson on electric bass. Chris also sang light backup vocals. Chris is one of our favorite bass players. Check out my previous post (linked above in "covered here") for more on Chris, including his singing and songwriting chops.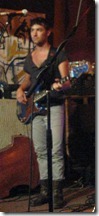 Ryan Vaughn on drums. I've been writing a lot about Ryan lately, as he's been drumming more often with the people that we consistently go out to see. Our previous sightings always came when Ryan played percussion (not the drum kit) on Martin Rivas' sets. Ryan is great and exhibited many different styles across the three consecutive sets last night.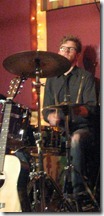 Greg Mayo on electric guitar and light vocals. I mentioned in the last post about my mind control abilities. On the first song that Greg appeared, he took a fantastic lead (I think he's patented them, so if don't want to go to jail, don't try and copy them!). Before explaining the mind control aspect, I need to digress.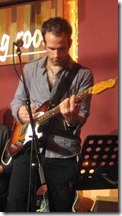 Having true, committed fans, is one of the hallmarks of the music business. We (yes, we count ourselves as true, committed fans) will do an awful lot to support the musicians we love. Yesterday I tweeted an article that implores musicians to find a way to connect their fans with each other. Here's a real-world example of the result of that advice.
We attended a fantastic house concert in VA hosted by Lindsie. That night featured Ian Axel, Chad Vaccarino and Mike Campbell. We met Lindsie that night, due to our mutual love of Ian, Chad and Mike. Since then, Lindsie (being a true fan!) came up to see Ian Axel headline Bowery Ballroom and we hung out in front of the stage with her throughout the show. Last night, she came up again to catch these three consecutive sets and again, we sat together. Her friend Ashley (sp?) joined her this time.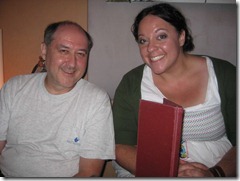 A number of last night's artists were new to Lindsie, including Greg Mayo. Before Greg took the stage, I turned to Lindsie and told her that Greg is my favorite local guitar player and that she was about to have her mind blown. Finally, back on track, immediately after his lead in the first song, I turned toward Lindsie and rolled my eyes in disbelief at how quickly he proved me correct!

But, while Greg was perfect in his support of Matt on the remaining songs, he didn't take a real lead again (no complaints). Just as they started Matt's last song of the set, that thought came to me front and center. Of course, given my mind control powers, Greg took another great lead. Damn. I should have remembered that I probably could have called up as many leads as I wanted throughout the set. Oh well, next time!

Matt called up Chris Ayer to sing and play acoustic guitar a number of times (Chris headlined the 11pm set). The two of them sings so beautifully together, whether it's Chris supporting Matt on his songs, or vice versa (as happened a bunch in the last set).
On one number, Matt came out from behind the piano and sang, with Chris accompanying him on vocals and acoustic guitar. Gorgeous!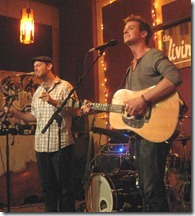 Matt called up Sierra Noble to sing harmony with Chris Ayer as well. That role has traditionally been filled by Morgan Holland. Since Morgan is returning to CA for a Master's degree, she won't be available to sing with Matt and Chris. While Sierra is a star in her own right (and therefore won't be available often to sing with them), having her join them last night was a real treat.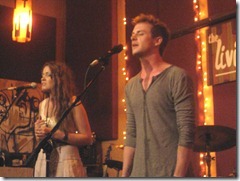 For the second to last song, both Chris and Sierra returned (after someone having to go out and find them!). This time Sierra added her violin to the mix!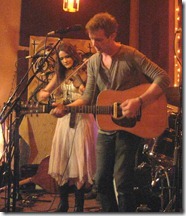 I'm a big fan of Matt and always enjoy his sets. But, I'll definitively claim last night's set to be the best we've seen so far, though doubtlessly it will be topped in the future!
Matt and Chris Ayer both leave tomorrow for a tour of the UK and Holland. Some of the dates/venues can be seen on Matt's Facebook Page. You can also stream some of his songs there (or on MySpace linked at the top). But, to listen to Matt, I recommend you visit his Bandcamp page. There, you can hear a lot of his songs in their entirety, for free. Then you can buy all of them, or the ones you like best, etc. I love the model where you aren't buying blind, or off an unrepresentative sample of the song.
Referring back to the "connect your fans" section above, a number of our friends were there last night (which is typical). Let me know if you prefer Kelly or Sam to wear the hat when their picture is taken.