Send to Kindle
Continuing with the pattern started in my last post about The Spring Standards, I am separating this one out from the other two sets at last night's Bowery Ballroom show.
Ian Axel co-headlined Bowery Ballroom on May 24th, 2011 with The Spring Standards. Last night he co-headlined with Rosi Golan.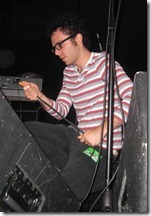 Since that night, we've only seen Ian perform with a full band once, when he opened for Five for Fighting. In fact, that show wasn't quite a full band either. They played without a guitar and they had a substitute drummer, Zach Jones (who was absolutely incredible). We've seen Ian perform with Chad Vaccarino quite a number of times in between (so don't worry about how we held up in the interim), including an extraordinary show at The Beacon Theatre.
There was still one change in the band, but we'll get to that in a bit.
Ian performed an exceptional set, which included three unrecorded songs, one of which we had never heard before (I'm not sure they've ever performed it at a show). The wide range of styles showed off Ian's (and Chad's) song-writing and performing capabilities (they're most certainly not stuck in a single genre). The different styles were interspersed, so there wasn't a "rock portion", followed by an "acoustic portion", followed by a "pop portion", etc. That kept things very fresh.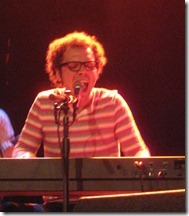 Two of the unrecorded songs are now well-known by Ian's fans (everyone around me was singing out loud to both): Rockstar and Gold Digger. The new one is called Amory (though I admit to hearing it as Anne Marie). We had to look it up, Amory implies Heaven, or the epitome of the perfect American City. In retrospect, it makes a lot of sense. But, it also worked in real-time when I thought it was a woman's name.

Amory was performed acoustically, with three-part harmony, and was simply gorgeous.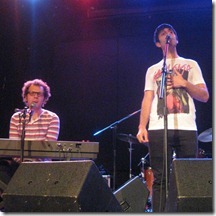 Before we get to the band, there was a very special guest on one number.
Allie Moss came out to sing on Shorty Don't Wait. In addition to singing three-part harmony with Chad and Ian, Allie sang a verse on lead, switching places with Chad to stand between the boys. Absolutely incredible.
For the one person out there that doesn't know, Chad Vaccarino is Ian's primary writing partner. They produce nothing short of magic together. They also sing a number of their songs together, alternating leads and harmonizing together (beautifully). In addition to singing, Chad plays electronic keyboards (adding an organ flavor to Ian's piano sound) and trumpet.
The band, left-to-right on the stage:
Andy Stack on electric guitar. This was the one change to the band last night. Previously, Chris Kuffner was the lead guitarist for Ian's band. Recently, Chris has gotten very busy producing and his performing has had to take a back seat. I have no idea whether his withdrawal from Ian's band is permanent, but I'm guessing that for the time being, that's the case.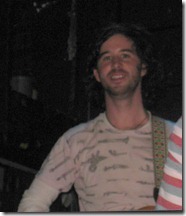 We've seen Andy Stack once before, when he played electric guitar with Greg Mayo. It was only two songs, but Andy impressed instantly. He's brand new to Ian's band (likely getting only one rehearsal in) and I have no idea whether the intention is for him to join the band on an ongoing basis.
That said, they worked hard to integrate the electric guitar into the music more that at any show I've been at (I've mentioned a number of times how unimportant the guitar has been). On most songs, that effort paid off. Andy is more than capable, but the real key was finding the right spots to highlight the guitar.
On one or two songs (Gone, the opener, in particular), the arrangement needs work (IMO). Since it was the first song, I was nervous that Andy wouldn't blend well the entire set. Thankfully, I was way wrong. I'm looking forward to more of Andy in Ian's band.
Adam Christgau on drums, acoustic guitar and vocals. We haven't seen Adam play with Ian since May. He missed the CT show because he was touring with Sia, playing a string of sold-out shows in large venues (poor baby). He also got to listen to Ximena open for Sia every night (making him a lot luckier than most of us!).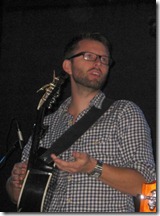 Hearing Adam crush the drums on an Ian set is no surprise (but always a pleasure). Adam had an additional surprise for us. I've seen him tweet that he plays electric bass on occasion at Slane, where Martin Rivas holds Campfire shows. I never heard him mention anything about guitar. (That's a white lie, I think he mentioned once on Twitter that he was playing some Dylan on acoustic guitar in his room.)
Last night, Adam played acoustic guitar on two numbers. First on Shorty, taking 1/2 of Mike Campbell's role (Allie took the other 1/2, the singing part). Poor Mike Campbell was suffering on a beach in Aruba. I'm sure he would have preferred to be at Bowery Ballroom, if only he had a choice.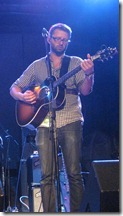 On Amory, not only did Adam play the guitar (very nicely), but he also sang a bunch, completing the three-part harmony with Ian and Chad. This will add a new dimension to Ian and Chad's sound if they start making more use of Adam this way. Bravo!
Chris Anderson on electric bass and background vocals. Chris was fantastic, as always. He also led the clapping on Leave Me Alone. Hearing that song in NYC is so different than anywhere else. In NYC, such a large proportion of the crowd knows the cool clapping part (and has Chris to make sure they know when to do it, not that we don't). In other places, there are a few lonely clappers who typically give up quickly.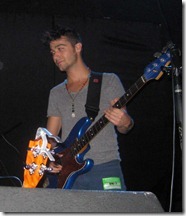 Chris was also instrumental in the sing-a-long portion of Girl I Got a Thing.
Speaking of Girl I Got a Thing, when they play it in NYC, you never know what to expect. When Ian introduced the song, he said that he himself wasn't sure what was going to happen.
Leiv Parton came out dressed like one of the Men in Black, sporting a tambourine and a drink. As the song built up, Chocky came out (as he usually does) and conked Leiv on the head with a bottle that shattered all over the stage. Leiv spent the remainder of the song sprawled out (lifelessly) on the stage. He was dragged off (with difficulty) after the song was over.
At the last Bowery Ballroom show, Chocky was dressed in sweats. This time, he was a full-on cowboy gear. When he finished his whiskey, another Man in Black came out (sorry, I don't know who it was) and he handed Chocky a replacement whiskey, then stood robotically for the remainder of the song.
It added a visual flair to a fantastic song. I shudder to imagine how they intend to top it next time!
After the show, we had to force Leiv to take a photo with me, to prove that he survived the on-stage attack.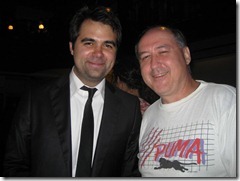 After playing their signature This is the New Year (killing it), everyone but Ian left the stage. Ian played Say Something, on the keyboards (he sometimes performs it on the ukulele). It was incredible, bringing a real hush to the large crowd. Great way to end the set.
Here's the set list:
Gone
Leave Me Alone!!!!!!!!
Waltz
Rockstar
You'll Be Okay
Shorty (acoustic w/ Adam)
Amory (acoustic w/ Adam)
Gold Digger
Girl I Got a Thing
This Is The New Year
Say Something (acoustic)
We shared this evening with a lot of friends. Here are but a few of them: