Send to Kindle
I'm a very big fan of Rosi Golan. I love The Drifter and the Gypsy (until last week, Rosi's most current CD). I love her side-project, The Open Sea (with Ari Hest). Their EP is extraordinary. The chance to see Rosi perform is good enough reason to come out.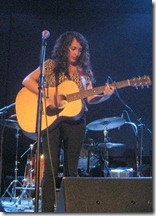 Add to that a full band, an amazing lineup before her and an actual new CD to celebrate (Lead Balloon) and there was no doubt this would be a great night out.
It was!
Rosi is a great songwriter. Independent of that, she has one of the most amazing voices. There's a clarity that's hard to describe, but I'm going to try. Many great singers have some sort of halo to their voices. In other words, the center of the sound is the note they want to hit, but if you looked at it with a spectrum analyzer, the wave-form would be fatter, touching other notes around the one they're singing.
Other's have a laser-like quality, which will have the clarity I noted, but can also sound shrill, even painful at times. Rosi's voice is just right. On most songs, there's a sweetness to the voice, even if the lyrics are ripping your heart out at the same time. In fact, she joked that she was surprised to see some people dancing in the back of Bowery Ballroom, since most of her songs cause people to cry or hold hands.

The set was great. Most of the songs were from the new CD. Rosi was kind enough to throw in a couple from The Drifter and the Gypsy, most notably Think of Me, which I could listen to all day, every day. Here's the set list: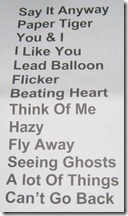 Rosi has a regular accompanist, Jake Phillips, who performs with her (at every show?) for the past 4.5 years. He's an excellent guitarist, and has a really good voice. Most of the time he sings harmony with Rosi, but occasionally, he'll sing lead on a verse. I think he sang one of the verses on Hazy (the other song from The Drifter and the Gypsy). On the CD, Rosi sang with William Fitzsimmons (that reference was for you, Kevin).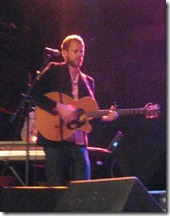 Jake has a show of his own at 7pm tonight at Rockwood Music Hall. I'm not in NYC, so I can't attend, and if you're reading this, you probably can't either, since I'm posting this a day too late (my next post will reveal why this one is late).
I bought Lead Balloon at the show, between Ian Axel and Rosi's sets. I've listened to it twice so far and I really like it a lot. I'm sure I'll grow to love it in a few more listens. There are a number of songs that grabbed me instantly, but none more than Fly Away. It's my Think of Me from this CD.
Rosi was accompanied by a full band, but she also had a special guest star on many of her numbers (I'd guess more than 1/2).
Allie Moss is a headliner in her own right, in addition to being a member of Ingrid Michaelson's band (singing harmony and playing guitar). On Rosi's set, she sang harmony so beautifully.
Rosi closed the show by bringing up another special guest. If you read the paragraph above and substitute the name Bess Rogers for Allie Moss, it would all be 100% accurate!
Rosi asked the crowd to scrunch up closer to the stage and to be as quiet as they (we) could be. She unplugged her acoustic guitar and Rosi, Bess and Allie sang with no microphones. They performed Can't Go Back. We were lucky enough to be right up against the stage (where you'll always find us if we can secure that spot) so it felt like the three of them were singing just for us.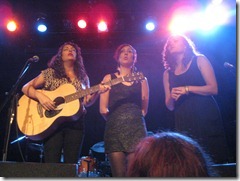 Wow is an inadequate word to describe what an amazing job these ladies did. Oh yeah, the song is really beautiful as well, and it's on Lead Balloon.
The band, left-to-right on the stage:
Daniel Mintseris on electronic keyboards. Excellent job throughout the set. In a silly small-world story, I haven't been that active on Google+ yet, but I've been slowly accumulating people into various circles. The morning of the show (Tuesday), I put Daniel in my Musicians circle and he added me back (so at least he has a Google+ account). I didn't know I'd be seeing Daniel perform that night!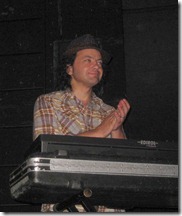 Elliot Jacobson on drums. Elliot is simply awesome, always. I've described him before as having a reputation as a hitter (he strikes the drums hard!). I've also said that it's not true, when it's not called for. On most of Rosi's numbers, it wasn't called for. Sure enough, Elliot was amazing, subtle when he needed to be, upbeat when appropriate, etc.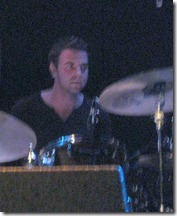 Tony Maceli on electric and upright bass. Consistently one of my favorite bass players, including this show. Tony split the bass duties nearly evenly between the electric and the upright, nailing the bass lines on both. On the upright, he mostly plucked, but at least in one song I noticed him switching to the bow, then back to plucking. He's a bit more understated (by choice) than other bass players on the scene, but the sounds he produces are the correct ones.
A great finish to an already great night. The Spring Standards opened the show, with Ian Axel performing after them. Let's pick a date and do it all again real soon.
For the entire night we stood next to Casey Hicks, a writer for Short and Sweet NYC. She had just posted an interview with Rosi Golan that day, conducted over the weekend.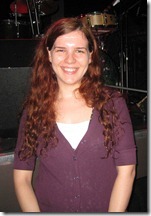 Here's the Kevin, mentioned above: