Send to Kindle
Delta Rae made the trek to NYC to headline a CMJ set at Rockwood Music Hall Stage 2. If they can make the trek from North Carolina, we can do it from midtown. We saw the previous two sets out of interest, but mostly out of wanting to guarantee that we'd be near the stage for Delta Rae. Mission accomplished!
I've written about Delta Rae a number of times. The previous two were at Rockwood 2, so rather than repeat how awesome they are (and why), I'll link to both: here and here. Suffice it to say that they were (again) awesome last night.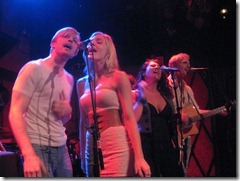 So, what's new since the last time we saw them three months ago. They just put up a new video:
Delta Rae performing Bottom of the River
That's related to another big news item. Bottom of the River was produced by one of our favorites, Alex Wong. Delta Rae recently announced that they selected Alex to produce the entire new CD (first full-length one from Delta Rae). They had a successful Kickstarter project and will be heading into the studio (and the woods?!?) later this year.
They nailed this song on stage last night as well, so they don't need multiple takes to rattle your bones!
Here's a tweet from the band in the middle of the night:
DeltaRaeBand Delta Rae

Lucky enough to preview @highceilings new solo record today….its awesome!! Cant wait to make our own masterpiece with him!!
Ah, another reference to the upcoming solo effort from Alex Wong (a.k.a HighCeilings). Still have to sit on our hands another few months before we can grab a piece of that goodness.
Even though Delta Rae is all about the group blending together in a symphony of powerful voices/harmonies, it wouldn't be fair to not call out each member, since they each were outstanding in their own right. Left-to-right on stage:
Eric Holljes on grand piano and vocals. So good on both, and an excellent songwriter to boot.
Brittany Holljes on vocals, shakers and tambourine. Great voice. Less banter/intros than usual (typical of a CMJ show). Watch the video to understand her true powers.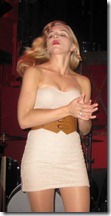 Elizabeth Hopkins on vocals, shakers and tambourine. Great voice (I know, I'm repetitive).
Ian Holljes on acoustic guitar and vocals. Another excellent job, including an introduction of a new song.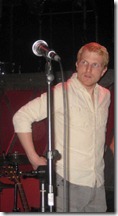 All four sang lead on at least two songs each. All four sang together on every number (exactly as it should be!).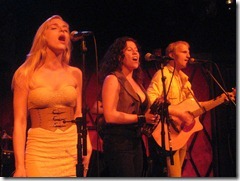 Mike McKee on drums. Mike has impressed me in every show, last night included.
Grant Emerson on electric bass (normal and a skinny upright one as well). Grant is a terrific bassist. I will spend a considerable amount of time doing penance for mis-naming him two posts back. If you clicked on both links at the top (or at least the second one), then you know that I corrected the error, but I still feel badly about it.
Here's the set list: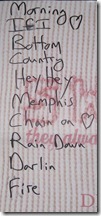 We ran out the minute the show was over to catch another CMJ set a few blocks away, so we didn't even get to wave hi to the band. Next time.

P.S. Do you think we were having a good time?