Send to Kindle
Derek James playing somewhere and we're in town? That's where we'll be. He was headlining a CMJ Showcase at The Delancey on the main stage. We had never been to The Delancey, but now you know why we'll never be able to say that again.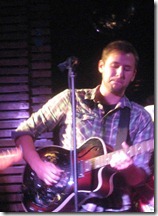 I've written about Derek many times now. The most recent one was a review of his new CD (something I rarely do). The CD is out now, so you can just go buy it (and rate your reviewing skills vs mine). I mentioned in that post that I'd be buying it once it was out. Since we still enjoy physical CDs (luddites that we are), we bought two last night after the show and got Derek to sign one as well. Thanks!
The main stage at The Delancey is quite small (just wide enough to fit the four of them, barely deep enough for each to take a step or two forward or back. The room itself is extremely long and very narrow. I parked myself at the bar directly across from Derek.
The sound guy (sitting immediately to the left of the stage) was excellent, actively ensuring that the sound was right for us and the performers as well (more on that in the next post). That made a world of difference. I've complained twice now that at Rockwood 1 (one of our favorite places), Derek's vocals have been washed out by the volume of the instruments. Not so last night.
CMJ sets tend to be a bit shorter than normal. It stinks when you can't get enough of a performer, but it's awesome that they try to have nearly every set at dozens of venues actually start on time!
Derek was supported by his newer set of Lovely Fools (not the ones on the CD). He tours with these guys now and this is the second time I've seen them playing with Derek. If you've read my previous posts, you know how much I love the original Fools. That will never change, but I publicly admit to be 100% satisfied with the current Lovelies.
Jerry Fuentes on electric guitar and vocals. Jerry is superb on the electric guitar and is a large part of why I don't mug Derek in an alley for not being able to produce Roy Gurel at every show.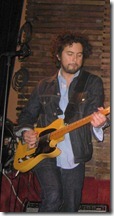 Mike Tuccillo on electric bass and vocals. Mike is becoming a staple in our outings. We saw him supporting Jenny Owen Youngs just the night before. The bass play on a Derek James set is a critical part of the sound, and Mike is definitely up to the task.
I mentioned to him after the set that he's helping me forget Assaf Spector. He noted how different their styles are. True, and like I said above, I will always love the original Fools (Roy and Assie), but Jerry and Mike deliver.
During one song, the three of them (Jerry, Derek and Mike) take identical/simultaneous leads (electric, acoustic and bass, respectively). They nail it (it would be painfully obvious if any of them missed a single note).
Jamie Alegre on drums and vocals. Jamie had to work with a reduced kit (snare, kick, high hat and one additional cymbal) due to the size of the stage. As Derek noted between songs, Jamie kicked arse even with the smaller setup. Great job!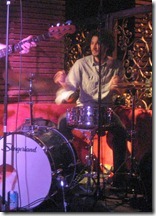 Derek noted that when he tours with these guys, people ask whether they are brothers. Look at the mop-tops and beards, and decide for yourself.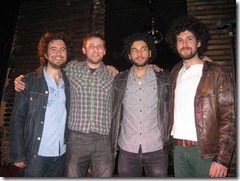 Look who we ran into at The Delancey. Matt Simons was the person who suggested we go catch Alec Gross upstairs (before the Derek James set) and Chris Ayer was already up there enjoying the show.