Send to Kindle
The Big Apple Singers typically book really late shows at Rockwood Music Hall Stage 2. Actually, they're really early, as in midnight. That was the case last night. We planned to attend nonetheless, because it's simply been way too long since we've seen Greg Mayo (one of the four members of the band) perform.
It ended up being the culmination of a truly epic night of music for us. This was the fifth consecutive set (split between Rockwood's two stages), beginning at 8pm with Barnaby Bright.
This was the only set that we stood for, and even though I prefer sitting, I was actually glad to stand. The Big Apple Singers bring such energy that it's nearly impossible not to move in some way, which is easier when you're standing. It also made it easier to stay awake.

The Big Apple Singers mix originals (there were three or four last night) with big-time covers (mostly from The Band). They are all incredible musicians and it's impossible not to get sucked in to the spirit (I dare you, come on down, resistance is futile!).
The core band consists of:
Evan Watson on electric guitar and vocals. Evan is an excellent guitar player. If I understand correctly, he formed The Big Apple Singers. Thanks Evan! He's quite the showman when he's singing lead, or playing lead guitar. On the other hand, he's one of the most generous people when it's someone else's turn to shine (as I've noted a number of times before). He kneels to ensure the crowd can see the drummer during a solo, etc. Evan also played the mandolin on one number.
Greg Mayo on keyboards (grand piano and electronic) and vocals. It was no small irony to me that I sat through five sets of music, each of which had an excellent guitar player, and yet I didn't get to hear my favorite of all of them, Greg Mayo. On the other hand, he was so awesome on the keyboards, that it didn't matter in the least!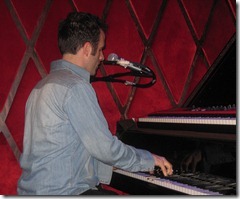 Greg also used a small black tube to control the sound of the electronic keyboards by making sounds with his mouth. Totally cool and executed to perfection.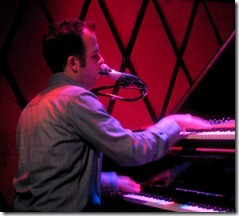 Josh Dion on drums and vocals. Aside from being a mind-bogglingly great drummer and being an outstanding vocalist, Josh Dion is flat out exciting. If you're not mesmerized by his performance, check your pulse, literally!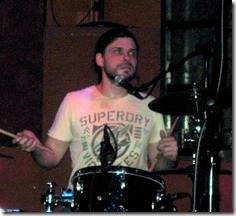 Chris Anderson on electric bass and vocals. Two sets in a row with Chris playing bass? Yes please! Very different performances. The set before called for more subtlety, this one for all-out rock. Both delivered on the money.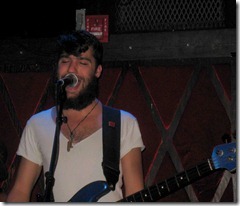 The Big Apple Singers called up two separate guests.
Zach Jones, also an extraordinary drummer, was invited up to play some electric guitar. Cool! I didn't know they were going to call him up. Right before the set began, I bumped into Zach and noted that many of my favorite drummers were in the room (Josh Dion, Zach Jones, Kenny Shaw and Seth Faulk). Zach pointed out another drummer as well. I told him that I ant to see them all on stage together, doing something like The Allman Brothers Band does. A boy can dream, right?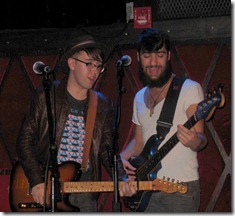 Rebecca Haviland came up to sing one song with Evan. They fed off of each other, building the energy and having a (contagious) blast on stage. If you don't know Rebecca's voice and music (she co-writes with Chris Anderson), do yourself a huge favor and correct that oversight right now!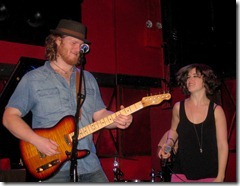 Manish Gosalia was in the audience for four of the five sets that we attended. Whenever I see Manish at a show, I know two things for certain:
It will be a great show, he has exquisite taste in which bands he likes
There will be exceptional photographs (and sometimes videos) of the show, on his Flickr page. He's a phenomenal photographer!
Here's a shot of Manish and Rebecca Haviland: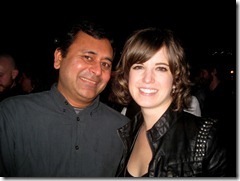 During the set, Patryk Larney walked over (he headlined the set we attended right before this one) and said: "We're watching history being made!". My answer? "Every single time they play!"

We got home shortly before 1:30am. What a night out. After missing five weeks of this NYC music scene, we dove into the deep end without a tank. An exhilarating night out. Amazingly, we skipped another set that I have no doubt would have continued the epic evening. Jay Stolar was up at 1am. It was simply past my ability to fight exhaustion.