Send to Kindle
Abby Ahmad was at The Living Room last night. I only learned about the show a few days ago and immediately changed our plans (from doing nothing, we need some of those nights too every once in a while). Unfortunately, it was a 10pm start time, but you do what you have to do to see the people you want to see.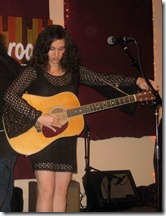 I've only seen Abby once before, performing three songs at Backscratch XVII. Here's what I wrote about her that night:
Abby Ahmad was up next. Another first for me. Great voice, very interesting guitar play. I really liked her songs as well. In other words, someone I intend to go see doing a full set soon (she's playing Rockwood on Thursday at 11pm, but that might be too late for me that night).
I was happy to follow through on that intention.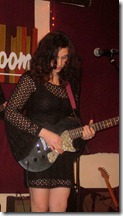 Again, Abby displayed an incredible voice. Again, her guitar play was quite interesting (she can definitely hold my interest as a solo artist). She's also a very good songwriter. Again, she was accompanied by an excellent band. This time she even threw in two wonderful guests. Abby also played the piano on one number, very well.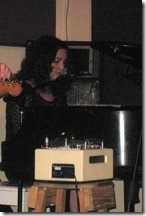 Still, the set didn't leave me with the feeling I expected. Some of the issues were out of Abby's control (perhaps most), some were not (or at least I perceived them as somewhat controllable).
Before mentioning a few of those frustrations, let me heap some serious praise on the core band and the two guests. Left-to-right on the stage:
Sean Dixon on drums (once again, no good individual link). This was the fourth time we've seen Sean. It was also his best performance, largely because it was a full set of mostly rock, so he got to open it up more than in previous shows. The first time we saw him I mentioned that he's particularly good on the cymbals. That was true again last night.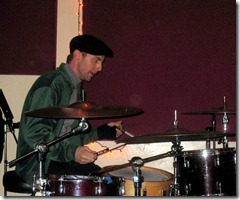 Adam Minkoff on electric bass and light background vocals. Adam is one of our favorite bass players. He's a very good singer and electric guitarist as well, but that's not what he plays in Abby's band. He also played the floor tom in one song (as he did the first time we saw Abby), but I'll get to that later.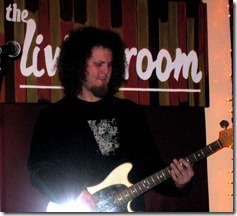 Mark Marshall on electric guitar. We've seen Mark a couple of times now and his guitar play always impresses (though it's often unconventional). He was quite good last night as well, but he used a few too many effects for my taste (mostly in closing out numbers in a fuzzy fashion). Like Adam above, he played a floor tom on one number.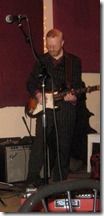 Jason Crosby on grand piano. Jason joined Abby for two numbers. He took a couple of long leads and otherwise played amazingly. I'll describe his play as wow, in order to be as accurate as I can be. When we walked out, Jason was standing at the bar. Lois walked over to him to tell him how awesome he was. I was much more articulate. I looked at him and said: "What she said!".
In case you didn't bother clicking through to his MySpace page, let me paste his bio in here for you. Look at who he's played with, and you'll understand my wow above. Of course, we experienced the wow, without having a clue as to who he's been chosen to play with/by:
Over the last decade, Jason has been a member of Robert Randolph and the Family Band and the Susan Tedeschi Band, among others. Over the last few years, Crosby has played with Carlos Santana, Pete Seeger, Eric Clapton, Bruce Springsteen and Dave Matthews in various configurations. His discography is equally as impressive with appearances on Anastasia's multil-platinum hit "Freak of Nature" to Tedeschi's Grammy Nominated "Wait for Me", just to name a few. After 15 years of touring, Jason has recently returned to his native New York to write, record, and produce with many NYC artists, while keeping his overall focus on writing and recording his own music.
Morgan Cohen (no good individual link). Interestingly, I can't find a good individual link for her under her maiden name either, even though she achieved quite a bit of fame as Morgan McOwen. In 2009 she was a contestant on Season 8 of American Idol, getting the Golden Ticket to Hollywood. She joined Abby to sing harmony (gorgeously) on two numbers. She definitely has a great voice, so it's easy to see even three years later how she made it to American Idol.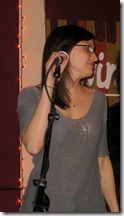 Back to Abby and some of the issues with the set. This was a much fuller band with Abby playing electric guitar on half of the numbers. She was excellent on the guitar, but with everything so much louder, it was harder to hear (or rather concentrate on) much of her lyrics. That's a shame, because I've already mentioned that I think she's a very good songwriter.
Many of the songs were new (no issue there). They were way more rock than I expected (also not an issue, just caught me by surprise). In fact, on the first two numbers, if I closed my eyes, I could have guessed that Grace Slick was singing Jefferson Airplane songs (just ones I hadn't heard before).
So, why was the set frustrating?
It was scheduled to begin at 10pm. The band before didn't stop playing until 10:20 and then had to tear down. Abby and her band, but mostly Abby and Mark took a long time to set up. I would rather wait it out and get it right (obviously), but that doesn't make it any more pleasant. Their set started at 10:40pm. Ouch.
Second, I am normally extremely impressed with the sound engineer (and system) at The Living Room. Last night was not their best, with volumes distorting at times and some of the sounds on the shrill side. That was exacerbated by the much louder rock set than the previous Rockwood numbers I had seen Abby play.
To add insult to injury, Mark's amp acted up on him (I could still hear it, so I don't think it completely blew out). That delayed a song quite a bit in the middle of the set. It wasn't clear what they would do, until the next band scheduled offered up their amp. Day saved, but again, at the cost of discomfort and delay.
Abby joked that they are the "King, Queen and Court of technical difficulties" and that therefore this was just par for the course. I hope their luck improves.
Let's end on a more positive note. The first time we saw Abby, I raved about her opening song (I didn't know the name then). Adam didn't play the bass, instead he drummed on a floor tom, with Sean Dixon using the rest of the drum kit. Last night they closed the show with that song (I think it's Give It Up) and added even more of a flair with Mark Marshall also playing a floor tom, making for three drummers playing simultaneously. I loved it!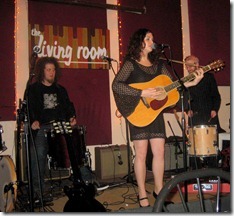 I will definitely go see Abby again, as soon as possible. Ironically, she's playing tonight at Rockwood 1, with Mark, in a new blues/rock group that they are calling Fife and Drom. The show starts at 10pm. We'll be at Joe's Pub earlier and won't be able to make this one. Next time!
Here is the set list: