Send to Kindle
Bri Arden headlined a set at Rockwood Music Hall Stage 2 last night. We missed her last appearance at Stage 2, her EP Release show. I heard that it was absolutely incredible, and based on all of the times I've seen Bri, and having listened to her EP many times, I have no reason to doubt that.
It's been 3.5 months since we last saw Bri perform. As I noted in that post, you never really know what to expect (lineup wise, hairstyle, guests, etc.). We were actually up in Westchester to catch two full sets (and an amazing meal!) at Watercolor Café earlier, and we dashed out after the second set, dropped some folks off and made it to Rockwood a few minutes late.
We were immediately bathed in Bri's amazing voice, nice way to walk into a joint.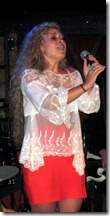 Bri had a full band, always a treat. The only change that seems somewhat permanent (or at least it's been a while), is that Bri no longer employs a duo of female backup singers. The sets are great without them, but I'll happily admit that they were a fantastic addition (the default ladies were Valerie Mize, now based in Nashville and Kate Ferber, though others have filled in as well).
Bri mixed it up. While most of the show was full band, Bri also played one song solo on the acoustic guitar. She performed another one solo at the grand piano.
She had a special guest come up for another, but I'll mention that after I let you know about the amazing band, left-to-right on stage:
Jason Wexler on grand piano and electronic keyboards. We see Jason supporting a number of our favorite artists, including Bri. He's a superb keyboard player, and if I understood another musician friend correctly, a talented producer too.
Jake Cohen (Jacob Colin Cohen) on drums. Jake always does a great job on Bri's sets. Glad to hear him again after 3.5 months. Sorry about the poor photo: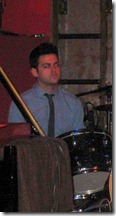 Justin Goldner on electric bass and vocals. Like Jake, Justin always impresses. When there's a full band, he's the bass player. When Bri gets acoustic, he plays the guitar. In other words, he's an integral part of Bri's sound, including background vocals.
Oscar Bautista on electric guitar. Oscar is simply amazing, always, not just when supporting Bri. Unlike Jake and Justin, we've seen Oscar a number of times since, with his own Police tribute cover band and with The Vanity Belles. He's awesome.

Ian Schaefer (Ian Carleton Schaefer) on trumpet. I don't know if Ian was in the opening songs which we missed. He was called up for the final two numbers and was great. As I noted to him when we stood next to each other for the following set, he helped Bri close out the show with a bang. Leave 'em hanging, wanting more, in no small part due to the energy that the trumpet brought to those closing numbers.
Jeremiah Birnbaum on acoustic guitar. Jeremiah has filled in on bass a couple of times for Bri. Last night he joined Ian on the final two numbers to play acoustic guitar. I can't really say that I could make out the acoustic guitar, but I can say that I really like Jeremiah, especially when he fronts his own group, The Ramblers.

I mentioned one special guest above. There was another, who replaced Jason at the piano, but the rest of the band played as well.
Craig Wilson played the piano on Scars Do Fade, a number he co-wrote with Bri. It's one of a few songs they've co-written, all of which have impressed me, so they should continue collaborating.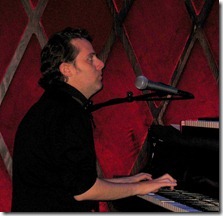 Anna Krantz joined for a number that they co-wrote very recently. Anna played the grand piano (gorgeously!) and sang harmony just a drop. Bri was spectacular on the song, with only the piano accompanying her (one of the three songs where the band got to rest).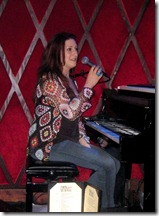 Here's the set list, but I'm reasonably sure that not every number toward the bottom was played. Specifically, The Best Is Yet to Come wasn't, at least I don't remember it. Scars Do Fade and Good in Goodbye were likely the last two numbers, among my favorites!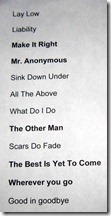 We got to say a quick hello and take some photos with Bri afterward. Thanks to some strong-arming by Sam Teichman, The Ghost was actually caught on film!