Send to Kindle
The Stone Lonesome headlined a set at Rockwood Music Hall last night. We saw them one month ago, also on a Saturday night at 9pm at Rockwood 1. I wrote a detailed post about that show, which described not just that set, but their music in general. I'm not being lazy, but rather than repeat that, I encourage you to read it if you're not familiar with The Stone Lonesome and are interested in learning about them.
The show last night was reasonably faithful to the previous one, so I could (almost) just stop now (other than updating the photos), but there was one change in the band and I always have something to say (even if no one wants to hear it), just to remind myself in the future of what differentiated this show from others.
I ended that last post with:
Thanks Zach, Emily (and Greg, Tony and Ryan) for making it a very special set!
This is obviously a subjective remark, but I think that they are continuing to gel. It's clear from the above that they didn't need to improve to make me very happy, but the more often a group performs, the more comfort they have with each other, the audience, and the general flow (both during and between songs).
Zach mentioned that he and Emily were dressed nearly identically (as if The Stone Lonesome had some kind of official outfit). That seemed to be correct, until Emily pirouetted to show off the see-through lacy back of her black shirt. Zach gave in immediately. Since he didn't spin around, I can't be sure whether he did or did not have a lacy back.

Emily immediately covered it up, so we might never know…
Emily wielded a tambourine. I can't remember whether she did that last month (which is why I'm writing it down now, so I'll remember!).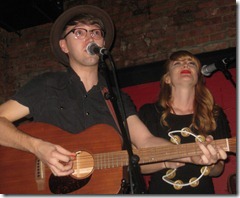 For those that chose not to click through, The Stone Lonesome is made up of two people, Zach Jones and Emily Long. They could show up just the two of them and it would be a fine, albeit pretty mellow set. Instead, they surround themselves with top musicians who create a mix of modern and traditional alt-country sounds.
Last nights band, left-to-right on stage:
Greg Mayo on electric guitar and vocals. This was the first of three consecutive sets where we saw both Greg and Zach perform. The next two posts will detail the sets where Greg's name was on the marquee, with Zach supporting him. Greg is always great on the guitar.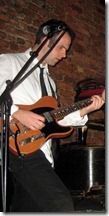 In addition to taking on the country genre in his play (wonderfully), on one song that Emily was singing lead, I thought I heard some lovely harmony, but I noticed Zach's lips weren't moving, so I looked around and noticed Greg was creating a sound similar to a pedal steel guitar, which sounded just like a beautiful vocal harmony.
Zach mentioned that Greg had a new toy. Specifically, he pointed to the Whammy Bar on Greg's guitar, which Greg employed a number of times (more often in the sound check, once Zach highlighted it). But, perhaps the entire guitar was new, and it just happened to have a Whammy Bar on it.
Does it look like Greg and Zach and having a good time yet?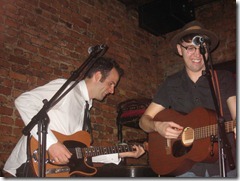 Brian Killeen on electric bass. Brian was the one change from last month's set. Tony Maceli did a great job in February, but March was Brian's month to shine on bass for The Stone Lonesome. Unlike Greg and Zach, Brian didn't play on the middle set, but he was back for the final set with an even more front-and-center role, so look for that post later if you want to read a lot more about Brian!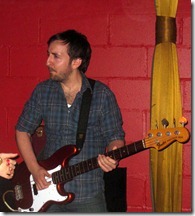 Ryan Vaughn on drums, cajon, percussion, washboard, whatever you can bang on or shake. Seriously, if you can make noise on it, Ryan can make that noise sound good! More on him two posts from now too.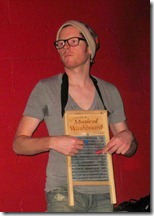 I didn't have the clearest view of Ryan, so I have to thank Sam Teichman for pointing out that Ryan was using two sticks in his right hand to get extra oomph out of the floor tom (including the rim) while beating the cajon with his left.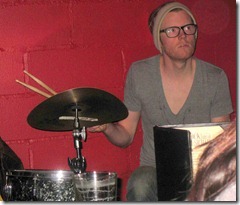 It turns out, that Ryan is not Samson. This is the first time we saw Ryan clean shaven in forever. He was still just as good on everything, so he hasn't been drawing his special percussion powers from the beard. Good to know!

As with the prior month, Zach and Emily closed out the show by giving the band a break and hushing the crowd with a duet. Like I said above, they could easily do an entire set without the band, so getting a taste of the more mellow stuff was welcome. Another great set. Another great beginning to an amazing night of music.