Send to Kindle
The Vanity Belles are a couple of hard-working ladies. Roughly 28 hours before headlining a set at Rockwood Music Hall Stage 2 last night, they were in Charlotte to sing the National Anthem at The Bobcats NBA game:
I'm sure they blew away the large crowd there, but those fans only got to hear one song. We got a full set, with their regular (awesome) band, so we win.

I've written about the Belles a lot in the past three months, so rather than repeat all of that, if you're new to them (or me), please read this post.
As with that show, everything clicked last night. Their voices were great, the band was great, their set selection was great.
One of the hallmarks of The Vanity Belles (TVB) show is getting baked goods by Jessi Rae Waltz. Given their hectic schedule the day before, she couldn't pull off her usual magic. Not to worry.
Patryk Larney came up on stage early in the set and read a poem that he wrote about saving the day. Rebecca Haviland held up his fold-out carboard teleprompter. His treat? Hershey's Kisses, connected in barbell form (a kiss on each end). Patryk used one as a prop to act out the poem. Extremely well done! (Rebecca might have been auditioning to replace Vanna White on The Wheel of Fortune.)

The Belles often produce a custom video to promote an upcoming show. They did one for last night, around the theme of the opening number, Superman:
The Vanity Belles promote their Rockwood Music Hall show
Sitting one table over from us was none other than the star himself, Superman.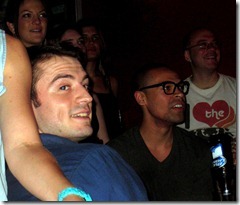 As is their custom, the Belles picked up their instruments for one song, Bottle. This time, Jessi introduced it and explained where the inspiration came from. Then they nailed it, with Jessi on the electronic keyboards and Carrie on acoustic guitar.
TVB recently completed a successful Kickstarter campaign. Their new CD will be released in a few months. One of the reward levels was getting them to arrange and record a cover song of your choice. I think that included playing it at a show as well. The person who chose that reward picked Africa by Toto as the song. The Belles did a wonderful version, accompanied by two acoustic guitars.
Great job all around Ladies. On to the always amazing band, left-to-right on stage:
Patrick Firth on double-decker electronic keyboards and background vocals. Patrick never disappoints (as you will see if you read two posts from now, as yet unwritten).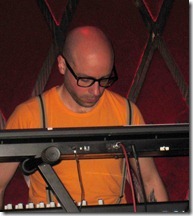 Oscar Bautista on electric and acoustic guitars. Oscar thrills at every show. Last night, when taking a lead, he gave a hand motion to the others to take it down a bit. They all complied immediately. He worked the guitar soulfully, building up to a crescendo as the rest of the band followed. One of the songs that he played acoustic guitar on was the Toto cover.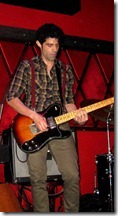 Zach Jones on drums and background vocals. Another of our favorites (have I mentioned how much I love this band?). TVB has so many driving songs and Zach keeps the action moving at just the right pace.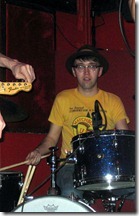 Chris Anderson on electric bass and vocals. It's been 72 hours since we'd seen Chris perform (at a house concert in VA), so we were due. Thankfully, since he's another that always delivers!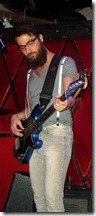 Cameron Mitchell on electric and acoustic guitars and vocals. Cameron plays rhythm guitar to Oscar's lead (for the most part) and does it extremely well. He's also co-written with the Belles. Typically, Cameron is on acoustic when Oscar is on electric and vice versa. Last night they mixed it up a bit. Cameron opened the show on electric (with Oscar also on electric) and Cameron joined Oscar on acoustic for the Toto cover.
Here's the set list: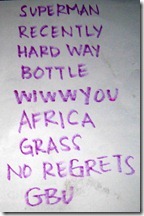 Last year, we used to consistently be out of town for TVB shows. I'm glad to say we're in a nice zone at the moment, catching them in a variety of configurations and venues. Keep it up ladies and we'll keep coming out to see ya.