Send to Kindle
Last night we saw Jerry Douglas (and band) at BB King. Opening for them were The Wrights. I'll cover The Wrights after I review Jerry Douglas, and then finish up with my usual venue summary.
We've seen Jerry Douglas before at the Beacon Theater, August 2nd, 2007, when he played with Alison Krauss and Union Station Featuring Jerry Douglas. I covered that night in this post. That show was incredible, as was Jerry specifically. I also love listening to every note he plays on the many Alison Krauss and Union Station CDs that we own.
In 2008, Alison took a break from touring with Union Station to tour with Robert Plant. That left Union Station on their own. I would have thought (and enjoyed it if) they would have toured as a group. Instead, they decided to form separate efforts. I've already covered (twice, here and here) our wonderful experiences with the Dan Tyminski Band (one of the members is Barry Bales, the incredible bass player from Union Station).
Jerry Douglas set out on the road (and recorded a new CD called Glide, due out in July) with his own band. For those of you who don't know, Jerry Douglas primarily plays the Dobro. He also plays a lap steel guitar, and probably other instruments, but mostly, it's the Dobro.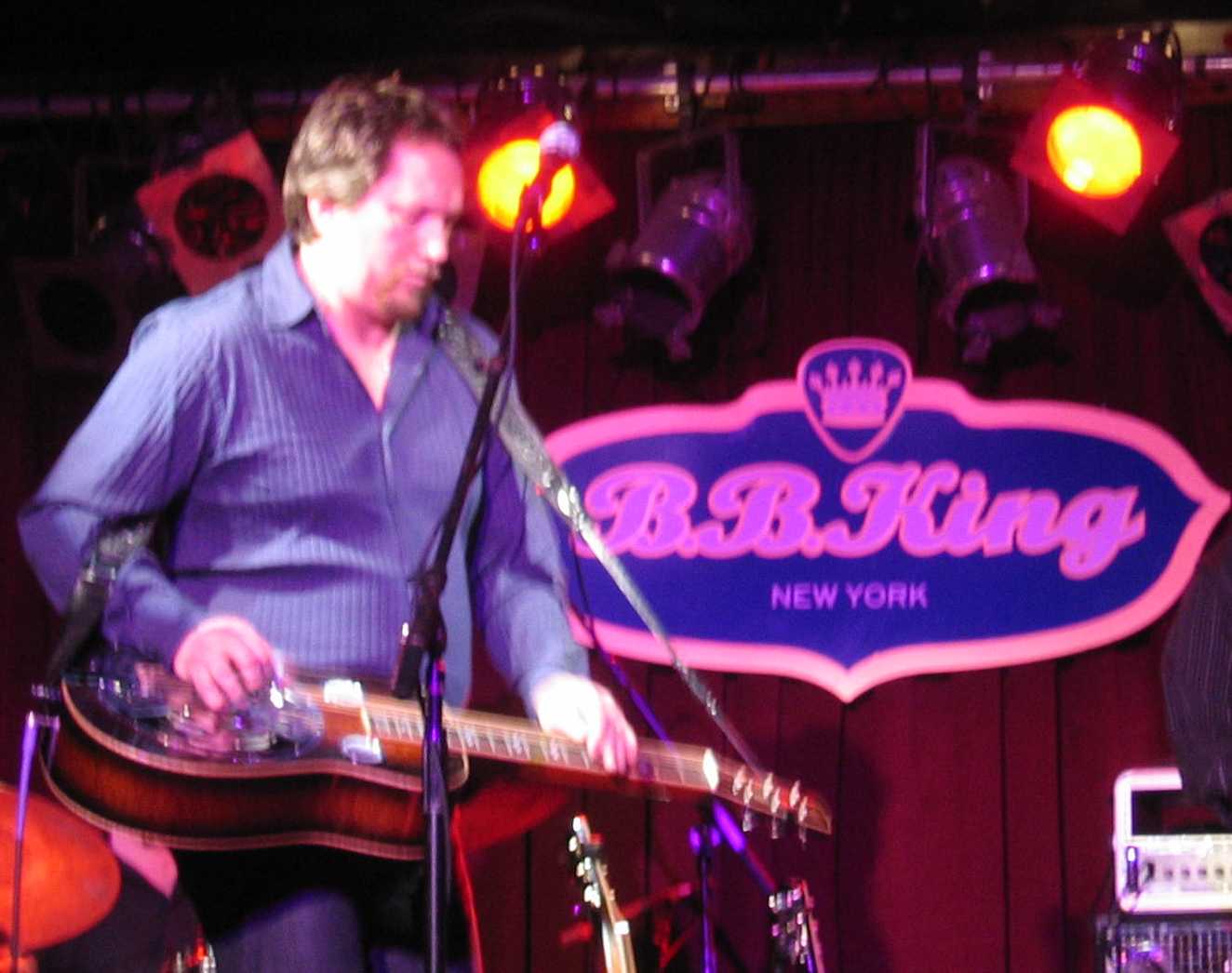 That said, it's not accurate to simply say he plays the Dobro. Many people (perhaps even everyone) consider Jerry to be the world's greatest dobro player. Read his bio if you want to be awed by his accomplishments, independent of being awed by the actual music! For the lazy among you, here's a one paragraph highlight:
His transcendent technique and his passionate musicality have helped him net twelve Grammy Awards and numerous International Bluegrass Music Association awards. Douglas holds the distinction of being named Musician of the Year by The Country Music Association (2002, 2005, 2007), The Academy of Country Music (ten times), and The Americana Music Association (2002, 2003). In June 2004, the National Endowment for The Arts honored Douglas with a National Heritage Fellowship, recognizing his artistic excellence and contribution to the nation's traditional arts.
I bolded the mind-boggling stats above. 🙂
It's not really possible to describe to you how he plays, but here's my feeble attempt nonetheless. On his right hand, he has picks on every finger. All of his fingers are moving faster than is humanly possible, simultaneously. In his left hand he holds a slide bar, and he presses it on the strings and slides it back and forth. He produces sounds that would seem to require having all five fingers at different fret locations on the neck, but he does it all (magically, mysteriously), by just moving his left hand faster than the eye can see. Whew.
All of the technical wizardry would be interesting, but meaningless, if it wasn't for the fact the the sound he produces is heavenly!
So, he could come on stage by himself, and captivate any audience, no other musicians need apply. I have no doubt of that. Is that what he does? Of course not. Given his enormous talent, any musician would jump at the opportunity to play with Jerry. He has a band that proves that point, and each of them is worth their own mention. I'll cover them in the order that they appeared on stage (left-to-right), but you can also read the band bios at your convenience (also linked at the top of this post, yes, they're good enough to earn two links). Here's a photo of all of them together on stage: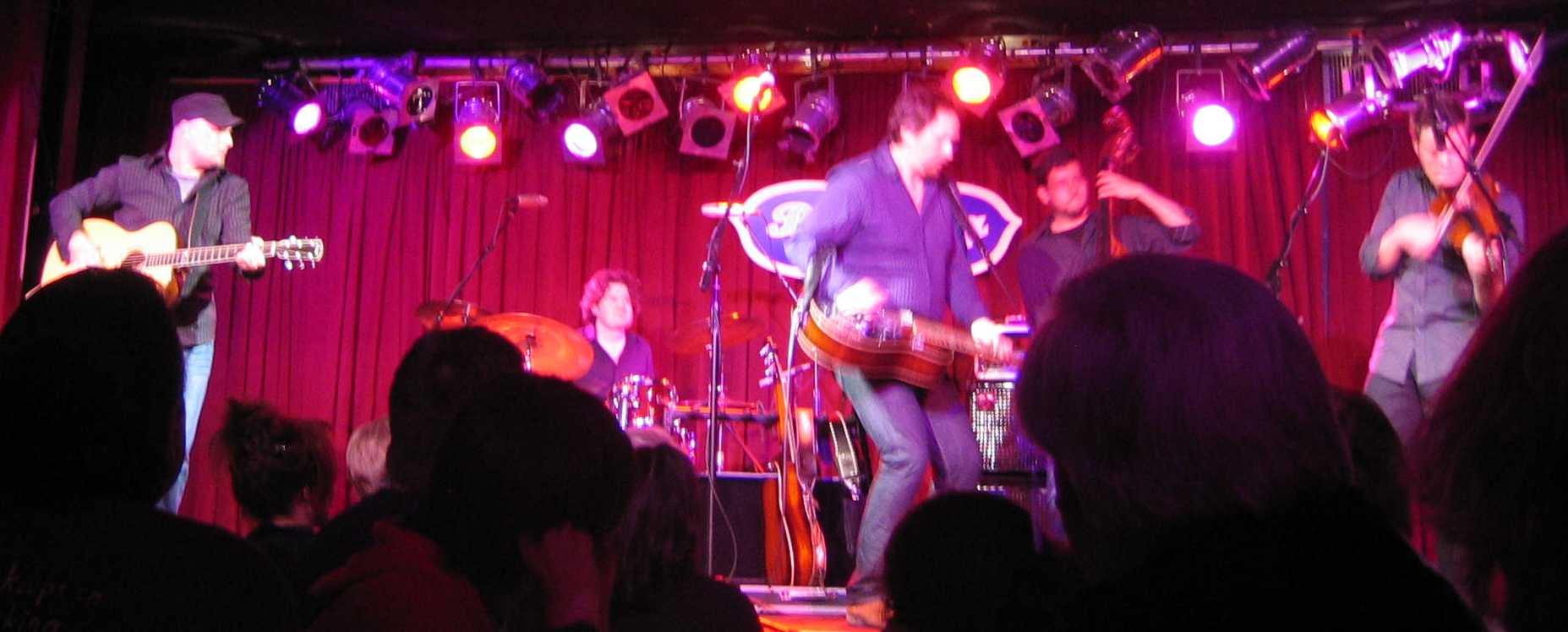 Guthrie Trapp played the guitar (two different electric guitars and an acoustic one as well). He's a noted Mandolin player, but didn't play it last night. It would be hard to describe how absolutely awesome Guthrie is. He's so fast, so smooth, plays in a variety of styles, and nails every single one of them.
One of the most impressive things is when he and Jerry are playing some fast licks together, and he keeps up with his end of the bargain, something not too many guitarists could do with Jerry being the other half of the duet!
I could go on an on, and you still wouldn't get the sense. Here's a YouTube video of him playing with a small band doing a bluegrass number, on an electric guitar. If you're intrigued, just Google Guthrie Trapp and you can find a bunch more videos, both on YouTube and on MySpace. Guthrie melted the crowd into a puddle every time he took a solo!
Doug Belote played the drums. A total pro who entertained the entire evening, in an understated (but superb) jazz-style the entire show. He's not as flashy as some of the drummers we've seen recently, but he's every bit as solid.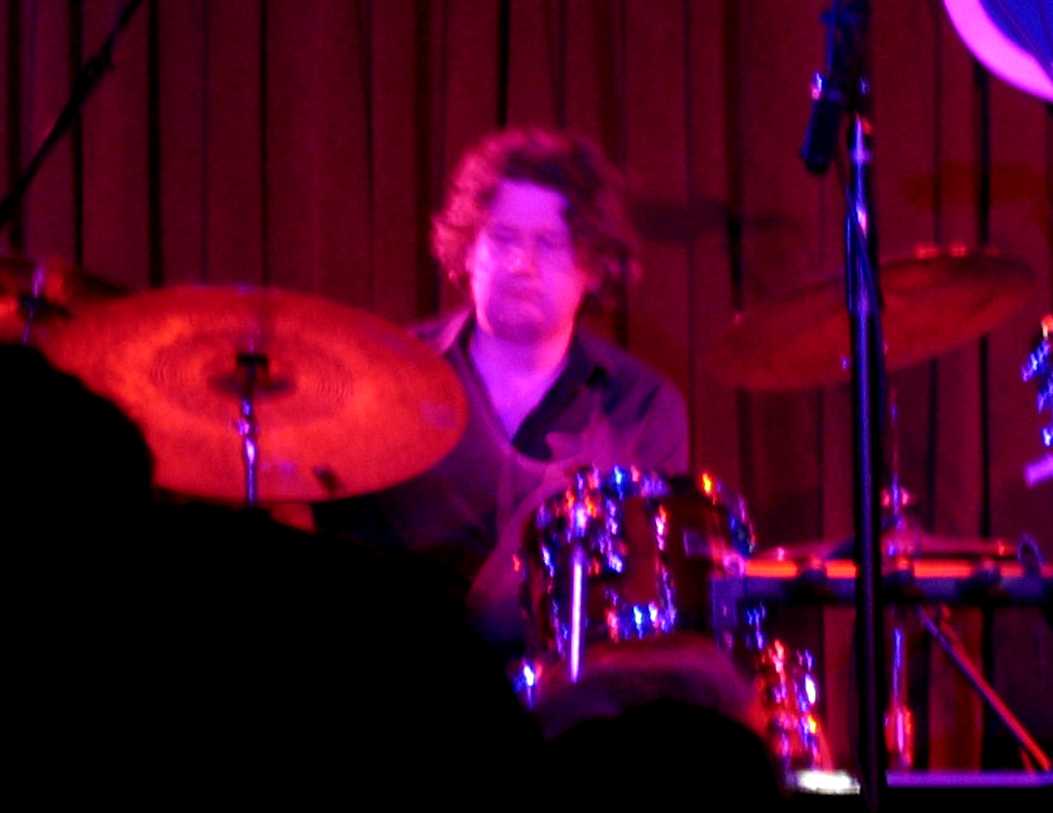 Todd Parks played the upright bass. In addition to playing a solid bass line all night, he took a few exceptional solos, demonstrating a real feel for the music, rather than just banging on the strings to show technical prowess. Well done!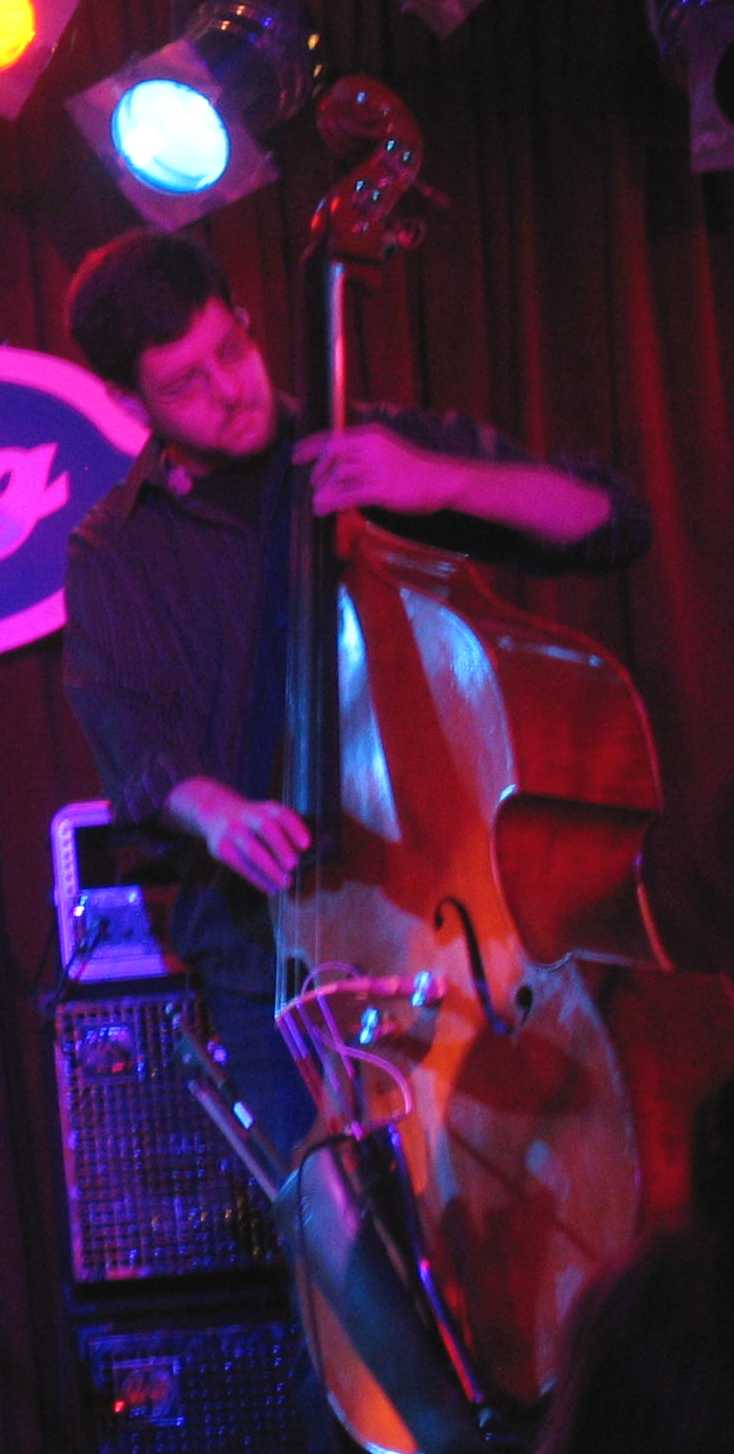 Luke Bulla played the fiddle most of the night, and the acoustic guitar on one number. He also sang the only two songs that had vocals. He has an excellent voice. As a fiddle player, he's one of the fastest and cleanest I've ever seen/heard. That should come as no surprise for two separate (but obviously related) reasons. First, he has played with (and therefore was chosen by) some of the greatest musicians around, including Ricky Skaggs, Chris Thile and of course, now, Jerry Douglas.
The second reason is his mind-boggling accomplishments. In case you didn't bother to click over to his extensive bio, here's a relevant paragraph:
Touring with and singing in his family band from age four, Luke took up the fiddle at seven. Over the course of the next few years, he won the National Fiddle Contest (in Weiser, Idaho) six times in his respective age categories. His seventh win came in the Grand Champion division at age sixteen, making him the youngest to have earned the title at the time.
Wow! He's nothing short of amazing, and given what I'm about to say next, I need to make you realize that I really mean that! That said, while he's technically brilliant, for me personally, he doesn't move me on the fiddle. I mention it only because I've covered a number of fiddle players in this space, including a number that totally get to me, and I wanted to draw the distinction. If you care, just search for fiddle in the box on the top right of the page.
To put a fine point on it (and show a small world angle as well), while Luke was playing, I kept thinking that he sounded very much like Jean Luc Ponty. That's a compliment, not an insult. New Country (on Ponty's Imaginary Voyage CD) is still one of my all-time favorite fiddle tunes. When I was reading Guthrie's bio today, he mentions a very wide variety of musical influences. Included among them is Jean Luc Ponty, which gave me a hearty chuckle, given that I couldn't get Ponty's name out of my mind last night whenever Luke played!
To be clear, there were many people in the crowd last night that went nuts every single time Luke took a solo, deservedly so.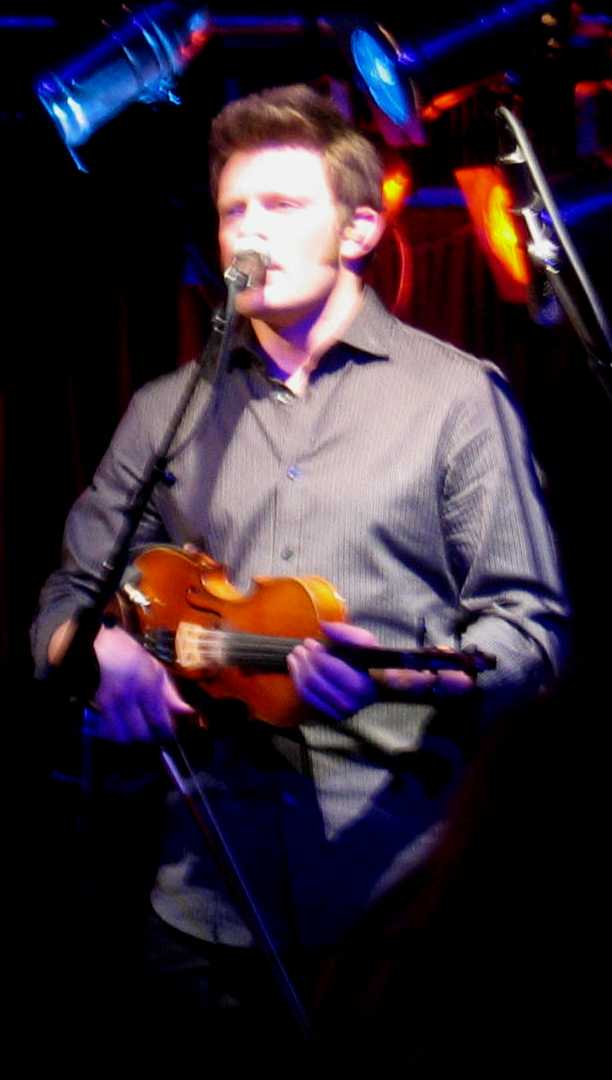 Wrapping it all up, they played a number of songs from the upcoming CD, Glide, expected to be released this July. They played some old favorites as well, including perhaps my personal favorite Jerry Douglas number: Choctaw Hayride. Here's a YouTube video of Jerry doing it with Alison Krauss and Union Station. In this video, Alison Krauss plays the part of Luke Bulla, Dan Tyminski plays the part of Guthrie Trapp, Barry Bales plays the part of Todd Parks, and Ron Block plays the banjo (beautifully!), an instrument not seen in last night's amazing performance of this incredible song.
Quite a number of the pieces (including the opening number) were significantly more Jazz than Country or Bluegrass. They were awesome too (as I love Jazz). The majority were more straight-up Country, with some Bluegrass thrown in for good measure.
Toward the end of the show, Jerry introduced a song called Patrick Meets the Brickbats which he wrote for his son, Patrick. He said "this is a slow number". You can judge for yourself how slow it is on this awesome version on YouTube.
All in all, Jerry is funny, nice, and simply one of the most amazing musicians alive. He was also kind enough to sign our brand new CD of his (American Master Series – Best of the Sugar Hill Years). He had to go backstage to find a Sharpie, but he did, and we appreciate it! 🙂
Including a two-song encore, they were on stage for 100 minutes. Generous enough, but made even better by the fact that they didn't use the excuse of having The Wrights open for them to cut their show short. That made for a much longer night than usual at BB King, but every person in the audience appreciated it to the very last drop!
OK, enough, there were more people deserving of praise, and it's finally time to get to them as well! 🙂
The Wrights (this time, I linked to their MySpace page, above was their own website) opened the show at 8:01pm. They are a married couple. Adam plays the electric guitar and Shannon plays the acoustic guitar. Both are excellent musicians. If you want a taste of Adam's guitar skills, you can listen to the instrumental Tire B Flat on the above-linked MySpace page. He won't be confused for the likes of Guthrie, but he's really good, and totally a pleasure to listen to.
Here they are tuning their guitars: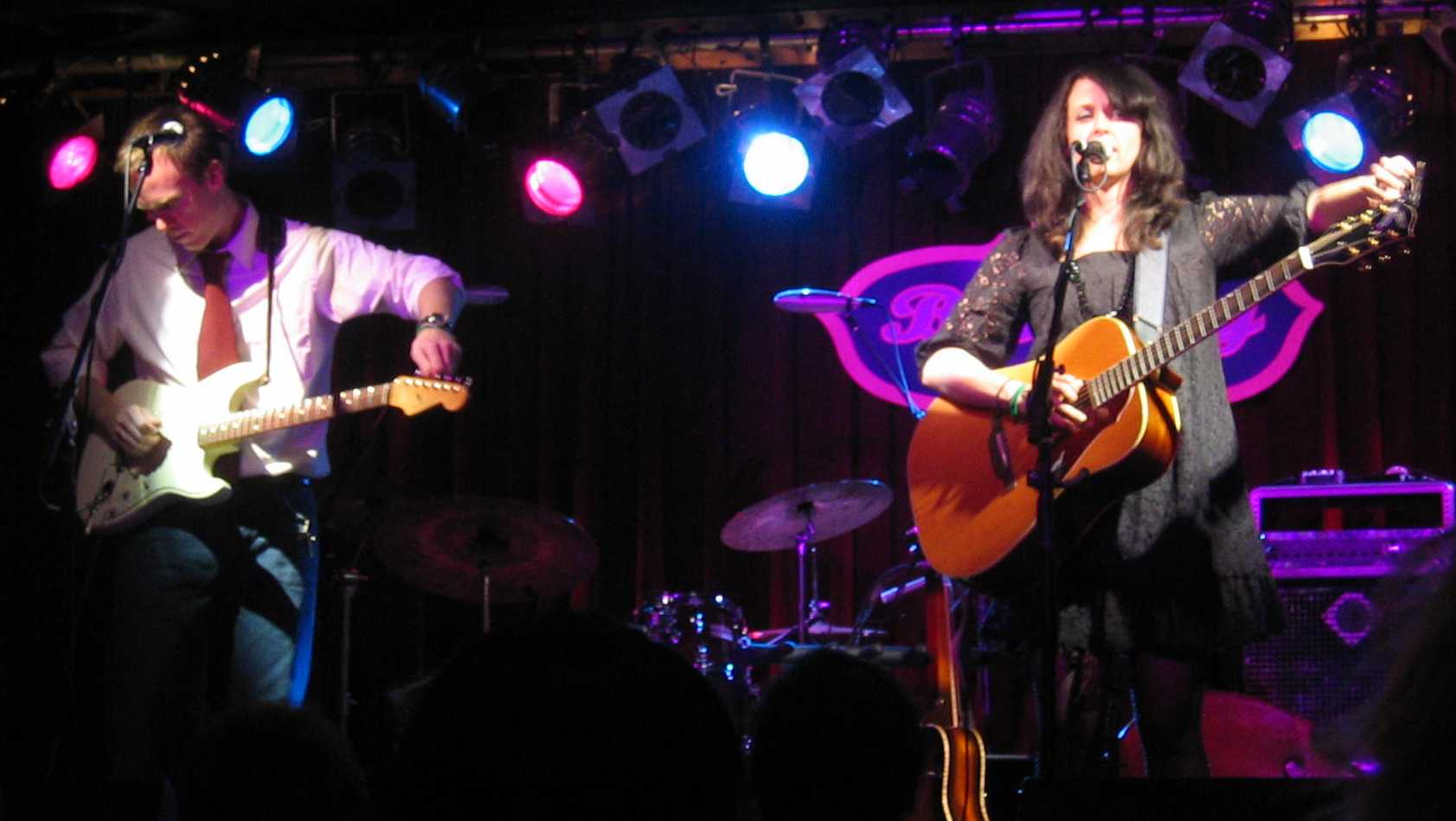 However, that's not what makes The Wrights special, and indeed, special they are! Lois has been following them for a while now, and we already owned their debut album Down This Road. It's great! They wrote all of the songs on it, and as you know from these pages, nothing impresses Lois more than a great songwriter, made even more special when they also happen to be fantastic performers of their own music!
Both of them write, and both of them sing lead (extremely well!) generally alternating songs between them. All along, they sing with rich and beautiful harmonies (and you all know, we're suckers for great harmonies!).
Their songs are varied, but many of them have a fantastic sense of humor in them, while conveying real life in a deep and effective manner. We loved hearing On The Rocks (from the Down This Road CD) live. It's fun (and true for most newlyweds) and they did it to perfection last night.
Both of them have a very warm style on stage and were instantly a hit with the crowd. Adam is so self-deprecating, but in a way that is warming and continually funny. One of their more beautiful songs (the last one on the Down This Road CD) is called You Get The Thorns. They did it wonderfully last night.
They were on stage for 40 minutes, every single one of those minutes thoroughly enjoyed by all in attendance! This was the first time they performed in NYC. They acquitted themselves perfectly! 🙂
Here are each of them individually:
There is an overwhelming gentleness about both of them, on stage and off. Watching them was almost zen-like it the calmness that it produced in me. They are also really nice! Lois bought their new CD (The Wrights) and wanted it signed by them. She got to tell that to Adam while he was unplugging his guitar after his set.
She couldn't find him between sets, and asked the person working the door to let The Wrights know she was looking for them. He did, and they bothered to come look for her, and after Jerry's set we were able to say hi, get the CD signed, and get a picture of Lois with them! Thanks Adam and Shannon, we can't wait to see you again!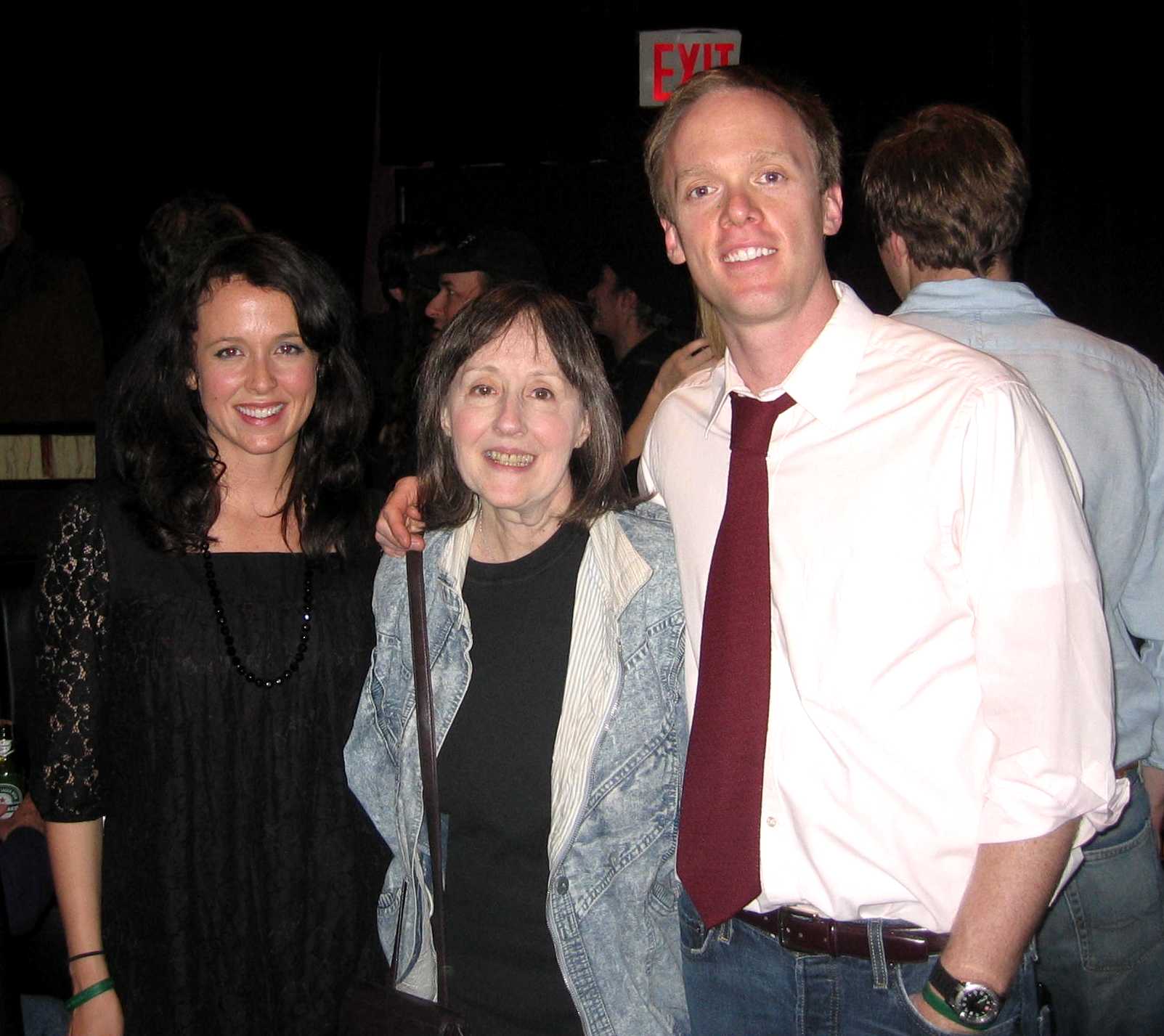 Some words about the venue. The night before, we were also at BB King to see Pat Benatar and Neil Giraldo (reviewed here). That night was crazy crowded with roughly 700 people crammed into BB King, the most I've ever seen there.
Last night was not sold out, though there was an extremely healthy-sized crowd, all of whom loved the show. If I had to guess, there were between 300-350 people there (normally, BB King can seat 450). We got to sit one table to the left (dead center this time) of our exact two seats from the night before. This time, no one sat in the middle seats of our six-seat table, and a very nice couple sat at the remaining two seats.
Because the place wasn't as crowded, and because the music wasn't going to be loud rock, BB King's matched the mood (as they usually do) with more folk music (much softer as well) before the show started. Between The Wrights and Jerry Douglas, they played Dylan exclusively. Because the volume of the music was so much lower, conversing was much more enjoyable last night.
Unfortunately, it was the night before when we had company that we really wanted to talk to (we talk enough to each other) 😉 and the fact that they were warming up the capacity crowd on Tuesday with blaring rock made me (and probably others) hoarse trying to scream over the music. I'll take last night's version of a more mellow warm up any day!
The amazing crab cake that I had the night before was offered again as a special (by the same waiter we had the night before) and I couldn't resist it again. It did not disappoint. I am convinced the chef is using some magic fairy dust to bind the crab to the other goodies he's putting in there.
Everything went great last night at BB King, including the staff being wonderful (as usual), with one notable exception. When The Wrights came on the stage, the house lights never went off. Often, this kind of gaffe can be an unwitting signal to the crowd to be rude and ignore the warm up group. Thankfully, while the house lights never went down the entire time The Wrights were on the stage, the crowd was totally in to their performance, and there were no distractions to everyone enjoying the show. Whew!
We didn't get out of there until 10:55pm, and walked home leisurely, stopping in Grand Central on the way. A lovely evening indeed. We're hoping to duplicate it again tonight, when we're back at BB King (third night in a row) to see The Proclaimers!
OK, to finish off, you know the drill. Just one week left in the month-long Girlyman Live CD Contest. Win a signed CD, free, of this amazing band, Girlyman.