Send to Kindle
Last night marked the end of our mini-streak of concerts (six in seven nights, including the last three in a row at BB King). We saw The Proclaimers.
In 1998 The Proclaimers released their second studio CD, Sunshine On Leith. The first two songs on the album really grabbed Lois: I'm Gonna Be (500 Miles) and Cap In Hand. We nearly burned out those two tracks on the CD playing them practically every time we got in the car, for years.
For whatever reason, we rarely listened to the rest of the CD. I truly can't recall whether it bored me or not, but for sure, it didn't grab Lois, and she always controls the music in the car, so it never got played.
When I finally got an MP3 player, I was stingy both on the disk space I was willing to give up on the laptop (the disks are much bigger now) as well as worrying about filling up the smaller disks on the original MP3 players (my first was a Creative Zen, not an iPod). So, when choosing which of my music to rip back then, I was overly judicious (I regret that to an extent nowadays). When ripping Sunshine of Leith, I only ripped those two tracks, and have never revisited the CD since then.
That background will become important momentarily, to set the appropriate expectations in terms of our knowledge (or complete lack thereof) with regard to the range of The Proclaimers music. With that in mind, my most humble apologies to their legion of fans!
A lot of what I have to say about last night's show is more tied to the venue and the experience, but in keeping with the new style here, I'll describe the show from my perspective first, then the venue, which may or may not clarify some of my feelings about the show itself. I'll also cover the opening act, Jeremy Fisher afterwards as well in between this and the venue section.
The Proclaimers came on exactly 9pm. The crowd went nuts (literally). They have a big band sound with six people on the stage. From left-to-right, Zac Ware on lead guitar, Charlie Reid on vocals, tambourine and penny whistle, Craig Reid on vocals and acoustic guitar, Clive Jenner on drums (mostly hidden from our view behind Craig Reid), Garry John Kane on bass and Stevie Christie on keyboards.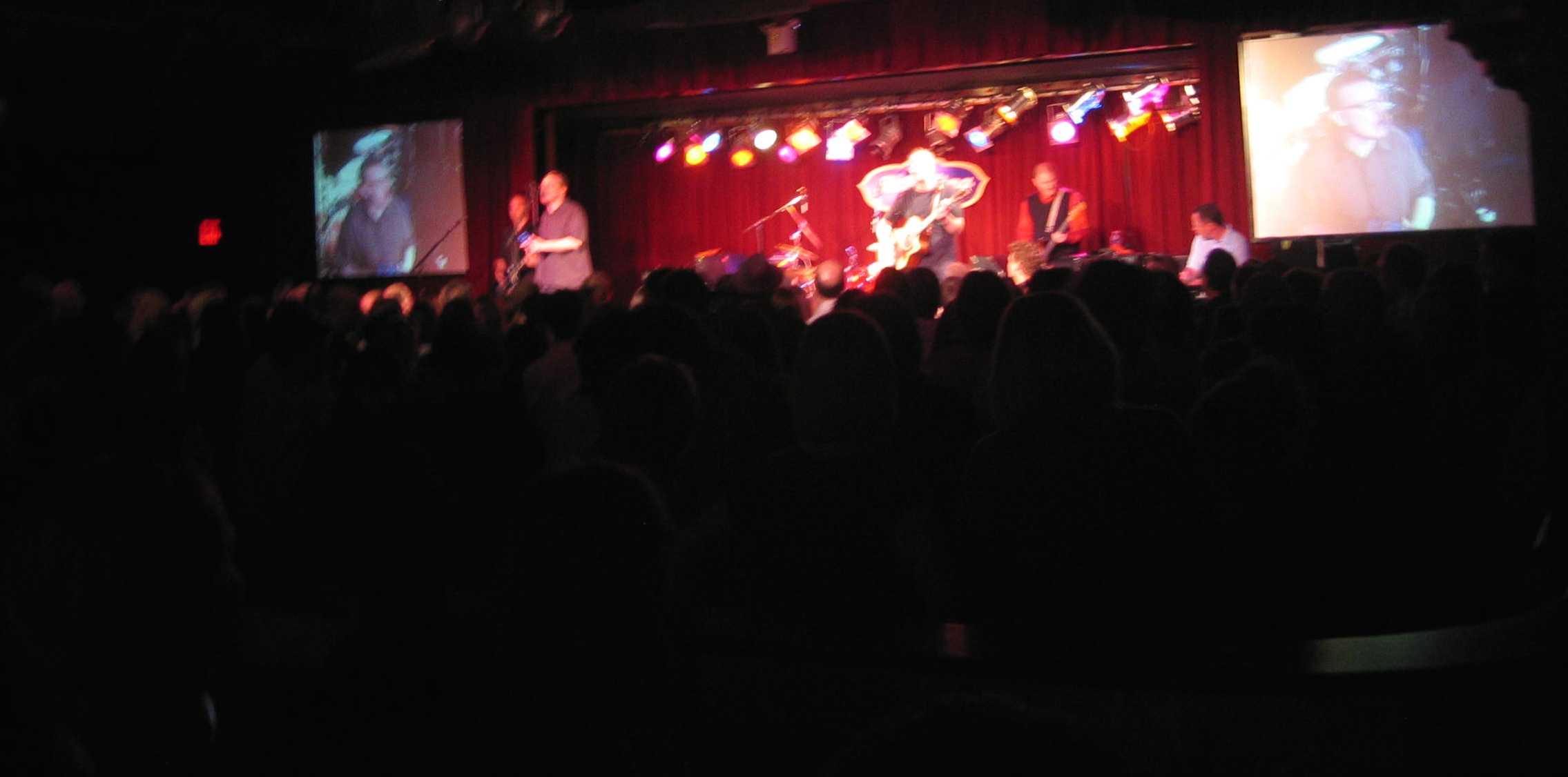 Another shot of them: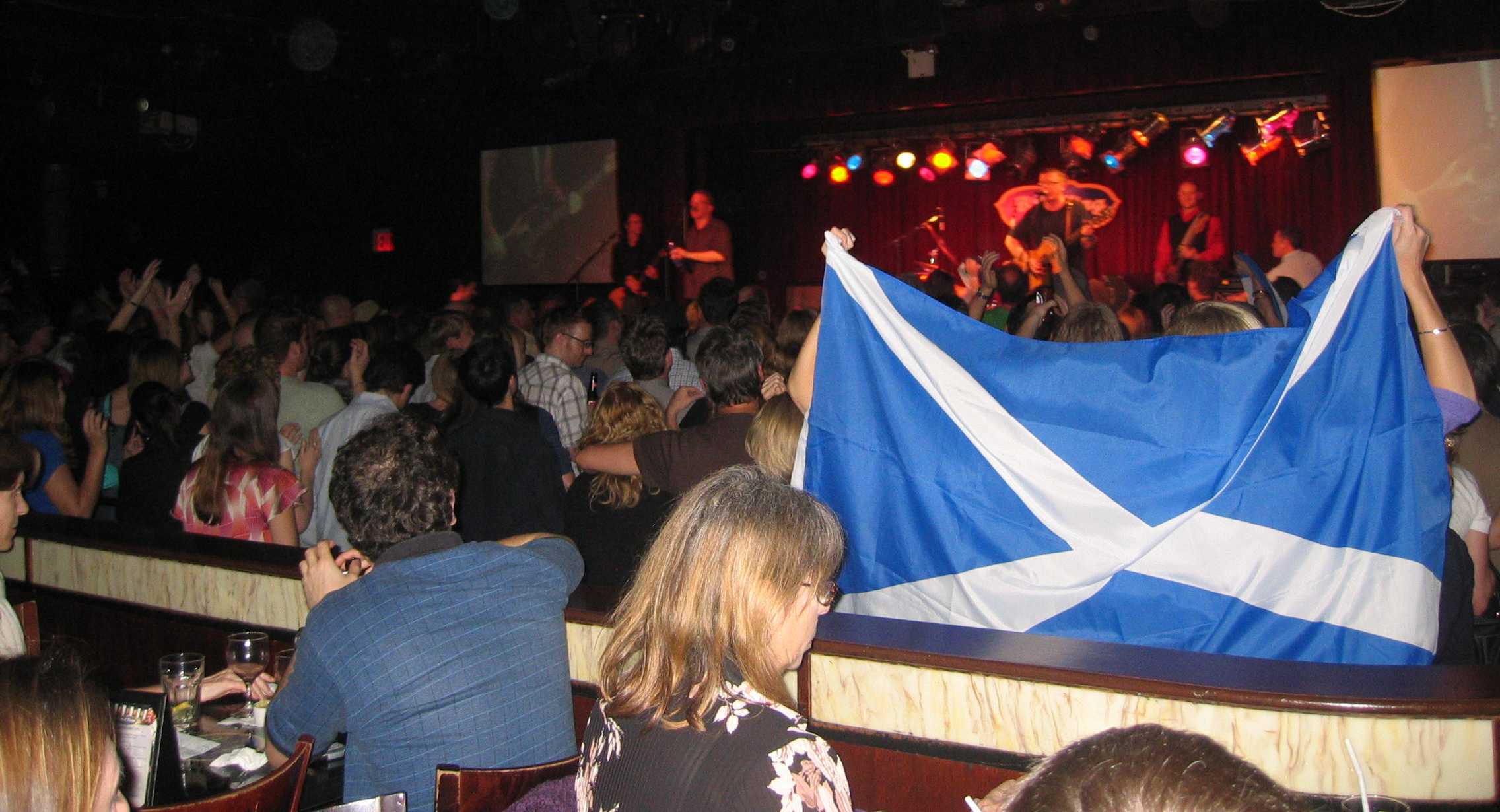 Charlie and Craig Reid are The Proclaimers, Scottish twins. Charlie primarily sings lead, occasionally playing the tambourine. He played the penny whistle on a single song. No need for him to play it on any others, as he plays it simplistically, but not badly. Craig sings harmonies with Charlie, and lead on a number of songs. He plays purely rhythm guitar on all of the numbers.
They sing beautiful harmonies and both have very good voices, but it wasn't as special as I had hoped. On a few numbers (thankfully not many), they (but in particular Craig) were really just screaming into the microphone rather than singing.
Charlie Reid: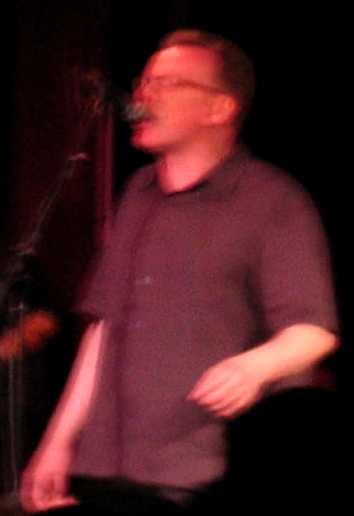 Craig Reid: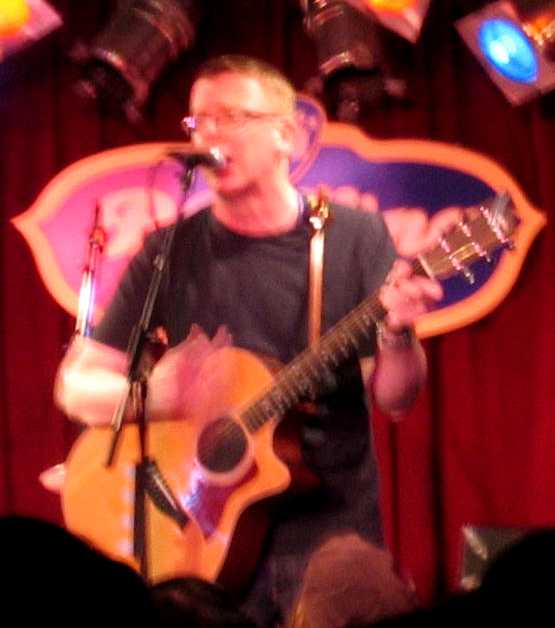 Zac Ware was fine on the guitar, but only took perhaps four leads the entire show, the longest of which was under 30 seconds. He basically played background leads, softly, in support of the group.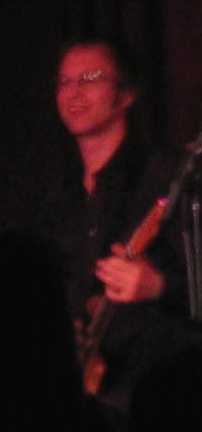 Garry John Kane played a solid if unspectacular bass throughout the show.
I can't tell you anything about Stevie Christie, as it was very hard to make out the keyboards on most of the numbers.
Clive Jenner kept a good beat all night, but we really couldn't see him at all from our seats. We stood at the door for the encore and I had a better vantage point. I was also able to concentrate a bit more on his playing (specifically listening to the drums) and I was reasonably impressed. Here is a five minute drum solo by Clive (accompanied just by a bass) on YouTube if you want to judge for yourself.
This photo of Clive Jenner comes off of the Big Screen at BB King, since he was hidden from our view the entire night by Craig Reid: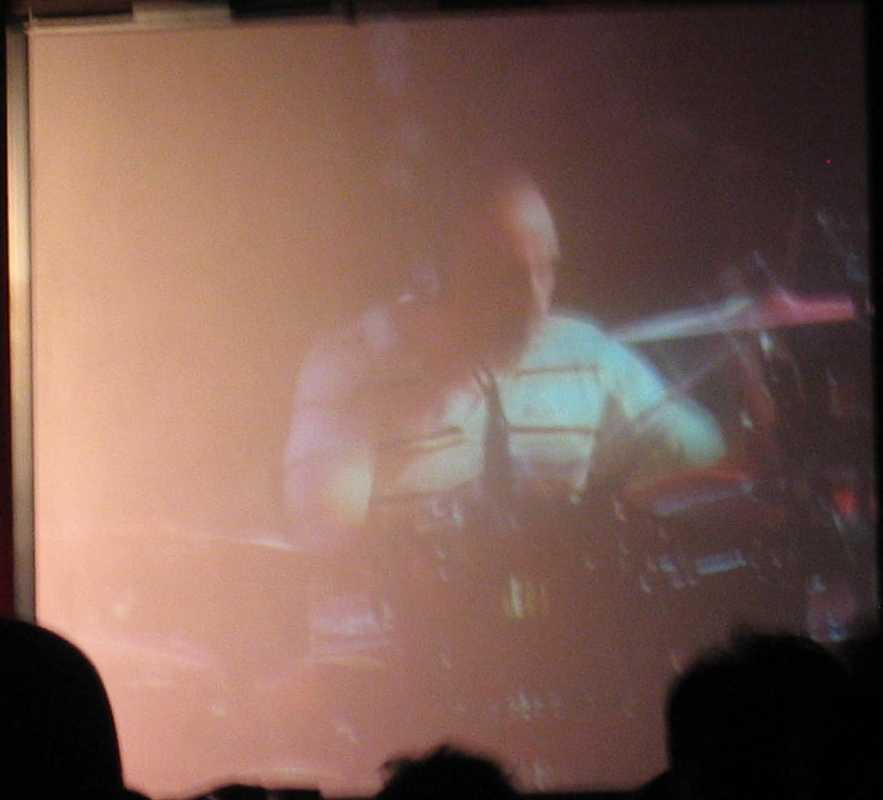 Together, they produce a very pleasant sound, but absolutely zero musical virtuosity. It's basically all just a driving beat to support their singing.
That obviously brings us to the songs. As stated earlier, we were really only familiar with two songs. Thankfully, they played both of those (closing the show, pre-encore, with 500 Miles). While the crowd loved nearly every song beyond description, we found most of them too similar to each other. Perhaps that's why we didn't listen much to the rest of our CD, but I honestly can't recall.
Given that I really like the words (message) in both Cap In Hand and 500 Miles, it's possible that if I really knew the words well to the rest of the songs, I too would have enjoyed it more. While I was able to understand a fair bit of them last night (the sound level was good and clean), I doubt it. They played their big smash hit Letter From America (which sent the crowd into a tizzy, literally), but I found the song quite repetitious, even though it was pleasant.
They played for 73 minutes before saying goodnight. After a minute or two they came back out for a three-song encore. The encore was pleasant but not even as good as the main show. They did play an obvious crowd favorite, King Of The Road (a 1960 hit by Roger Miller). I know and like the song, but I don't see what makes their version special in any way. Oh well, I guess I just didn't get it last night.
They were off the stage at exactly 10:30pm (90 minutes including encore). That's a reasonably typical length for these types of shows, so I wasn't disappointed by that (in fact, we were glad it didn't drag on). That said, when I describe the crowd and setup in the venue section, you'll see what I mean when I say this was a show that should have played a reasonable amount longer.
We both used the exact same word to describe the show afterwards: boring. Boring can have multiple meanings. At one extreme being bored out of one's mind (wanting to bore a hole in your head, just for amusement or relief) and at the other extreme, just passing time, mindlessly. This was definitely the latter.
There wasn't a single unpleasant moment or note in the entire performance. It was pleasant (the best word I can find to describe my feelings), but I wouldn't have been disappointed if it ended after the first number (other than that I was curious to hear Cap In Hand and 500 Miles, live). Both of those songs were fine as well, and I was certainly tapping my foot, but neither moved me in any way either (which they still do when I listen on the iPod!).
Again, apologies to their fans, who will find the above impossible to believe or understand. 🙁
The opening act was Jeremy Fisher, someone I'd never heard of. He came on at exactly 8pm with two people accompanying him. Isaac Carpenter on drums and Peter Fusco on bass (I'm pretty sure I got the bass player right).
The three of them produce a fresh, driving sound. I couldn't catch all of the words, but the ones I did seemed pretty good. Here's a YouTube video of him doing one song, Cigarette, that I did catch the words to. The video is cleverly animated (in my opinion) so if you're interested in learning about Jeremy, this might be a good intro.
Both Isaac and Peter sang harmony with Jeremy, with Isaac doing more than Peter. Isaac really hooked me, instantly, as a drummer. A very clean, driving beat throughout. He also played glockenspiel and shakers. He sings well too. Peter played a solid bass and sang well too.
They were on stage for exactly 35 minutes.
All-in-all, I really enjoyed their set and I'd likely go see Jeremy again if the opportunity arose. He has a MySpace page as well as a number of YouTube videos around, so checking him out is pretty easy.
As for Isaac Carpenter, if you have an interest, you can get a peek into his personality (dry humor), in this amusing YouTube video (not hysterical, just amusing). The bit at the very end may also give you a glimpse into his drumming capabilities, but not the tiny bits in the beginning of the video. 😉
It's a tad sad when the warm up group tickles me significantly more than the main attraction. Oh well, at least they did. It would have been worse if Jeremy was a flop…
On to the venue. We've been to BB King many times. In the past year, perhaps a dozen times. As stated in the intro, last night was our third night in a row at BB's. Each night brought a wildly different experience, not just because of the music, but because the club was reconfigured for each show. That's something we had no clue ever happened before Tuesday's Pat Benatar and Neil Giraldo show.
As reported here, at the Pat Benatar show, they removed the last row of tables, creating a much larger area for people to stand near the bar. It seemed to make sense, and clearly the sold more tickets than they otherwise would. From the website, it was also clear that this was not going to be a normal night at BB King. As an aside, something I didn't report on for that night, the Pat Benatar tickets were the most expensive that we've ever experienced at BB King. There might be many shows that are even more expensive, but not for the artists that we track or have seen there.
Things were back to normal the night before for Jerry Douglas, reinforcing my illusion that the Pat Benatar configuration was a one-time aberration. At least for Pat Benatar, we had some kind of warning, seeing the website claim that seating was extremely limited (which wasn't actually all that true, as they only removed roughly 100 seats).
It's possible that last night's show had a similar, or even more severe warning, but I have no idea, because we bought our tickets for all three shows this week at one time, at the box office, never visiting the web site for the specific performances. The only reason I saw the Pat Benatar warning was because I went back to pick up an extra ticket for our friend for that show.
When we walked in last night, we were truly shocked. The entire lower level, in front of the stage, had zero tables or chairs. It looked like a dance floor. Lois asked the ticket-taker at the door whether it was meant for dancing, and he said "Would you like to dance? Please do!". Oh oh…
Here's a shot of the stage showing the empty floor (at least part of it):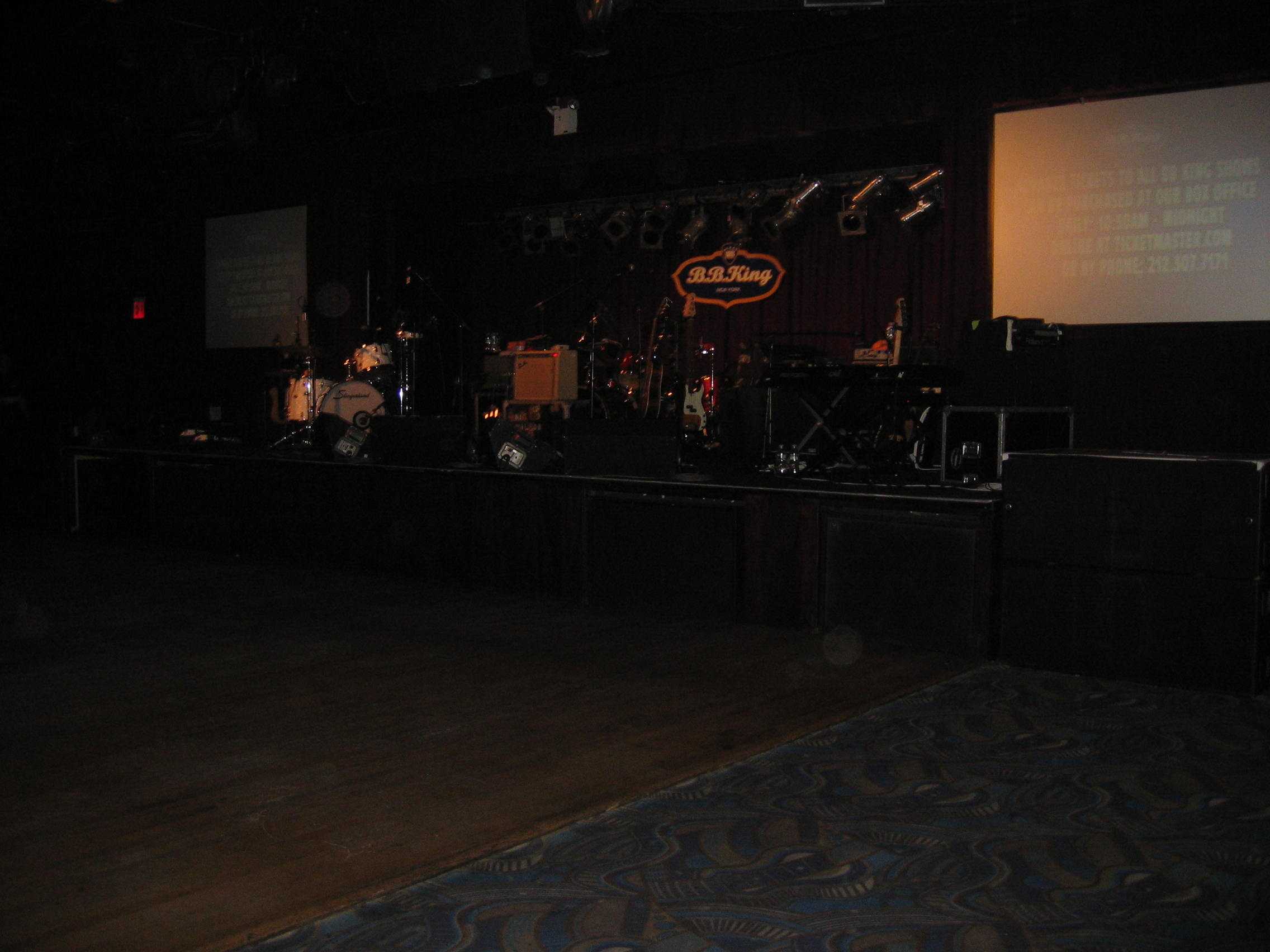 Since the above photo is a little dark, I edited it to wash it out a bit, lightening it in the process of losing some of the colors, so you can get a better sense of the emptiness: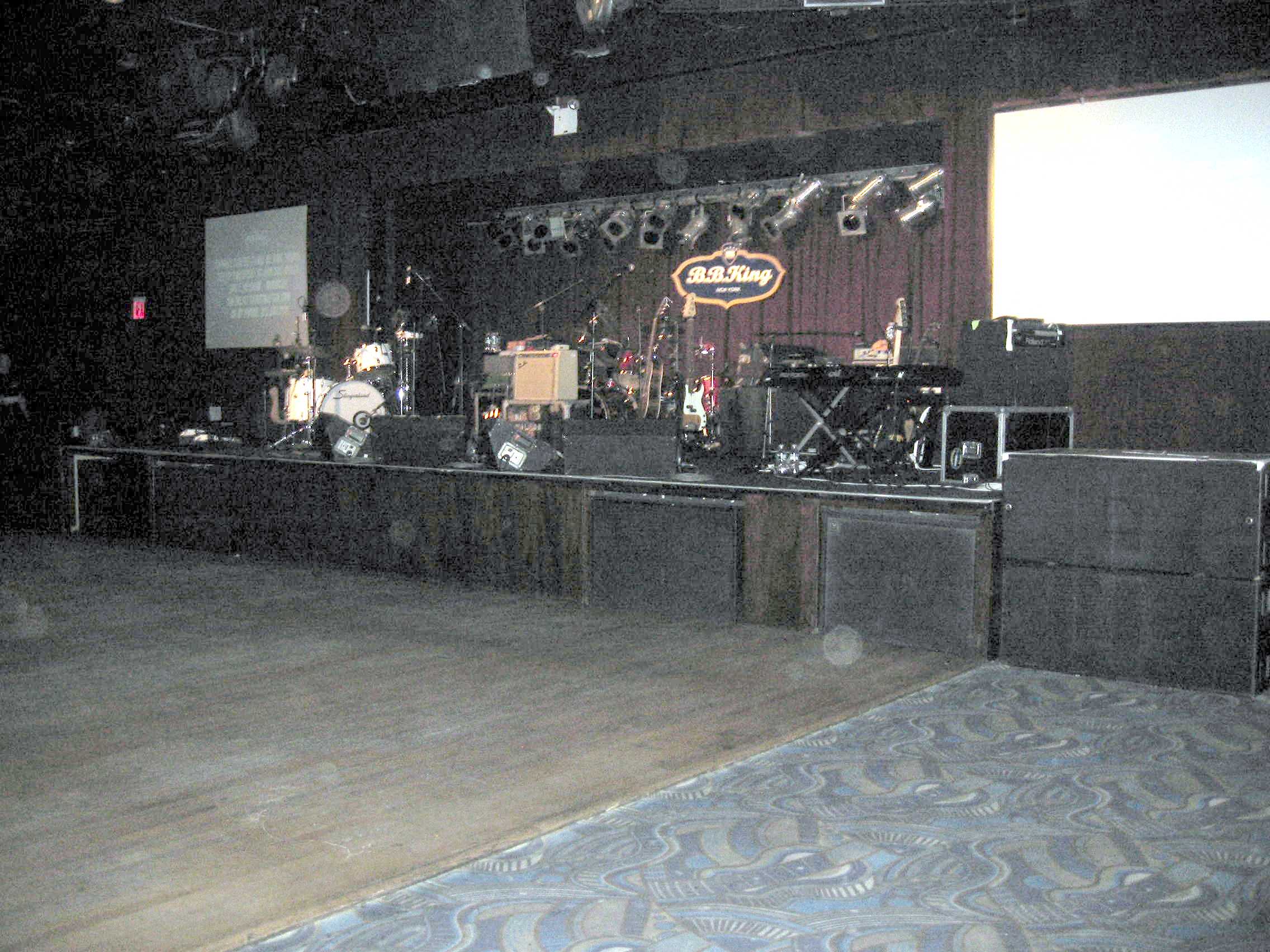 The row of tables that was removed for Pat Benatar was back and we ended up sitting in the right-most one (closest to the entrance) at the head two seats. Those were the exact seats we had for Ricky Skaggs and Bruce Hornsby, and across the aisle from the seats we had for the Jefferson Starship. It took us a while to absorb the fact that this show was going to be radically different than our previous experiences here, and there was no excitement associated with that thought.
We ordered dinner, but third time was not the charm for the special crab cake, as it was no longer available. I tried the blackened catfish for the first time. Most delicious, highly recommended.
The crowd was coming in pretty steadily, but it wasn't a crush. Pat Benatar seemed to fill up earlier (there were more seats available though). At about 7:50pm people started to gather in the lower level (standing, obviously) in front of the stage. By 8pm when Jeremy came on, space on the floor was still quite open (see photo below). I then looked around and noticed that the small area between our row of tables and the bar was full to the brim.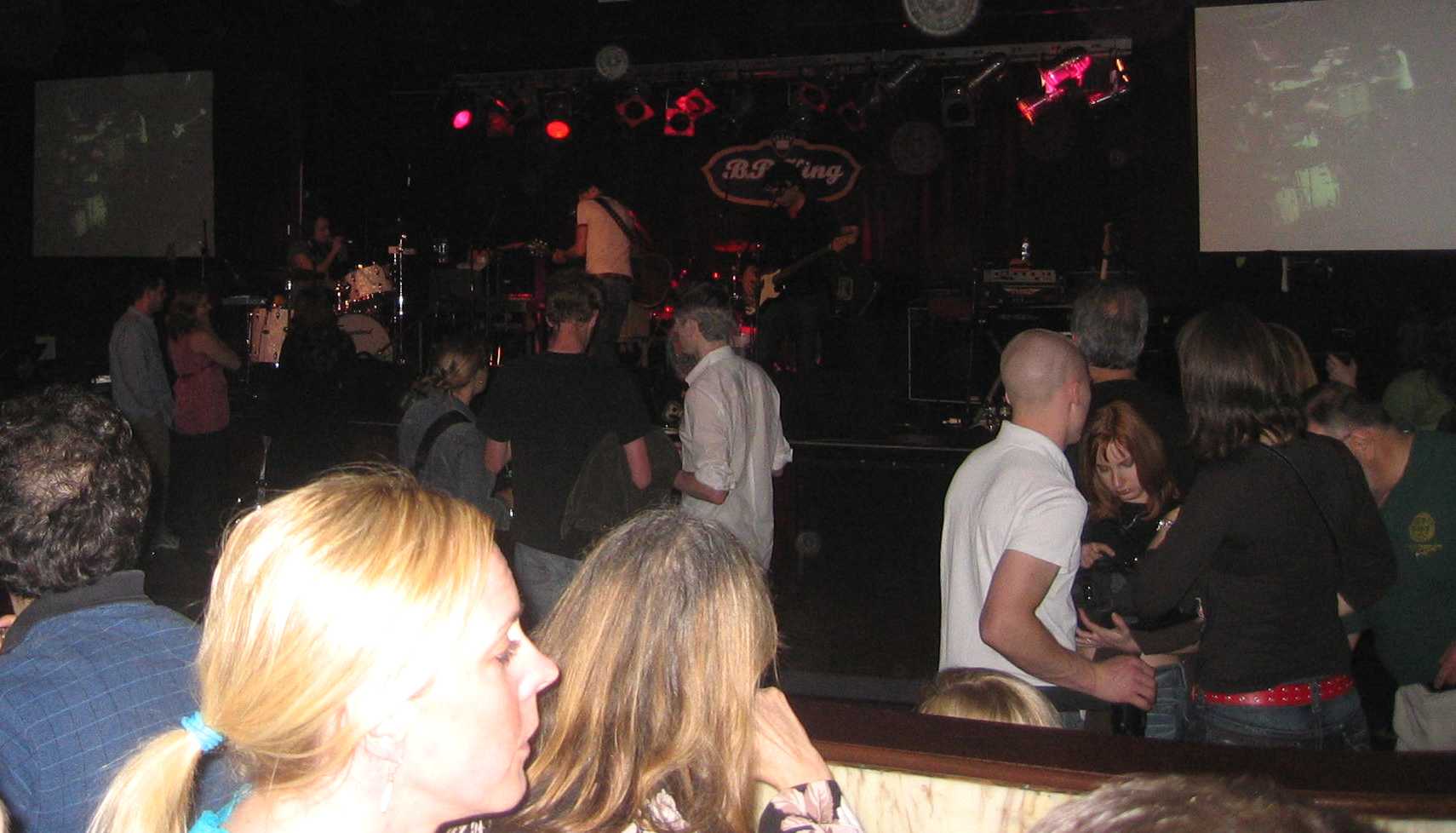 The noise level was pretty high, and like with Pat Benatar, the music during the dinner hours was louder and more rock oriented than the previous night. This time (as opposed to for the The Wrights the night before) the house lights did indeed go out when Jeremy came out. Most people paid attention to him, and he certainly got rousing applause after each number, but the number of people who conversed at the top of their lungs was shocking.
It wasn't as annoying as it could have been because Jeremy's music is very up-beat, and loud enough (without being too loud) to allow me to enjoy his show (as noted above) without being too distracted. I still can't believe how rude people are. I get that most people came to see The Proclaimers, but give the new guy a break, even if he isn't that good, which in this case wasn't true, as he was quite good!
Here's a shot of how crowded the floor got by the time Jeremy was tearing down his equipment!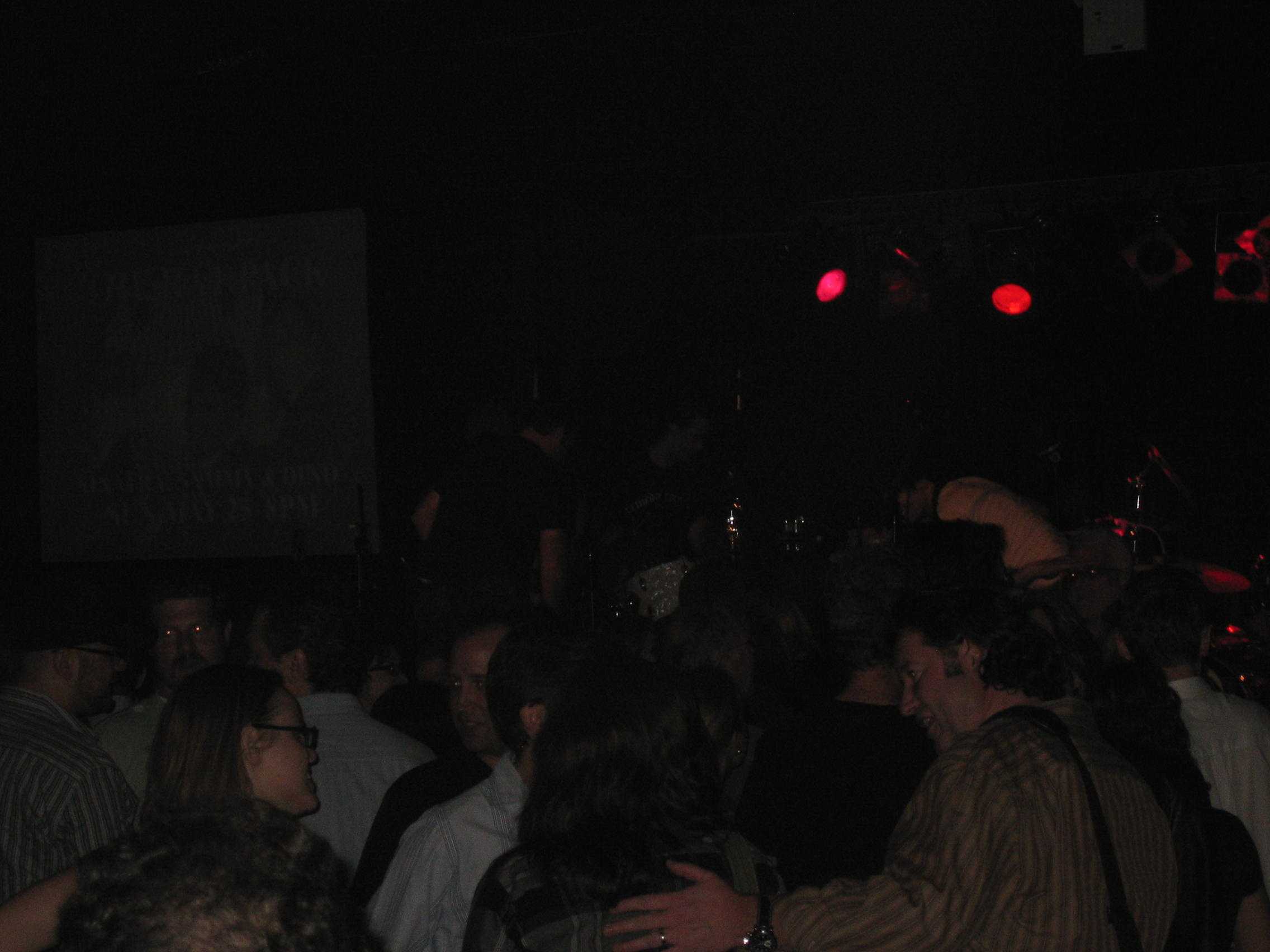 That brings me to the crowd in general. Surprisingly, tons of Scottish people. I only say surprisingly because I don't notice tons of Scottish people coming to the numerous shows we attend. I had to wonder whether Scottish people follow The Proclaimers around, making vacation time to visit places like NYC whenever they show up here. It was interesting.
There's always a reasonable (and by reasonable, I really mean an unreasonable) amount of drinking going on at these shows. Last night was no exception (except for the fact that they likely drank substantially more than a reasonable amount!). 😉 Don't know if was the Scotts (or is it Scotch?) influencing the rest of the crowd, but wow, BB's must have raked in the liquor take last night. Lots of non-stop trips back-and-forth to the rest rooms all night long, no surprise. Hard to imagine how some of these people made it home.
When The Proclaimers came on, the place was packed to the gills. There had to be more people in there than for Pat Benatar (which was roughly 700). Don't know how many more though. While the crowd was paying significantly more attention to the music, it was still remarkable to me how many people insisted on screaming to their friends in conversation (so that not only their friends could hear them, but so could anyone within a reasonable distance). The fact that they could be heard over the loud music is truly amazing, and of course, as rude as could be to their idols (The Proclaimers).
There are numerous examples of rude and selfish behavior, but let me limit my tales just a few, all involving one particular person, who I had the wonderful fortune to be sitting back-to-back with. An attractive blond Scottish woman, likely in her upper 20's, but could have been lower 30's. She was at a table for eight, all Scotts, all friends.
She/they talked non-stop during Jeremy Fisher's set, of course. When The Proclaimers hit the stage she lost her mind (in the positive sense). 😉
Her arms were flailing wildly in all directions, mostly pointing out toward the stage, in violent motions. What you don't know is that both of us were seated (sideways) right on a very busy (and tiny) aisle, so that every time she flung her arm out she risked poking out an eye, knocking a drink off a waiter's tray, etc.
Then she got up and started dancing in the aisle. As people tried to make their way by her (recall, aside from the wait staff constantly going back-and-forth, everyone else was making bathroom runs every 30 seconds to make room for the next drink!), she was annoyed that they were interfering with her enjoyment of the show.
Never mind that there was an entire open area right in front of the stage, meant exactly for this kind of enjoyment. She wanted to stay near her friends, none of whom stood up (except to go to the bathroom) even once. In fact, her really good friend (they hugged a hundred times) tried to pull her back into her seat multiple times (I can only imagine how mortified she was to be associated with her friend last night). Of course, each time she was pulled back, she jumped up again.
On certain songs, she video taped the band on her camera. Of course, to make sure she had things centered and focused, she extended her arms straight out from her body, blocking the entire aisle. In one of the more unbelievable moments of my life, she refused to move her arms when a group of four people tried to pass her. With her head, she motioned to them to duck (bend) under her arms (in a near limbo-like manner). Incredibly, each one of them obliged her! The last guy hesitated a long time, but decided he needed to get to the bathroom badly enough (I guess) that he finally relented and bent (to her will) as well.
At some point, even she realized that she had made a complete a** of herself. Rather than tone it down, she cranked it up. She walked over to a complete stranger (while his girlfriend was in the bathroom!) and put her arms around his neck, and whispered (probably shouted) in his ear, for a good three minutes. Later, she put her arms around two older men (in their 60's likely), and when they showed discomfort, she insisted (trust me, I'm sure about this!) that they put their arms around her too. After a minute of her insisting, they too relented and put their arms around her.
OK, so she's a super fan (and probably pretty lubed up as well, right?). What's wrong with that, and having a little fun? Aside from the fact that it's not her personal show, she's not quite the super fan that she'd like to believe herself to be. On two of the slower songs, she obviously got bored with her own act (and with the band as well!), and instead turned her attention back to her friends, and talked non-stop at the top of her lungs throughout both songs, never once looking at the band. Wow, a real fan indeed. Of course, talking over the slower songs makes her voice carry even louder and further…
As I've mentioned before, we're firmly in the center of the me generation. Let's hope we're near the peak, though I fear we're not even close…
I'm sorry, I know I went on a long time about that, but this is my own best personal therapy, getting it out in this manner. 🙂
One more thought about last night. I truly have no idea how this business works, from any angle. I would love a lesson, considering how many times we go to see live shows. If someone wants to write a long comment, feel free, or email me directly, or blog about it and post a link here, etc. Here are some of my observations, which have zero foundation in fact.
I assume (but again, have no idea) that a majority of the ticket price goes to the artist (in the dinner theater setups), and that 100% of the meal and drink revenues go to the club (plus the lovely fees that get tacked on to each ticket). I realize that even if that's largely correct, that there have to be exceptions (certain groups not getting all the ticket revenue, and possibly big groups even getting a percentage of the house revenue).
True or not, the setting of ticket prices often confuses me. I realize that bigger acts can easily command more money, but does the band set/demand a certain price, or does the venue try to help them maximize the price by trying to come close to selling out even if it means lowering the price.
Last night was a particularly curious example of my confusion. As mentioned above, Pat Benatar was the most expensive seat we've ever paid for at BB's (we've spent more on every show we've seen at Madison Square Garden and a few at Radio City Music Hall and The Beacon Theater as well). In retrospect, that didn't seem unreasonable, as Pat sold more tickets than anyone else we've ever seen at BB's, so why not crank the ticket price if there is no resistance and you still sell out.
I already reported that The Proclaimers likely sold more tickets last night. But, last night was the cheapest ticket we've ever bought for a show at BB's. By a long shot! If the band sets the price, then I can understand it. They've made it, and perhaps they truly want to share with their fans, making it easy for everyone to afford the show, and ensure the maximum amount of tickets by insisting that BB's oversell, and remove tables to make room, etc. If BB's sets the price, or has a heavy say, I simply don't get it. Not only could they have sold out at a much higher price, they could have sold many more dinners with tables and chairs.
OK, ending on an up-beat note, five days left in the month-long Girlyman Live CD Contest. If you're procrastinating, stop now! Enter to win a signed CD by this amazing band, Girlyman!