Send to Kindle
I decided to label this post Vienna Teng and Alex Wong at City Winery because we specifically went to see them. They were part of a lineup in one of many Showcase performances during the 4-day APAP (Association of Performing Arts Presenters) Conference.
I'll cover everyone who appeared on stage, which will make this another very long post. I'll summarize all of the performances first and then get more detailed.
Third in the lineup, but first in our hearts (before and after the show) were Vienna Teng and Alex Wong. They were extraordinary in every respect.
Closing the show was WPA (Works Progress Administration). They were completely engaging, played the longest set of the night, and were the only ones permitted to return for an encore. They are all wonderful musicians.
Jeff Daniels was the MC for the evening, but a musical one at that. He picked his acoustic guitar with fury and purpose, sang wonderfully, and kept everyone laughing (through his songs and stories) every second he was on stage. He opened the show, and came on between every act.
Grant Lee Phillips rounded out the lineup, appearing after Jeff's opening numbers. He has an excellent voice, plays the guitar really well and was accompanied by a piano/midi player, creating quite a full sound. There was a lot to enjoy about his performance, but it didn't entrance me.
Excruciating details to follow. If you found this space because you searched for your particular favorite artist, just skip down appropriately. I'll cover them in the same order I summarized them above.
A month ago we saw Vienna and Alex for the first time at Joe's Pub. I covered that show in this very long post. While the character of the show last night was very different, every word I wrote in the Joe's Pub post still applies, and our awe of both Vienna and Alex (independently!) continues to grow.
A brief recap of their respective strengths:
Vienna has an angelic voice which she can modulate over a large range. In addition to hitting high and low notes, she modulates ferocity, singing in a near whisper at times and belting it out at others.
She writes songs that move you both lyrically and musically. Armed with those attack vectors, one or both will be sure to knock you down and keep you riveted throughout her performance.
She is unreal on the piano. We couldn't imagine a world without her voice and lyrics, except that when she's only playing the piano, one can easily forget that there's more to appreciate and explore.
She's also easy on the eyes, so there's no need to scan the room to keep your visual interest either. 😉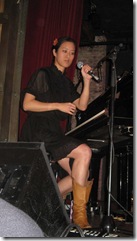 Alex is talented on so many levels it's hard to capture in a "brief recap" of his strengths. At the core (for me) is his spiritual connection with the music, which he captures and conveys to the audiences in whatever instrument he happens to be playing (and he plays so many, it's mind-boggling).
We discovered Vienna through our love of Alex's other project, The Paper Raincoat. In The Paper Raincoat, Alex plays a variety of instruments but leaves the drumming to the amazing Adam Christgau.  While Alex plays a number of instruments in support of Vienna, he's mostly a percussionist, adding depth and coloring the mood of Vienna's masterpieces.
Alex sings well, mostly in haunting harmonies with Vienna, but occasionally some leads as well.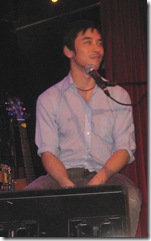 The above recaps their generic strengths all of which they exhibited at last night's show. They put together a great one-hour set with a wide range of styles (nailing the concept of a Showcase).
They produce a sound that is unimaginably big for only two people. I described one of the techniques that they use in my last post, looping their voices and instruments to create layers and self-harmonies. They took it to another level last night.
When they played The Last Snowfall (the first cut from their current CD, Inland Territory), Alex took over the piano duties and Vienna just sang. I put just sang in italics because Vienna looped her voice multiple times. At the end of the song, she was singing four part harmony. I am not kidding. It was stunningly beautiful.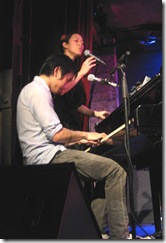 I think I took her aback when I joked after the show that I was expecting five or six part harmony. Not everyone immediately gets my sense of humor. 😉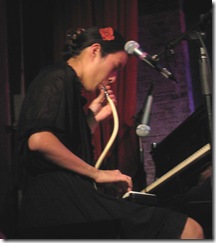 Similarly, Alex often loops the drum sounds. While it certainly sounds like multiple drummers (in perfect unison), it's actually much more interesting than just multiple drummers (a sound I love, used by The Allman Brothers and The Grateful Dead for example). Alex achieves the feel of echoes in a completely seamless manner.
Expecting this kind of technical pyrotechnics in a studio is one thing. Experiencing performers doing this live on stage, in real-time, with zero margin for error, is astounding. I've seen a few people use looping techniques on stage (all to good effect), but none that raise it to a very art form like Vienna and Alex. Bravo!
Once again Vienna closed the set with the electrifying Grandmother Song (also on the Inland Territory CD). This is the only other number that she didn't play the piano on. If I need to give more detail than the word electrifying, you need to break out your dictionary and help yourself a bit. 🙂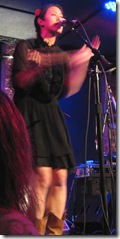 If we only saw their one-hour set, we would have been completely satisfied at the value we received for our ticket price and our night out!
The couple who sat next to us are big fans of Vienna and Alex (so we know they have good taste in music) 😉 and they were telling us how great WPA are, so I was pumped up to see them perform.
There are three core members of WPA and others slide in and out at various times. It's theoretically a side project for all of them, but it seems to be a stable one, with a potentially long future.
In the center is Glen Phillips, former lead singer of Toad the Wet Sprocket. Good voice, great stage presence, good guitar playing (one of the few people who occasionally finger picks on an electric guitar).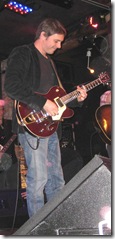 On the left is Luke Bulla on the fiddle and vocals. We've seen Luke twice before, both times with the Jerry Douglas band. Luke also plays with Lyle Lovett! He is a major talent on the fiddle and he showed it off a number of times last night. He has a good voice too, singing lead and harmonizing with the others. Luke also played one number on the guitar, which he wrote.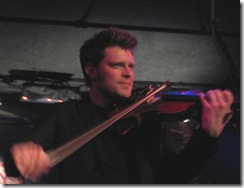 On the right is Sean Watkins on acoustic guitar and vocals. I've never seen Sean perform before, but I am very familiar with him. He was 1/3 of Nickel Creek, one of my favorite groups (I own all of their CDs). Sean is an excellent flat picker and has a really good and distinctive voice. Even though the rest of the sound is not Nickel Creek like (due to the absence of the mind-boggling Chris Thile on Mandolin), whenever Sean was singing lead and taking the lead on the guitar, I could hear his Nickel Creek roots, and I loved every second of it.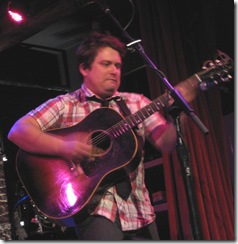 The three of them trade off singing lead and in all cases harmonize together beautifully, in pairs and all three together.
Backing them up last night was a very good bassist, Sebastian Steinberg and on the drums, Jerry Roe. The two of them supported Glen, Luke and Sean very well, keeping the beat lively and interesting.
Clearly they are all excellent musicians who sing well. We also happen to like that general sound (a blend of Bluegrass and Rock). What particularly tickled me is their lyrical irreverence. Many of the songs that they sing are flat out funny. They are having a great time on stage, and it's infectious.
One example (of many) is a song that Sean sings about loving a girl who didn't return his affection. He later finds out she's a lesbian. He laments:
Everyone's a little queer, why couldn't you be a little straight?
Update: Check the comment from Alex Wong who corrects me and points out that the above-mentioned song is by Weezer, called Pink Triangle!
They closed the encore with an upbeat version (nice Bluegrass kick) of Bob Dylan's You're Gonna Make Me Lonesome When You Go (Sean sung lead and played a wicked guitar throughout). It was an awesome way to end an awesome night out.
Jeff Daniels (yes, the famous actor) was perfect as MC. He plays the guitar in a hard-charging fingers-flying blues-style picking way. He sings remarkably well. But, crushing that is the fact that he's hysterical and natural on the stage.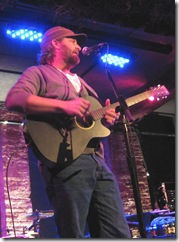 He played two numbers each of the three times he was on stage, effectively having a nice full set for himself as well, even though it was spaced out. All of the songs were funny. One was spoken (a long, wildly entertaining true story about a family vacation). Even the spoken one felt like a song, because Jeff was picking madly the entire time (how he didn't lose his concentration on either the story or the guitar is beyond me!), which created a beat to the story.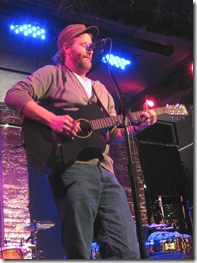 He was also very kind to us before the show. Lois asked if she could take his picture (we were there early enough to catch the tail end of his sound check). Not only did he immediately say yes, but he suggested that she get in the picture and that I take it. Then, while Lois and I both started to stand up, he said "Don't move, I can just as easily bend!", and indeed he did. 🙂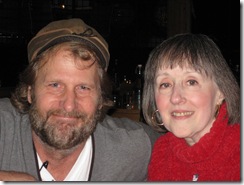 I have no doubt that we would both jump at the chance to see Jeff perform again. No other acts need to be on the bill!
After Jeff opened the show, Grant Lee Phillips came out. He was accompanied by Jamie Edwards on the piano and midi (sorry, I couldn't find a good individual link for Jamie). Jamie did an excellent job of complementing Grant's excellent guitar play, creating a rich sound between them. He also sang a bit of harmony.
Grant has a good voice, and I liked the sound/feel of his music. Unfortunately, that's where it ended for me. I found myself drifting and unable to concentrate on his lyrics (so I'm not saying they aren't good, I just don't know, they didn't rope me in). Each of the songs felt a bit too long as well. Again, for songs that I love, longer is better, so something was a tad off for me.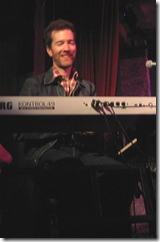 In between songs, Grant had my full attention. He's very quick and very funny. Any tiny mishap on stage was immediately turned into an opportunity to entertain the crowd with his wit. I was very impressed with his stage presence.
In total, this was a very long show, lasting 220 minutes! Give me more Showcases, please! 🙂
Not to be lost in all of the above is that City Winery is absolutely gorgeous. The second we walked in the door we were drawn to look at every nook and cranny of this brilliantly designed space.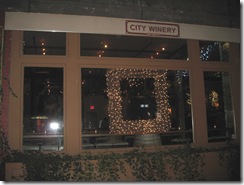 Dinner is meant to be semi-tapas style, or in general, shared. Everything we sampled was excellent, so theoretically, no problem. The one potential problem (that we avoided) is that the tables for four are quite small. If another couple was also sharing at the same time, it would have been unpleasant at best, and impossible at worst. Because we're always super early, we finished eating long before the other couple was seated, and they got to eat without worrying about us either.
This is a real winery, not just in name. In addition to serving excellent wines (I thoroughly enjoyed my glass of Petite Syrah), they also make their own! This is a place we will be attending many more times, no doubt!
One small-world story to top off the night. For a few months, we had targeted a different show for last night. We have never seen Del McCoury and he was scheduled to play at BB King last night. I can't explain why I didn't grab tickets right away, but I didn't.
A month ago I heard about mandolin phenom Sarah Jarosz. Then I found out she was opening for Del McCoury. To top it off, so was Marty Stuart. My excitement for this show was almost uncontainable. Still, I didn't buy tickets. Why? I had no idea at the time, but I know now that I wasn't meant to.
A week later I received an alert that Vienna Teng and Alex Wong were playing at City Winery that same night. Believe it or not, my mind failed to make the connection that it was the same night. I asked Lois and she instantly said "Grab tickets!". I did.
Literally five minutes later, I turned to her and said "Uh oh, that was the same night that we were planning on seeing Del, Sarah and Marty!". When I saw her flinch, I thought I should see if I could find someone to take the City Winery tickets off our hands, and still get the tickets for the BB King show. Lois said no, we love Vienna and Alex, let's just keep things the way they are.
Obviously, we'll never know how much we would have loved that show, but we know how much we loved the one we were obviously destined to see. 🙂
Update: Oops. I left out the small world part of the above story. Luke Bulla introduced a song that he sang last night as one he has been singing since he was a kid. It was a Del McCoury song. He never mentioned that Del was playing two miles north in Times Square at that exact moment. Perhaps he didn't even know.