Send to Kindle
We've been up later than normal this past week, including one 2am night. It was all great, but at our age, it takes its toll. 😉 We were looking forward to vegging this weekend so we headed to the house on Thursday evening with the intention of not emerging from our cocoon for as much as a week.
The best laid plans…
I follow many musicians on Twitter. Early yesterday afternoon Vienna Teng (@viennateng) tweeted that the act scheduled for 7pm at Rockwood Music Hall had to cancel, and they asked her to fill in on short notice. Lois was out for a few hours with a friend so I had to wait until 4pm to see whether she was up to it. She was.
We left at 5:20pm which should have had us at Rockwood by 6:10. We experienced the worst NYC traffic in a few years and got there at 6:55pm. We made it and got seats before Vienna took the stage. Whew.
I've written really long posts about Vienna twice before, here and here, and I encourage those of you who are unfamiliar with this brilliant woman to read them.
Aside from a few surprise special guests who joined Vienna, last night was more pure Vienna, on the most intimate stage we've seen her, with a grand piano but no Alex Wong with his incredible percussion and myriad other instruments.
Vienna's voice is extraordinary and her piano playing is mesmerizing. Put it together with her brilliant songwriting and she really needs nothing and no one else on stage to captivate the audience.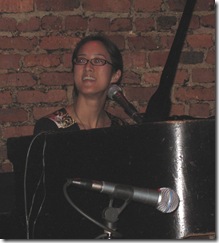 Of course, if you've seen her, or if you've read either of my previous posts, you know that she's also a master of effectively using electronics (looping and synthesizing) live on stage, which she did wonderfully last night, to create the sound of five people.
In addition to being an amazing performer, she is also the epitome of grace. During one of her songs, someone's cell phone went off. The woman let it ring in her bag until it went to voicemail (in other words, a long time). Then it rang again (during the same song).
This time, the woman retrieved it and walked to the door to answer it. Vienna joked (mid-song) that it wouldn't have been so bad if the ringtone was in the right key! When she finished the song, she played the exact ringtone on her piano (in the correct key, of course), as a finishing flourish. A very nice, funny and classy touch.
There's a reason most places still find it necessary to remind people to silence their devices…
Vienna asked for requests and Lois was first to answer with Homecoming (which Vienna didn't play at City Winery). Vienna played it perfectly. Thanks! 🙂
One of the people we've been wanting to see live was Ari Hest. He joined Vienna for two songs last night. The first was a song that must be pretty new (I think it's Ari's song), because he wrote the lyrics on his hand so he wouldn't forget them.
What was visually cool was that he brought up one of the table candles on stage to illuminate his hand to read the lyrics. He held the candle the entire song, and the effect was wonderful. So was the song, by the way. Ari has a really good voice, and we look forward to catching one of his shows ASAP.
Ari also joined Vienna at the piano where he harmonized (looping and all) on The Last Snowfall (a song we simply can't get enough of).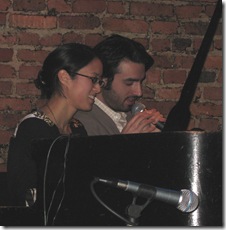 Vienna then invited Paul Freeman to the stage. She sang Antebellum (another amazing and very powerful song with stunning piano accompaniment), and Paul sang the Alex Wong part (Alex co-wrote the song with Vienna). Paul has an excellent voice, and he did a very nice job.
Vienna then invited up another of our favorite musicians/people, Alex Berger. In a surprise move, she relinquished the piano and turned it over to Alex. Vienna took center stage to sing. Last Monday we attended Alex Berger's show at The Living Room as did Vienna. Alex sang an old Jazz favorite, and it inspired Vienna to want to break one out as well.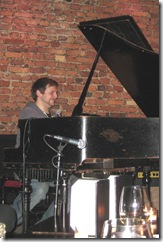 She chose A Nightingale Sang in Berkeley Square (fitting, since Alex is a Brit). She had just pressed it into duty so it wasn't a shock that she lost the lyrics for a second 2/3's of the way into the song. That gave Alex the opportunity to sing a bit as well (always welcome!), to get her back on track.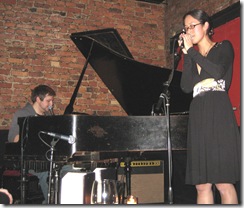 Vienna finished up the show with her rousing Grandmother Song. Awesome (as always).
We returned to the house immediately after the show. Was it worth driving 145 minutes (round trip) for a 45-minute set? Are you kidding? Did you really have to ask? YES, it was more than worth it. 🙂