Send to Kindle
We are huge fans of Vienna Teng and Alex Wong. I've written about them together and separately many times. You can read the original one about the two of them together here.
We were in Florida visiting my folks for the past few days and heading back to NY yesterday. When planning the trip, we noticed that Vienna and Alex were a week behind us (we were in Birmingham before FL, and got there by driving through Atlanta, and they were playing those two cities on consecutive nights).
In making our plans, we decided to surprise them, and give ourselves a huge gift in the process, and make a wide detour in returning to NY, going through Atlanta instead of up I95. If you read the post linked to above, then you'll realize that this behavior is consistent with my announcement that we are officially stalking Vienna (we were already stalking Alex Wong and The Paper Raincoat!). 🙂
The surprise didn't last long, as Alex spotted us from the lobby while we were waiting outside for the doors to open. He took a photo of us through the box office window.
We had never been to Variety Playhouse before. While it's an old place, that could stand some refurbishing, it's a fantastic place to see a show (meaning, while the look could be refreshed, everything else is top-notch!). The sound system was excellent and everyone who works there was as nice as you could hope for. It's a huge place as well. Kudos to Vienna, Alex and Glen for filling as many seats as they did on a frigid Wednesday.
In addition to being a large crowd, it was one of the best audiences we've been part of as well, which is quite unusual in a place this big. Pin-drop quiet during the songs, crazy loud and long applause between songs. Singing when we're instructed to, laughing when appropriate, etc. Glen Phillips has a very large following (more on him later), and I believe that a lot of his fans are now squarely Vienna and Alex fans too, and vice versa.
Vienna and Alex played a mesmerizing one-hour set (they came out at 8:20pm). After singing Homecoming (one of the many songs we constantly sing out loud in our car) Vienna gave us a shout-out, mentioning that she was disoriented seeing us, and thinking she wasn't where she thought she was. 🙂
She performed many of our favorites, including The Last Snowfall, Antebellum, Harbor, Whatever You Want, Grandmother Song, etc. (I could tell you every song, because we also snagged the hand-written set list, on a napkin, but that's beside the point).
Like I mentioned above, I'm sure that a fair number of people were there for Glen Phillips, but I can assure you, that the roar was deafening for Vienna and Alex after each song, so people weren't killing time waiting for the main act to come out.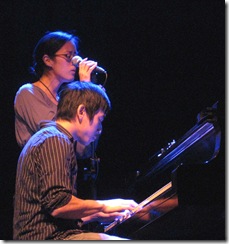 It's unusual for an opening act (how can one consider Vienna and Alex to be an opening act?) to get an encore. But, the clapping didn't slow down even after they were off stage for a full minute, so they came back out and did a one-song encore, a Radiohead cover.
It was well worth our detour to get to see them perform at this wonderful venue.
After a 20-minute intermission, Glen Phillips came out. We've seen Glen only once before, at City Winery, as part of WPA (Works Progress Administration), in a show that we went to see because Vienna and Alex were on the same bill that night as well. Here is my post about that show.
After that show, when I mentioned to a number of friends of mine that we saw Glen Phillips, I was surprised that every single one of them knew who he was. We obviously were living under a rock while he was making headlines. Ironically, we know the other two members of WPA very well.
Last night was Glen solo, accompanying himself on acoustic guitar. As I mentioned in the previous post, he has a great voice (even more obvious when he's alone on stage) and his guitar playing is tasty, making him a compelling solo performer.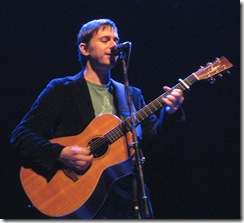 Since I don't know his music, I can't be sure how many of the songs were his, or were covers. Clearly, they are well known either way (just not to me), because people were clapping the second they heard three notes of lead-in guitar, on most songs. Giving him credit for most of them, the lyrics are often complex and interesting.
He too played for an hour, inviting Vienna to play a duet with him on one number. When he was roused back on stage for an encore, he came back out with Vienna and they closed the show together.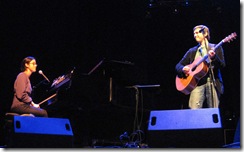 We hung around afterward to say hello to all three (it was our first time meeting Glen). We also purchased Vienna's DVD (one of the only items of hers we didn't own), as well as another copy of Inland Territory (a stunning CD) and two copies of The Paper Raincoat CD to give as gifts.
The three of them are playing in Birmingham, AL tonight at Workplay. If you're in the neighborhood, and you don't go to see them, shame on you!
Update: At the request of a commenter in another post about Vienna and Alex, I am posting the Set List for this show:
Whatever You Want
Gravity
Antebellum
No Gringo
Homecoming
In the Creases (listed but not played!)
The Last Snowfall
The Tower
Stray Italian Greyhound
Augustine
I Don't Feel So Well (I really don't recall this being played…)
Harbor
Grandmother Song
Idioteque (Radiohead cover from Kid A, played as an encore)