Send to Kindle
For people who see live music as often as we do, I'm still amazed that it's only been eight months since our first-ever house concert. We've been to a reasonable number of them since. Last night brought us full circle. We attended a concert at the same house that kicked it off, with the same headliner, with two other artists.
I'm normally very long winded (for the newcomers here, it's because I write purely for myself, to remember the events in detail). Today, since I've written about all three performers (Jesse most of all), I'll be briefer about them. You can click through above to see more about Jesse from the last house concert, or the links below for my coverage of Michael and Carley. You're welcome!
Jesse Terry was spectacular (again). In addition to selecting (and performing) a great set, he was on fire with his banter (quick and witty). He dedicated two songs to our amazing hostess. He dedicated another to a therapist in the room (a deeply moving song called Silver Hills, that melted everyone's heart when Jesse introduced it). He dedicated another to Lois (I think just because he knew he could make her cry, he's cruel that way!).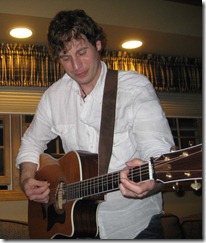 Jesse made reference to a video shot in Vanuatu. He mentioned that it's the last documented case of cannibalism (we found out later it was roughly 25 years ago). None of the people in the video look like they were involved in that incident, but you never know, so be careful (especially of the one guy who dances behind Jesse, looking a little too happy!). The woman in the pink dress is now Jesse's wife (not yet when the video was shot) and the woman in the straw hat, bikini top and shorts is Carley, another of the performers last night:
Ain't No Tellin by Jesse Terry
Here's Jesse telling the story about the video: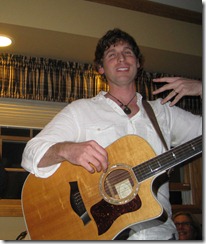 And the lovely ladies who appear in the video: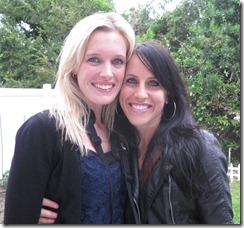 And the effect the story had on Carley!
Michael Logen alternated songs with Jesse (like he did the only other time we've seen him). This time it was only acoustic guitar (he played the grand piano as well at Rockwood). I'll repeat that Jesse was right when he said we'd love Michael, we do!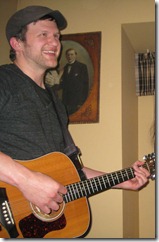 Michael has a wonderful voice, plays the guitar and harmonica beautifully, and writes excellent songs, many of which are very moving. We were happy to buy his CD last night, Things I Failed to Mention (we ran out too quickly after the Rockwood show), so now we'll get to hear them over and over.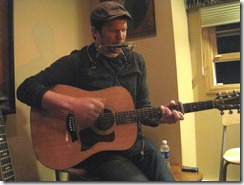 At Rockwood, Michael harmonized with Jesse on Noise (a song they co-wrote), while accompanying him on the piano. Last night, he also harmonized (beautifully) and accompanied Jesse on the guitar. In fact, Michael added a bit of harmony to a few of Jesse's songs last night (and Jesse returned the favor once or twice). I was sitting less than two feet from Michael, so I could hear every note, but Lois asked him to sing his harmonies louder, because they were so well done!
Carley Tanchon opened the show. We had a tiny taste of Carley, singing harmony with Jesse on one song at The Bitter End. Then we finally got to see her goods at her CD Release Show at Rockwood Music Hall Stage 2. That was a full band, all-out Rock 'N Roll show.
Last night was solo with acoustic guitar. Still, everything I said about her in that show applies. Aside from the generic fact that Carley has a stunning voice, it's a bit hard to imagine a better fitting voice for a house concert. No microphone? No problem! Her voice projects so clearly and cleanly. She has such power, but there's no yelling about it.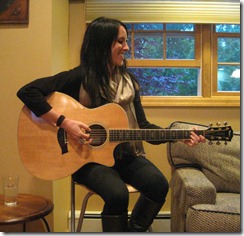 Jesse called Carley up to sing harmony on Ain't No Tellin (the video above). Of course, the harmony was gorgeous.
They closed the show by calling Carley back up again and all three (but mostly Jesse and Carley) sang To Love Somebody by the Bee Gees. Of course they nailed it, but more interestingly, nearly everyone sang the chorus with them, quite well.
Excluding an intermission, they played for three hours (or a bit more!). It was by far the longest house concert we've seen. It was awesome, but made for a very late night, since we still had to drive back to Manhattan from Long Island.
Here are a few photos from before and after the show:
Now that I've gotten the music out of the way, let's get to real point of last night, eating our hostess' food! Ah, you think I jest, but I don't! Last year's meal was one of the best home cooked meals I've had. I'll admit (now) that I was bit nervous if the second time around would live up to my own memories and expectations.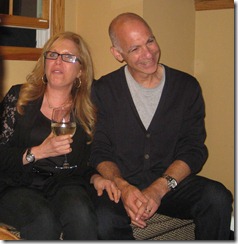 No need to worry! There was an even bigger choice, so there were a few dishes I didn't get to taste, but everything I ate (which was a lot of variety) was simply amazing. Pasta Puttanesca, Beet Salad, Rigatoni with meat sauce, Meatballs, Tandoori Chicken, Indian-spiced Chickpeas (cooked, not a salad), Bean Dip with Chips, Homemade Breads (made by a male guest!).
Every bite was excellent, but I still can't get the taste of the meatballs out of my head. If my godson had been there, I don't think they could have gotten him to leave.

The reason I didn't eat everything (I skipped the Poached Salmon, Asparagus Salad, Grilled Chicken, Basmati Rice, Veggie Wraps and a few other dishes) is because last year I was too full to enjoy the incredible desserts. Since I am occasionally capable of learning from my mistakes, I saved room.
While trying (unsuccessfully) to avoid stares from Lois, I did indeed indulge in a number of desserts during intermission and after the show. They were all amazing, but I have to shout out to the chocolate covered strawberries (OMG) and the blond-mini-kisses covered pretzels. Desserts were provided by a variety of guests, so a special thank you to all of you!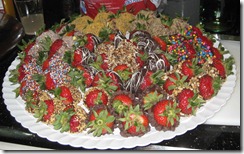 Merry, you outdid yourself! So, now I'm already nervous about the next house concert and what you will serve to delight me (that's why you're doing these shows, right?).