Send to Kindle
I just posted about John Schmitt at Rockwood Music Hall. At the end of his set, he implored us all to stick around for the next set, headlined by Morgan Holland. He didn't need to implore us, or even inform us. Morgan's set was on our schedule from the day I found out about it.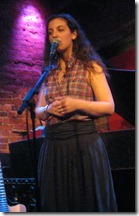 But, John accidentally announced it in an unintentional manner. He said: "Morgan Holland will be leaving us soon, so stick around for her last set" (or something to that affect). Morgan was standing in the far corner of the club and I caught her reaction. She was bemused.
Morgan is indeed leaving us, but the us in that sentence are New Yorkers (not the world)!

She is starting graduate school in the fall, in LA. She's becoming a left-coastie (she originally was before transplanting here). We'll all miss her a lot, but if she ever returns, she'll be brainier, so we have that to look forward to.

While Morgan is not a full-time musician, I am a fan of her work, including the EP that she put out last year. As is typical for most of the shows that we've seen her perform, Morgan sang, played guitar some and ukulele on one number.
What was radically different last night was that Morgan was dramatically more chatty on stage, to fantastic effect. She was funny and warm. The place was packed, and the crowd consisted of many of Morgan's friends. Perhaps that gave her the courage. Whatever the reason, I like it and if I get to see her again, I'd like more of it.
She had an excellent set selection and sang well. She was joined by three of our favorite musicians, left-to-right on the stage:
Chris Ayer on acoustic guitar, vocals and ukulele on one song. Chris was wonderful all around. Chris produced Morgan's EP!
Matt Simons on grand piano, electronic keyboards and vocals. Matt was wonderful as well. It was a treat to see Matt switch instruments from the set before, so that we got to enjoy the sax (with John Schmitt) and then the piano in this set. Matt didn't sing with John, so having him sing harmony with Morgan was a nice bonus.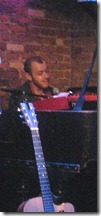 Chris Anderson on upright bass. Always one of our favorite bass players, no exception last night. The upright was a very good choice for complementing the more smoky quality of Morgan's voice. Chris plucked and used the bow.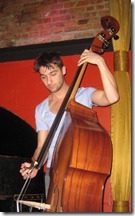 We didn't get to snag a paper set list, but Chris had one written out on his arm (as he does for his sets), so Lois snapped a photo, and you can see it from his perspective and ours as well:
An excellent sendoff to a lovely lady. We all wish you the best on the other coast. Come back soon!

P.S. This is post #3 of five about last night.